Killers Of The Flower Moon: What We Know So Far About Martin Scorsese's Latest Film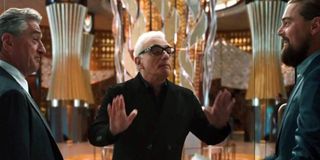 It was only a matter of time before Martin Scorsese returned to the big screen (and, subsequently, the small screen, too). The revered Oscar-winning filmmaker found his follow-up to The Irishman with Killers of the Flower Moon, another period drama that'll be co-produced between Paramount Pictures and Apple TV+. The expensive epic will be yet another daunting task for the nearly 80-year-old director, but the legendary veteran moviemaker loves a challenge. Set to star Jesse Plemons, Robert De Niro, and Leonardo DiCaprio, who'll also produce, there are many reasons to look forward to Scorcese's next spin in the director's chair, and we're here to tell you what we know about this expensive movie. Here's the latest on Scorsese's Killers of the Flower Moon!
Killers Of The Flower Moon Is The Latest Epic Film Directed And Produced By Martin Scorsese
Ladies and gentlemen, Martin Scorsese is back! Following 2019's extraordinary The Irishman, the acclaimed auteur will make another sprawling epic with Killers of the Flower Moon, which will follow the mysterious murders of members of the Osage tribe, which sparked a major F.B.I. investigation involving J. Edgar Hoover. Promising to be another expansive historical account, Scorsese doesn't ever keep things simple. He makes big movies with important plots and heavy dramatic stakes, and this is no exception. Details still remain limited, but we do know who'll play our leads and what we can expect from its long-awaited production, which will finally get started later this year.
Killers Of The Flower Moon Is Based On The Book By David Grann
Based on the non-fiction book, Killers of the Flower Moon: The Osage Murders and the Birth of the FBI, written by David Grann, the newest film from director Martin Scorsese will follow the investigations of a series of murders of wealthy people in Osage County, Oklahoma in the early 1920s. Best known as the author behind The Lost City of Z, which inspired the acclaimed film of the same name in 2017, Grann has a journalistic career exploring obsessive personalities and the lengths they'll go to uncover the truth.
Certainly, David Grann's well-acclaimed Killers of the Flower Moon follows that tradition, and it's easy to see how screenwriter Eric Roth (Munich) was inspired to tell this tale — though he was met with his decent share of challenges in bringing it to the screen. Nevertheless, if the movie follows the book's success, Killers of the Flower Moon should be another winner for both Martin Scorsese and the Oscar-winning screenwriter.
Jesse Plemons Will Star In The Lead Role Originally Written For Leonardo DiCaprio
Jesse Plemons is one of our best working actors. Thankfully, Hollywood is catching on. The actor was quick to impress with supporting turns in Breaking Bad, The Master, Observe and Report, Black Mass, Game Night, Vice, The Irishman, and Judas and the Black Messiah, while also providing strong lead performances in Other People, I'm Thinking of Ending Things, and Fargo Season 2 — to name only a few impressive roles.
Thus, Jesse Plemons is overdue to lead a major motion picture from one of our finest filmmakers, and he'll finally get that opportunity with Killers of the Flower Moon, playing Tom White — a part once written for Leonardo DiCaprio, who will now play a supporting role. As THR reports, he reunites with Martin Scorsese after making the tough call between working with the revered auteur or collaborating with Jordan Peele on his latest film. Plemons will take over for DiCaprio after the producer's interest shifted elsewhere, which we'll discuss in just a bit.
Apparently, There Were Arguments Between Leonardo DiCaprio And Eric Roth About The Screenplay
By nature, filmmaking is a collaborative process. That said, that collaborative process doesn't always go smoothly. More-often-than-not, in fact, there are difficulties to be found. Notably, when it comes to the pre-production process for Killers of the Flower Moon, screenwriter Eric Roth and Leonardo DiCaprio apparently didn't see eye-to-eye.
As Eric Roth noted during an appearance on ScriptNotes, he and Leonardo DiCaprio squabbled when the actor/producer wanted to play a supporting character, meaning that the writer needed to rework the screenplay to give that character more screentime. Roth claimed they "argued" and DiCaprio "won half of" the arguments, while he won the other "half." Thus, they compromised, though the script won't be exactly what the Oscar-winning Forrest Gump scribe wanted. Hopefully, that doesn't result in a lesser movie.
Killers Of The Flower Moon's Cast Also Includes Robert De Niro And Lily Gladstone
In addition to Jesse Plemons and Leonardo DiCaprio reuniting with Martin Scorsese for this new project, Killers of the Flower Moon will also star Robert De Niro and Lily Gladstone (First Cow) in supporting roles. Certainly, De Niro is no stranger to Scorsese. The actor led the director's last film, The Irishman, which De Niro also produced. He also collaborated with Scorsese on Raging Bull, Taxi Driver, Goodfellas, The King of Comedy, Cape Fear, Mean Streets, Casino, and New York, New York. Scorsese directed 2015's short film, The Audition, which previously united De Niro and DiCaprio. Additionally, Killers of the Flower Moon will star several indigenous actors, including Tantoo Cardinal, Cara Jade Myers, Janae Collins, and Jillian Dio in key roles.
Martin Scorsese And Leonardo DiCaprio Consulted With Osage Cultural Leaders In Preparation For This New Movie
As their movie finally moves forward after an extended pre-production process, Martin Scorsese and Leonardo DiCaprio reached out to the Osage community to gain feedback. As Osage News reported in February, the collaborators met with Osage cultural leaders at the Woolaroc wildlife preserve and museum to discuss Killers of the Flower Moon, their intentions with this story, and what they hope to accomplish here.
As it was reported, Martin Scorsese "spoke of his plan to include details of Osage culture to paint a full, truthful picture of the time and the people." Additionally, Scorsese and his team were "working with advisors from the community" as they "plan to engage with more as the preparation work gets seriously underway." Details remain limited, especially since everyone signed an NDA, but "several members of the community spoke, sharing their concerns, stories, and thoughts," while Leonardo DiCaprio asked several questions which sparked "thoughtful conversation" that will inform his work.
Killers Of The Flower Moon's Budget Is Reported To Be Over $200 Million
Martin Scorsese doesn't work on the cheap. For the past decade, the Oscar-winning filmmaker has made films with budgets that range from $50 million (Silence) to $225 million-plus (The Irishman). Now, the director will make one of his priciest movies yet with Killers of the Flower Moon, which reportedly costs upwards of $200 million-plus.
As you'd expect, this humungous budget — especially in an era where studios are hesitant to green-light movies that don't feature famous superhero characters — made several executives balk, though Apple TV+ agreed to foot the bill alongside Paramount Pictures. It's not clear why the budget is so sizable. It's a lavish period piece, but it's otherwise unclear why Martin Scorsese had such a hefty receipt. Nevertheless, now that Apple TV+ gave it the go, Scorsese has the funds to get his next project moving.
Martin Scorsese's New Movie Is Expected To Start Production In Either Late Spring Or Early Summer 2021
It has been a long process putting Killer of the Flower Moon together, but cameras are finally expected to start rolling in a matter of months. As News 6 reported, the current plan is to start shooting in early summer or late spring. More specifically, Martin Scorsese's new movie is expected to begin filming in May. The production has met many delays throughout an extended screenwriting process, along with the pandemic pushing everything back. With casting and other pre-production efforts underway, however, we should expect to see cameras roll for its long shooting schedule soon.
Killer of the Flower Moon is expected to take a few months to film, with production predicted to end in late summer. Considering the size, scope, and scale of this expansive and expensive upcoming movie, that should come as no surprise. Nevertheless, it's impressive that 78-year-old Martin Scorsese continues making epic movies. We hope that this is yet another terrific movie from the masterful filmmaker.
As production gears up, we'll learn a lot more about what Martin Scorsese, Leonardo DiCaprio, and the rest of the crew have in store for Killers of the Flower Moon. But in the meantime, follow CinemaBlend for the latest updates on this movie and many more!
Will is an entertainment writer based in Pittsburgh, PA. His writing can also be found in The Playlist, Cut Print Film, We Got This Covered, The Young Folks, Slate and other outlets. He also co-hosts the weekly film/TV podcast Cinemaholics with Jon Negroni and he likes to think he's a professional Garfield enthusiast.
Your Daily Blend of Entertainment News
Thank you for signing up to CinemaBlend. You will receive a verification email shortly.
There was a problem. Please refresh the page and try again.