Spiral Director Explains Why Chris Rock's Movie Doesn't Have Iconic Saw Characters Like Jigsaw's Puppet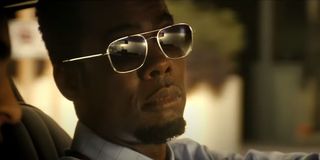 Spiral: From the Book of Saw is the newest entry in the Saw film franchise, but as the title of the new movie implies, this one is more than a little bit different. If you were looking for a direct continuation of the previous films' serial killer soap opera, then Spiral isn't really what you're looking for, but that's very much by design, according to director Darren Lynn Bousman. He says he was looking to differentiate between Spiral and the rest of the Saw franchise.
Darren Lynn Bousman directed Saw II, Saw III, and Saw IV, so he's certainly no stranger to the franchise, and quite possibly the best person to helm any new entry in the series. However, the plan here was not to get somebody steeped in the lore of the franchise. Bousman tells Radio Times, the the distinct lack of references to the franchise was part of the plan, as this movie isn't meant to be Saw IX, but something different, which is why we don't see elements from other films, like Billy the Puppet, in the new movie. According to the director...
Spiral: From the Book of Saw is much more about passing references to the main franchise that make the movie feel like it's in the same universe, but not dependant on those movies. To that end, Spiral does have a puppet character, it's just not the one that fans know. There are references to John Kramer and the events of the previous films, but not in any way that's actually important to this movie.
Spiral is actually a very different sort of film. It's not about the people stuck in the traps trying to find their way out, or about the killers themselves, but about a police officer trying to capture thw bad guy, it's a complete switch from the main franchise. Darren Lynn Bousman says he felt just trying to do "another" Jigsaw killer was the wrong move for the fans...
The decision to not have the new killer tied to Jigsaw basically requires that everything else in the movie change. It's potentially a strong way to keep a franchise going without having to simply go back to the well again and gain.Whether or not it really works seems to depend on the fans.
CinemaBlend's resident theme park junkie and amateur Disney historian. Armchair Imagineer. Epcot Stan. Future Club 33 Member.
Your Daily Blend of Entertainment News
Thank you for signing up to CinemaBlend. You will receive a verification email shortly.
There was a problem. Please refresh the page and try again.