Spiral Cast: Where You've Seen The Actors Before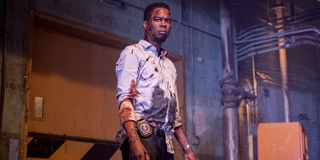 You have watched, or at least plan on watching, Spiral (full title: Spiral: From the Book of Saw) in theaters following its May 14 release and want to know where you've seen the stellar and versatile cast before. It's why you're here, right? And while it's easy to remember where you've seen (or heard) the likes of Chris Rock, Samuel L. Jackson, and probably even Max Minghella, other members of the Spiral cast may have your head spinning trying to figure it out.
Well, you've come to the right place, as we have put together a list of the Spiral cast and just about everywhere you've seen them over the years. With multiple actors from The Handmaid's Tale to fixtures of shows like Riverdale, these dozen or so actors and actresses have been all over the place. Now, let's find out where…
Chris Rock - Detective Ezekiel 'Zeke' Banks
Leading the charge in Spiral is Chris Rock as Detective Ezekiel 'Zeke' Banks, who finds himself front and center in the ongoing cat and mouse game being played by a Jigsaw copycat killer while also trying to escape the shadow of his father. A mainstay of Saturday Night Live from 1990 to 1993, Chris Rock has appeared in countless movies and television shows over the years, with credits going back as far as 1985's Krush Groove and as recent as Fargo Season 4 in late 2020.
Depending on your age, you may know Chris Rock from his various children's animated movies including the Madagascar franchise, the Bee Movie, and Dr. Dolittle, or perhaps his string of comedies that include everything from Dogma to Grown Ups. A multi-talented performer, Rock has also won three Grammy Awards and four Primetime Emmy Awards for his various stand-up specials and other televised programs.
Max Minghella - Detective William Schenk
Playing the young rookie Detective William Schenk in Spiral is Max Minghella, who you may recognize as Nick Blaine a fixture on The Handmaid's Tale cast. Prior to landing one of the more intriguing characters on the popular drama series that just returned for a fourth season, Minghella made a name for himself in one of the most important and popular movies of the early 21st Century, David Fincher's The Social Network, where he took on the role of Divya Narendra, one of Harvard students who claimed Mark Zuckerberg (Jesse Eisenberg) stole the idea for Facebook.
Over the years, Max Minghella has balanced roles in the aforementioned The Social Network with more comical characters on the comedy series The Mindy Project, the 2011 political thriller The Ides of March, and the 2013 Vince Vaughn/Owen Wilson comedy The Internship.
Samuel L. Jackson - Marcus Banks
Samuel L. Jackson takes on the role of Marcus Banks, father of Chris Rock's Zeke Banks and former police chief, who helps his son investigate the savage murders targeting law enforcement in Spiral. Perhaps the biggest name on the Spiral cast, Jackson has done everything from lead multiple Quentin Tarantino movies to getting the Avengers together in the Marvel Cinematic Universe over the years, and that's barely scratching the surface.
With film and television appearances going back as far as a 1976 episode of Movin' On, Samuel L. Jackson has defined and redefined his career on multiple occasions over the years, proving he could play a stern yet dedicated Jedi Master with Mace Windu in the Star Wars prequel trilogy, a memorable villain in Kingsman: The Secret Service, and anything and everything in between. Oh, and he's also served an important role on the xXx cast as Augustus Gibbons with hopefully more on the way.
Marisol Nichols - Captain Angie Garza
Every horror/crime procedural needs a character who forces the main characters to work together and that role is filled by Marisol Nichols' Captain Angie Garza in Spiral. Prior to landing a spot on the Spiral cast, Nichols appeared in various horror movies and TV shows including Scream 2 and the MTV adaptation of Teen Wolf. More recently, Nichols has had a main role on Riverdale where she portrayed Hermione Lodge.
Throughout her career, Marisol Nichols has had roles of varying importance on a number of the biggest shows of the '90s and early 2000s, with appearances on everything from Beverly Hills, 90210 and ER and from 24 to NCIS. All the National Lampoon's Vacation heads out there will probably recognize Nichols as Audrey Griswold in 1997's Vegas Vacation.
Daniel Petronijevic - Detective Marv 'Boz' Boswick
Daniel Petronijevic portrays Detective Marv Bozwick, the first of the police officers to fall victim to one of the Jigsaw copycat's traps in Spiral (the tongue and the train). Fans of the Canadian comedy series Letterkenny may recognize Petronijevic for his portrayal of McMurray in a few dozen episodes dating back to 2016. Beyond his appearances in Letterkenny episodes, Petronijevic has appeared in several of the American Pie Presents straight-to-DVD sequels including The Naked Mile and Beta House.
Richard Zeppieri - Detective Fitch
Richard Zeppieri portrays Detective Fitch, one of Zeke Banks' colleagues in Spiral. Zeppieri's career in show business goes all the way back to the 1989 TV adaptation of War of the Worlds, and he remained busy with scores of acting gigs in the decades following his arrival on the scene. The biggest of those is probably Earth: Final Conflict, on which he appeared in 18 episodes as Frank Tate between 1999 and 2002.
Ali Johnson - Officer Jeannie Lewis
One of the relative newcomers on the Spiral cast is Ali Johnson, who portrays Officer Jeannie Lewis in the Saw spinoff. Prior to taking on a role of one of the horror flick's investigators, Johnson appeared in the pilot episode of The CW's In The Dark. Outside of that, Johnson has appeared in smaller roles on a number of TV series and short films dating back to 2015, where she made her professional acting debut on screen in Dignity.
Zoie Palmer - Kara Boswick
Taking on the role of Kara Boswick in Spiral is Zoie Palmer, who, despite not having a ton of film appearances throughout her career, has proved to be an accomplished actress in the realm of television. A fixture on the Canadian supernatural drama series Lost Girl throughout its entire run from 2010 to 2015, Palmer has gone on to show up on everything from Murdoch Mysteries to Dark Matter where she appeared on 39 episodes from 2015 to 2017.
More recently, Zoie Palmer has had small roles in episodes of Taken, Ransom, and most recently, Wynonna Earp in 2021. Her film credits include Godsend, Devil, and Cold Blooded.
K.C. Collins - Detective Drury
After seeing K.C. Collins take on the role of Detective Drury in Spiral, you may be wondering where you've seen or heard him before showing up in the Saw spinoff. If you are currently watching the CBS crime series Clarice, you will probably recognize Collins as Agent Garrett, but if not, the multi-talented Collins has been in a ton of movies and TV shows throughout his career.
There are horror series like The Strain, on which K.C. Collins portrayed Roman for nine episodes of the FX original back in 2017. Just like Spiral co-star Zoie Palmer, Collins was also a big player on the supernatural drama Lost Girl. And just like Samuel L. Jackson, Collins has a role in the 2014 RoboCop reboot.
Edie Inksetter - Detective Kraus
Edie Inksetter, who portrays Detective Kraus in Spiral, is no stranger when it comes to horror, psychological thrillers, or psychological horror films and TV shows as she has had roles in some of the biggest movies and series in recent memory. If you are a fan of The Handmaid's Tale then you'll probably recognize Inksetter for her portrayal of Aunt Elizabeth in a few episodes throughout the Hulu show's first four seasons. She also appeared in a smaller capacity (and as two different characters) in 2017's It and its 2019 sequel It: Chapter Two. Throw in an episode of Black Mirror and some appearances on Clarice, and you have quite a stacked filmography.
Over the years, Edie Inksetter has made appearances on Saving Hope, Suits, and Hemlock Grove, to name just a few of her additional credits.
Morgan David Jones - Officer Barrett
Morgan David Jones is currently getting attention for his performance on the Netflix superhero drama Jupiter's Legacy, on which he appears as Jack Frost, but that isn't the only thing going for the actor this year as he portrays Officer Barrett in Spiral. With three dozen credits to his name since getting his first professional gig in the 2003 short film Fugue, Jones has shown up on everything from The CW's Reign to Aaron Sorkin's drama film Molly's Game with a great deal of other movies and shows between and since.
Genelle Williams - Lisa Banks
Genelle Williams, who shows up as Lisa Banks in Spiral, is probably best known for the role of Tilly Fagan on The Expanse or Leena on Warehouse 13 , but she has also appeared in a wide variety of movies and TV shows. Samuel L. Jackson isn't the only member of the Spiral cast to show up in the Marvel Cinematic Universe, as Williams had a small appearance as "Terrified Gal" in 2008's The Incredible Hulk. She has also also had roles in Orphan, Schitt's Creek, and like many others in the Saw spinoff, Clarice.
Well, that about catches us with the the main Spiral cast. If you're still looking for more stuff to watch (or make a plan to watch) after the Saw spinoff is released, check out CinemaBlend's 2021 TV schedule as well as our list of 2021 movie premiere dates.
Philip grew up in Louisiana (not New Orleans) before moving to St. Louis after graduating from Louisiana State University-Shreveport. When he's not writing about movies or television, Philip can be found being chased by his three kids, telling his dogs to stop yelling at the mailman, or yelling about professional wrestling to his wife. If the stars properly align, he will talk about For Love Of The Game being the best baseball movie of all time.
Your Daily Blend of Entertainment News
Thank you for signing up to CinemaBlend. You will receive a verification email shortly.
There was a problem. Please refresh the page and try again.