Turns Out Tom Cruise Barely Pulled Off One Of Mission: Impossible's Most Iconic Scenes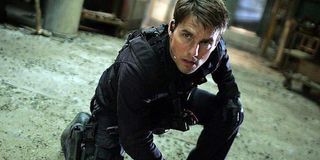 Tom Cruise has been one of the busiest men in Hollywood, as per usual. He's been hard at work on Mission: Impossible 7 and is likely gearing up for the eighth installment as well. And he's also found time to save a crew member's life while performing his own stunts and even hand back his Golden Globes. When it comes to his work, Cruise's stunts are impeccable and makes his movies, especially the Mission: Impossible franchise, incredibly exciting, especially when you keep in mind that he's pulled them off himself. However, it turns out Cruise barely pulled off one of Mission: Impossible's most iconic scenes.
The first Mission: Impossible, directed by Brian De Palma, is a classic that has spawned one of the biggest franchises in the movie industry and turned Tom Cruise into one of the most iconic action movie stars ever. Cruise recently remarked on his tough experience filming arguably the most iconic scene in the entire franchise. During a recent interview with director Christopher McQuarrie for the film's anniversary Blu-ray (via THR), Cruise talked about the difficulty in shooting the fan-favorite heist scene in the first Mission: Impossible:
The scene in question has Tom Cruise's Ethan Hunt lowered down from the ceiling into a secure room, and it's an incredibly thrilling scene that is expertly directed. The tension and stakes build up, forcing you to the edge of your seat. Cruise says he kept getting lowered too much, resulting in him hitting the floor multiple times, so director Brian De Palma came up with a way to just cut to Cruise at the end of the lowering. But Cruise insisted he could do it and finally nailed it -- and many would likely agree that the movie is better for it.
Mission: Impossible has affected Tom Cruise's career in a number of ways. One effect of the franchise is that caused Cruise to change his mind about sequels, a fact we all should be grateful for. The Mission: Impossible franchise just keeps going strong and continues to raise the bar, one iconic set-piece at a time. All in all, e can be glad we don't live in the timeline where Mission: Impossible was just a one-off.
Making the Mission: Impossible movies does come with its fair share of challenges. On the set of Mission: Impossible 7, Tom Cruise made headlines when he went on a rant regarding COVID-19 protocols and the movie's importance to the current state of the film industry. Cruise has since opened up about the situation and he stands behind his rant. Cruise relating to Tom Cruise is usually layered and arrives frequently. And as the release of the next Mission: Impossible movie gets closer, we'll hopefully will hear more anecdotes about stunts that almost didn't work.
Mission: Impossible 7 and 8 are still in different stages of production, and the hype and anticipation for the films continue to grow as more news and rumors about stunts and set pieces spread. And as they wait for the new movies, Mission: Impossible fans can rely on stars like Tom Cruise and Rebecca Ferguson for some behind-the-scenes insight into the franchise's past and present.
Your Daily Blend of Entertainment News
Movie and TV obsessive. A good Heist movie is the way to my heart. Enjoyer of everything from Marvel Movies to Rom-coms.