Mission: Impossible 7's Rebecca Ferguson Can't Stop, Won't Stop Sharing BTS Photos From Set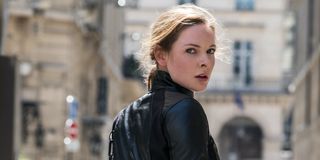 The stars of Mission: Impossible 7 aren't shy when it comes to sharing behind-the-scenes looks at the latest installment in the highly regarded action franchise. Simon Pegg recently shared his hilarious morning routine while filming, some smack talk with Tom Cruise and some photos of himself and Rebecca Ferguson cuddling up with a shirtless Tom Cruise. Rebecca Ferguson, while hanging out on set, also can't stop sharing behind-the-scenes photos.
Rebecca Ferguson's character, Lisa Faust, has become a mainstay in the Mission: Impossible franchise since her debut in 2016's Rogue Nation. Being a part of the team means being together on set for months at a time and, luckily, she isn't shy about sharing a look at what's going on during their downtime on set. Here is Ferguson chilling out on set via her Instagram:
Rebecca Ferguson is kicking back, stress-free with coffee in hand, while Simon Pegg is apparently being drilled on something important in the background. With the massive amount of work that goes into making these movies, it's totally understandable that the actress would relish any kind of quiet time. Of course, Ferguson definitely isn't a loner when she's working on set. She also posted a selfie with her co-stars and fellow Team Hunt members Pegg and Ving Rhames:
With the delay of Mission: Impossible 7 to 2022, it's nice to get these behind-the-scenes looks at what the cast is up to on set. There is a lot of repetition and downtime during movie production and having a team that's fine with having a good time probably makes the long hours in between takes easier to deal with. Rebecca Ferguson and Simon Pegg might be able to satiate Mission: Impossible fans until the eventual release of the seventh installment.
Mission: Impossible 7 is still adding new blood to its cast and teasing the return of Vanessa Kirby, who is one of the many competing for an Oscar this weekend. Despite the delay, it is still a movie many of us are willing to wait and see on the big screen. While they're certainly taking time to relax, Rebecca Ferguson and the Mission: Impossible team are working and ready to provide another genre-defining entry into the franchise.
Rebecca Ferguson is a commanding actor and screen presence, and since her introduction to the Mission Impossible movies, they only seem to be getting bigger and better. Ferguson has many big projects in the works outside of Mission: Impossible 7, including the highly anticipated adaption of Dune, coming later this year. To put it simply, Ferguson is on a roll and seems to be enjoying every minute of it.
Mission: Impossible 7 is currently slated to hit theaters on May 27, 2022.
Your Daily Blend of Entertainment News
Movie and TV obsessive. A good Heist movie is the way to my heart. Enjoyer of everything from Marvel Movies to Rom-coms.