New Star Wars Comic Finally Reunites Fans With A Familiar Solo Character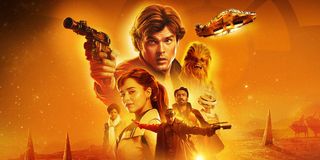 Last week, Solo: A Star Wars Story celebrated its third anniversary, and while the movie didn't take the world by storm during its theatrical run, it's clear a lot of people enjoyed Han Solo's origin story. Although the chances of Solo 2 happening still seem pretty slim, there are other ways to reunite with the original movie's principal players. Case in point, Qi'ra, Emilia Clarke's Solo character, has finally returned to the Star Wars scene in a new comic book.
Over at Marvel Comics, the War of the Bounty Hunters crossover event is well underway, with the second issue in the main event, Star Wars: War of the Bounty Hunters #1 arriving today. Set between The Empire Strikes Back and Return of the Jedi, the crossover follows Boba Fett's efforts to deliver the carbonite-encased Han Solo to Jabba the Hutt on Tatooine. The last issue, Star Wars: War of the Bounty Hunters Alpha, showed how Boba lost Han, and naturally that meant a lot of competitors were keen to snag that precious cargo. This week (via Newsarama), it's revealed that Qi'ra has obtained Han, the man who was once her lover.
Within the Star Wars timeline, approximately 13 years have passed between Solo: A Star Wars Story and the events of War of the Bounty Hunters. When we last saw Qi'ra, she agreed to rendezvous with Darth Maul, leader of the Crimson Dawn crime syndicate, following the death of her boss, Dryden Vos. Well, as Star Wars Rebels fans know, Maul eventually meets his demise at the hands of Obi-Wan Kenobi (for real this time!), and fast-forward years later, Qi'ra is now the head of Crimson Dawn. Granted, Qi'ra isn't named in Star Wars: War of the Bounty Hunters #1, nor is Crimson Dawn is mentioned, but it's abundantly clear it's her going off her likeness and dialogue.
As for why Qi'ra wants Han Solo, evidently it's more for business reasons rather than sentimentality. Since Han is wanted by the Rebel Alliance, the Empire and various other parties thanks to the bounty Jabba the Hutt put on his head, Qi'ra decides to put on an event that displays Han as the main attraction, with Jabba and Sana Starros (who was once "married" to Han) among the invited guests. Qi'ra informs Jabba that she'll give him Han as a "gesture of goodwill," but because he's just one of many people attending this little party, it definitely seems like she has a bigger plan in motion.
Had Solo: A Star Wars Story been a commercial success, there's a good chance that Disney and Lucasfilm would have greenlit a sequel, as unlike Rogue One, there were ways to move this particular story set in a galaxy far, far away. But that's not what happened, and a Qi'ra series on Disney+ is not in the cards, especially now that Emilia Clarke is busy working on Marvel's Secret Invasion series. So while it doesn't look like we'll ever see Qi'ra in live-action again, at least the War of the Bounty Hunters crossover is allowing for fans to learn where she ended up after the events of Solo. Depending on how this crossover unfolds, it's also possible that it will conclude Qi'ra's story, though the downside of that would be her never getting to speak to Han again since he wasn't freed from the carbonite until Return of the Jedi.
The next main chapter of the War of the Bounty Hunters event, i.e. Star Wars: War of the Bounty Hunters #2, arrives digitally and in comic book shops on July 14. However, if you're interested in the wider crossover, feel free to check out the participating titles: Star Wars, Darth Vader, Bounty Hunters and Doctor Aphra, as well as an assortment of one-shot issues on the way. As for the latest news concerning upcoming Star Wars movies and TV shows, keep checking back with CinemaBlend.
Your Daily Blend of Entertainment News
Connoisseur of Marvel, DC, Star Wars, John Wick, MonsterVerse and Doctor Who lore. He's aware he looks like Harry Potter and Clark Kent.