Scarlett Johansson Explains Why She's Fine Moving On From The Black Widow Role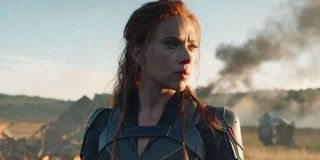 After Black Widow's significant delays due to the pandemic, the Marvel film is finally almost here. The studio is gearing up for its long-anticipated return to theaters (and MCU newcomer Florence Pugh has confirmed the press tour with some enthusiasm). Black Widow star Scarlett Johansson has also been discussing the difficulty of telling Natasha Romanov's story as well as contemplating her future in the MCU. Now, Johansson has explained why she's not bent out of shape moving on from the role of Black Widow.
Scarlett Johansson has been one of the Marvel Cinematic Universe's most important and beloved characters for the last decade. Black Widow will be the final appearance of Natasha Romanov in the MCU, and you would think it's probably a big deal to be moving on from something that you have been a part of for a big chunk of your career. Scarlett Johansson discussed why she's actually not too bent out of shape, telling Total Film:
Scarlett Johansson feels like she is leaving the role at a good point, noting she has accomplished a lot as the character, and going out on top is the way to go. Black Widow will transition from one Black Widow to the next, with signs potentially pointing to Florence Pugh becoming the MCU's new Black Widow. Having no regrets and leaving on your own accord is a luxury, and Scarlett Johannson deserves a hero's sendoff after the events of Avengers: Endgame.
Scarlett Johansson goes on to say how proud she is of how Black Widow turned out, and she is anticipating what everyone will think when they finally see it. Johansson says she will always love her experience playing Black Widow. There is always the potential for people to come back into play in the comics and the movie universe is probably no different. Still, the finality that Scarlett Johansson has been giving off looks like this might be it for Natasha Romanov on the big screen for now and maybe forever.
Black Widow is Marvel's big return to theaters since the global shutdown in 2020. To Me, Black Widow is the perfect opportunity for MCU fans to finally get back into the regular experience of seeing Marvel movies in theaters. Black Widow has released its final trailer, and the film previously released an epic clip of Scarlett Johannson and Florence Pugh in an insane car chase.
Black Widow is the theatrical start of Marvel's Phase Four, kicking off a packed roster of upcoming films. The film is shaping up to be both a send-off and a new beginning for Black Widow in the MCU. July 9th can't get here soon enough.
Your Daily Blend of Entertainment News
Movie and TV obsessive. A good Heist movie is the way to my heart. Enjoyer of everything from Marvel Movies to Rom-coms.