Looks Like Disneyland's Annual Passes May Never Be Coming Back. What Will Happen Instead?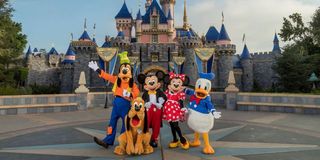 It would be an understatement to say that Disney's theme parks have undergone big changes in the wake of the COVID-19 pandemic. While some (like social distancing measures and mandatory capacity limits) will be temporary, it appears that others will become the new normal. One of the biggest changes is that Disneyland will seemingly be retiring its annual pass program for good and introducing a new way to reward the park's biggest fans instead.
In January 2021, Disneyland put a halt to its annual pass program, which began in 1983 (via AllEars.net). While the moment marked a new era for Disney, it wasn't immediately clear how the theme park would move forward in terms of a replacement. Now, more details are beginning to emerge about what frequent visitors can expect as the brand continues to expand operations.
Disneyland will be rolling out a new membership program in the near future, according to Yahoo! News. Chairman of Disney Parks, Experiences and Products Josh D'Amaro isn't ready to reveal all the details yet, but he said that the new endeavor "will reflect the behavior of our superfans."
While vague, this should hopefully be good news for people who used to hold annual passes to Disneyland. While the program has been a staple for many, these changes could help the park make improvements in terms of crowd control once it is fully operational again.
For now, the team in Anaheim is focused on helping fans adjust to the new normal. After Disneyland's year-long closure, it began to reopen this spring, albeit without all attractions and accommodations up and running. Certain experiences, like the FASTPASS and character interactions, have yet to be integrated back into the park.
The lead-up to Disneyland's reopening wasn't completely smooth, either -- there was confusion about who could buy tickets, and high demand led to fans waiting in unexpectedly long lines to snag a reservation. All that being said, it's easy to see why the strategic team at Disney Parks is taking its time in rolling out its new membership program for fans.
In the meantime, fans can look to other changes at the park for signs of hope. As of June 15, non-California residents are now able to purchase tickets to Disneyland again. The park is also easing its rules regarding wearing masks. If guests attest that they have been fully vaccinated against COVID-19, they will not be required to wear masks indoors or outdoors once they've entered the park.
So while things may never be exactly the same as they were pre-pandemic, especially for former annual pass holders, the park is slowly but surely getting back to a point where it can still be the Happiest Place on Earth for its die-hard fans. We'll be sure to keep you posted on news of the new membership program as it arrives.
Your Daily Blend of Entertainment News