Willy's Wonderland: Why The Nicolas Cage Horror-Comedy Is B-Movie Heaven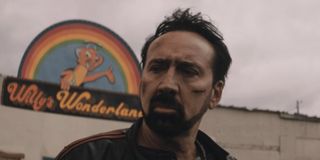 CinemaBlend participates in affiliate programs with various companies. We may earn a commission when you click on or make purchases via links.
Imagine what would happen if you put Nicolas Cage into the world of Five Nights at Freddy's, which is a popular video game franchise about animatronic characters at a Chuck E. Cheese-esque attraction that come to life at night with grave intentions. If that sounds amazing to you, you are in luck because that movie actually exists and is called Willy's Wonderland, but if you still need a little convincing before choosing to stream it on Hulu for your next movie night, then buckle up. The following are five, SPOILER-FREE reasons why one of the most bizarre 2021 movies yet is one of the most epic horror-comedy movies in recent memory, starting off with a little preview of our hero's performance.
Nicolas Cage Is A Stone Cold Badass In Willy's Wonderland As "The Janitor"
Like the hero in 2011's Drive, Nicolas Cage's character in Willy's Wonderland is virtually nameless, but unlike Ryan Gosling's man of few words, Cage plays a man of no words at all. Despite receiving top-billing and a producer credit, the Academy Award winner remains completely silent as a drifter forced into a custodial position at a defunct family fun center after a flat tire leaves him stranded in the middle of nowhere. In fact, he rarely seems even remotely phased by the horrors he eventually must endure during his overnight shift.
Frankly, that is exactly why "The Janitor" is one of my favorite Nicolas Cage performances as of late, and one of his funniest, if you ask me, especially when you realize all he cares about is getting his car back. What really makes his cold, unfeeling demeanor so irresistible, however, is how effortlessly he maintains it while fearlessly and dirtily making absolute waste of his creepy robotic enemies.
Willy's Wonderland's Evil Animatronics Are Comically Conniving Creeps
Speaking of Nicolas Cage's creepy robotic enemies, I really do mean it when I say that the various animatronic creatures that haunt Willy's Wonderland are pretty damn creepy. With bright, bulging eyes; a disgustingly unkempt appearance; and one "Grimm" character who is clearly a woman in a mask who can crab walk like Linda Blair in The Exorcist, the horror does come strong, especially when blood explodes on the screen.
Of course, the Willy's Wonderland script (by one time Criminal Minds cast guest star G.O. Parsons) is not without its humor, which the animatronic villains are a key aspect of - mostly due to the ridiculous irony of imagining characters at a family fun center wanting to kill you. As a result, the moments in which they do kill are met with equal laughs and screams and the moments in which they are killed by The Janitor are just dizzyingly satisfying.
Willy's Wonderland Also Has A Strong Female Lead Among The Supporting Cast
When blood does hit the screen, it comes courtesy of the supporting players in the Willy's Wonderland cast. All your typical B-movie archetypes are here, from the clueless blonde bombshell (Caylee Cowan), the good-hearted wannabe hero boy (Kai Kadlec), and the grizzled, aging local sheriff who ends up causing more trouble instead of stopping it (Beth Grant of Donnie Darko fame). However, there is one character who equals Nicolas Cage's The Janitor in purpose and almost equals him, in certain respects, as a badass.
Emily Tosta, the 23-year-old star of TV shows like Freeform's update of Party of Five and the Sons of Anarchy spin-off Mayans M.C., plays Liv - one of several teenagers who happen to be aware of the horrors that take place at Willy's Wonderland. Liv is the outspoken moral compass of the story and manages to hold her own relatively well against one of the evil animatronics when The Janitor is unavailable, for reasons I will let you find on your own.
The Explanation For The Evil Animatronics Is The Least Cheesy Thing About Willy's Wonderland
Liv is also the one who provides The Janitor with an unwanted explanation of why the animatronics at Willy's Wonderland are sentient and out for blood. Now, I promise that I WILL NOT GIVE AWAY THIS DETAIL out of respect to those who would rather discover it on their own and because you will probably be able to guess it from a mile away, to be perfectly honest.
However, I do want to give notice to this detail because a movie this shamelessly ridiculous could have just ignored any explanation of its supernatural elements. Furthermore, it could have just made a joke out of it. Instead, and admirably so, Willy's Wonderland actually gives some context to its madness, and with a backstory that aims, and succeeds, to disturb.
Willy's Wonderland Is Chock Full Of Classic Grindhouse Call-Backs
From the opening frame of Willy's Wonderland, you can already guess what kind of experience you are in for. If you were to guess that it is a loving tribute to the old school, rebellious, homemade style of filmmaking seen in '70s movies and '80s movies from the era of exploitation cinema, you would be 100 percent correct.
It is clear that G.O. Parsons and director Kevin Lewis were on the same train of thought and had the same passion for second rate horror when collaborating on this darkly comic fantasy. From the stupid but snappy dialogue, vintage production design, grainy camera filters, Dutch angles, and immersive close-ups, nearly every single moment is played so seriously and in such gloriously over-the-top form that it is impossible to take your eyes off of it. I imagine that even someone who does not prefer this sort of filmmaking, but is at least familiar with the style, will have no choice but to be impressed with their devotion the craft.
With Mandy in 2018 and Color Out of Space in 2020 (both some of the best horror movies on Shudder), Nicolas Cage has slowly, but surely, become a bit of an indie horror hero. I believe that this raw, macabre, and beautifully insane adventure may go down in history as the one gem he needed to complete his crown before assuming the throne as king of the modern B-movie. Go ahead and stream Willy's Wonderland on Hulu, if you have not already, to better understand what I mean.
Your Daily Blend of Entertainment News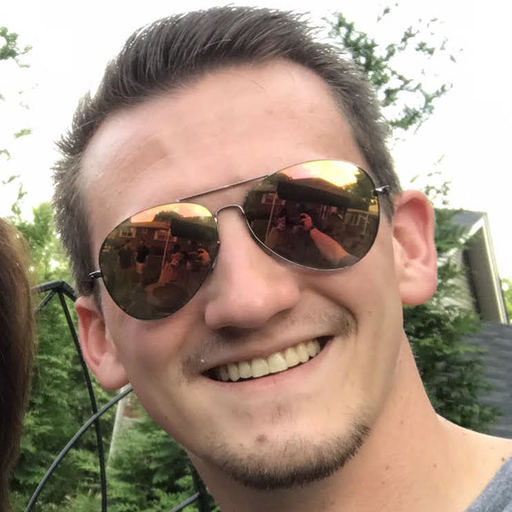 Jason has been writing since he was able to pick up a washable marker, with which he wrote his debut illustrated children's story, later transitioning to a short-lived comic book series and (very) amateur filmmaking before finally settling on pursuing a career in writing about movies in lieu of making them. Look for his name in almost any article about Batman.