Upcoming Nicolas Cage Movies And TV Shows: Joe Exotic, Willy's Wonderland, And More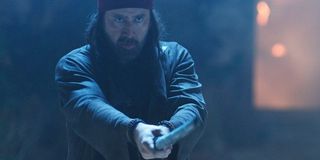 As a hard-working actor who's only continuing to master the fine, ever-elusive art of Nouveau Shamanic, Nicolas Cage is one of our most consistently unpredictable and persistently enjoyable superstars — particularly as the Oscar winner is constantly allowing himself to make bold, audacious, and frequently bizarre acting choices which showcase his full-hearted willingness to go big and weird. Certainly, his upcoming slate of movies and shows showcases an actor eager to make some truly strange-but-nevertheless-intriguing art, including a number of promising horror films, some outlandish comedies, and even a TV biopic of Tiger King's Joe Exotic. But why would you ever expect Nic Cage to play it safe?
With 100-plus acting credits to his name, Nicolas Cage is an uncompromising screen presence, one who is always willing to make some extraordinary and truly out-there decisions. We can only hope that this tradition continues for the foreseeable future. For now, though, let's see what Cage is working on next.
Jiu Jitsu - November 20th, 2020 (Completed)
Nicolas Cage in a fantasy martial arts movie where he must defeat an alien and save the world from peril using a special brand of jiu jitsu? Say no more, I'm sold! Jiu Jitsu is the latest film starring Nicolas Cage, and it sounds absolutely bonkers. Thankfully, Cage has built a career filled with nonsensical movies, and we can only hope that he continues infusing his brand of nonsense into many more movies to follow.
If you weren't already interested in practicing Jiu Jitsu based on Cage's involvement alone, it's also worth noting that the movie co-stars Frank Grillo, Alain Moussi, and Tony Jaa, and it's based on a comic book of the same name by Jim McGrath and Dimitri Logothetis, who also directs. McGrath and Logothetis also adapted their own source material. I dunno about you, but I'm ready. It comes out November 20th.
The Croods: A New Age - November 25th, 2020 (Completed)
The Croods are back! Seven years after the release of 2013's DreamWorks Animation comedy, the titular prehistoric family returns with this fall's The Croods: A New Age.
Nicolas Cage reprises his role as Grug, the patriarch of this B.C. family. This sequel follows the continuing adventures of The Croods through lands unknown as they meet another family named the Bettermans, who claim to be more evolved and, well, better. The sequel's release date has been in a state of flux for years. In fact, at one point, it wasn't even clear if we were getting a sequel at all. Previously slated for September 18th and December 23rd, 2020, there's no guarantee that Joel Crawford's feature directorial debut will make its way into theaters and/or VOD on November 25th, but the studio is sticking by that date for the time being, at least.
Prisoners of the Ghostland - Post-Production (TBA 2020/2021)
Telling the tale of a notorious criminal who must break an evil curse in order to rescue an abducted girl, Prisoners of the Ghostland is another genre-bending horror-thriller starring Nicolas Cage. Directed by veteran filmmaker Sion Sono (Why Don't You Play In Hell?), it's expected to be a delirious, style-heavy feature, which should play well with Cage's rambunctious acting theatrics. But that's me assuming.
We haven't seen any footage from the upcoming film, though we know that Sofia Boutella, Ed Skrein, and Nick Cassavetes round out the cast. It's currently in post-production, though its release date remains undetermined. It's possible that it might get a late 2020 release, either through a film festival or a digital release, but it's more likely that Prisoners of the Ghostland will be unveiled sometime in 2021. In any case, here's hoping it's another wacky Nic Cage movie!
Pig - Post-Production (TBA 2020/2021)
A story of loss and revenge centered around a man and his beloved pig may not be what you'd expect to see whenever you go to the movies, but if there's one actor who could sell it, it's Nicolas Cage. Pig, the feature directorial debut of Michael Sarnoski, follows a lonely mushroom forager (Cage) who discovers that his adored swine is missing and seeks justice. It also stars Alex Wolff, Adam Arkin, and Gretchen Corbett.
Production began and concluded a year ago in Portland, Oregon. It's unclear when Pig is set to be released, although it was picked up by Neon earlier this year. Given their track record of releasing unconventional movies to a wide audience, Pig is in good hands. While it's expected to come out sometime in the near future, it's more-likely-than-not that it'll arrive sometime next year. Maybe even early next year.
Willy's Wonderland - Filming (TBA)
A quiet drifter takes the night-shift janitorial position at a once-successful amusement park, only to fend for his life when the animatronics come to life and threaten to kill him, in Willy's Wonderland, a new horror film starring Nicolas Cage. Once titled Wally's Wonderland, this upcoming title follows a string of recent horror films from the famous actor, notably including 2018's Mandy and this year's Color Out of Space. Will this be another winner from the notoriously inconsistent actor?
Certainly, the premise is amusing, and it's easy to see how Nic Cage will have lots of fun fighting off evil animatronics. The movie is almost entirely shot, though additional pick-up shots are reportedly needed. When those might happen is left uncertain amid the pandemic. In any case, maybe this ridiculously silly film (which is heavily reminiscent of Five Nights at Freddy's) will be released in time for Halloween next year.
The Unbearable Weight of Massive Talent - Filming (March 19th, 2021)
Soon, Nicolas Cage will play the character that he was born to play: Nicolas Cage. Indeed, in the role that's taken a lifetime to perfect, Nicolas Cage will embody "Nicolas Cage" in The Unbearable Weight of Massive Talent, a meta action/dark comedy centered around a cash-strapped actor who agrees to make a paid appearance at a billionaire drug kingpin/super fan's birthday party, only to serve as an informant for the CIA. Along the way, Cage is trying to secure a part in the new Quentin Tarantino movie.
Also starring Pedro Pascal and Tiffany Haddish, this tongue-on-cheek premise started as a screenwriting exercise for Kevin Etten and Tom Gormican (who'll also direct), but they decided to throw it in Nic Cage's direction and see if he'd actually agree to make it. When the actor said yes, The Unbearable Weight of Massive Talent resulted in a major studio bidding war, possibly proving that this upcoming Cage comedy could be one of the actor's biggest movies in years. As well it should be. It's apparently already filming, and I cannot wait to see it. It's currently slated for March 19th, 2021, but we'll see if that sticks. It should also be noted that Cage will serve as a producer in addition to lead actor on the project, and the movie will also reportedly feature more than one Cage (not unlike Adaptation).
If that doesn't hype you up, I dunno what you're doing here.
10 Double Zero - Pre-Production (TBA)
Whether it's Bad Lieutenant: Port of Call - New Orleans, The Trust, or The Wicker Man, Nicolas Cage is no stranger to playing cops who cross the line in the line of duty. Sure enough, he's set to play another cop with his own sense of morals in the upcoming crime-thriller, 10 Double Zero. The movie follows a detective who goes on a personal vendetta to hunt down cop killers. Certainly, it sounds like the type of crime drama we'd expect from Nicolas Cage. But it's unclear when the new movie is expected to start shooting.
Last year, it was reported that filming was delayed in Baton Rogue as an actor's schedule delayed the proceedings. It's unclear if the movie was able to start shooting. Productions nationwide have been shut down or pushed back. It wouldn't be surprised if this one was cancelled too.
Untitled Joe Exotic Project - Pre-Production (TBA)
Earlier this year, particularly as many people were stuck at home trying to figure out how to pass the time, Netflix viewers worldwide were engulfed in the life story of Joe Exotic, a former zoo operator, local politician, and convicted felon who became the central subject of the much-watched docu-series, Tiger King. This boisterous, larger-than-life personality was a dream role for many actors, and there was no doubt that many Hollywood personalities would soon be trying their hand to book the role of this truly wild persona.
But while everyone (including me) had their picks for who should play the criminal character, Nic Cage became the first to pick up the part in an untitled Amazon Prime limited series. Based on a Texas Monthly article by Leif Reigstad, this series was initially set-up for CBS before Amazon acquired it. More updates and developments should arrive in the months to follow.
Highfire - Announced (TBA)
Have you ever wanted to see Nicolas Cage play a dragon who loves vodka and Flashdance? Well, by golly, here's your chance — thanks to Amazon Prime.
Nic Cage is signed on to executive produce and lend his voice to the new series, Highfire, based on the book of the same name by Eoin Colfer (Artemis Fowl). As reported by Deadline, the story is described as "True Detective by way of Pete's Dragon," as it'll be a gritty, genre-bending crime-thriller with magical elements and a large dragon named Lord Highfire who lives the bayous of Louisiana, watches copious TV, and drinks obscene amounts of liquor. If you're like me, your interest has already been piqued. The new show will come courtesy of Davey Holmes, the creator and executive producer of Epix's Get Shorty. Details remain limited otherwise, but this is certainly an intriguing premise, and one that hopefully proves to be fiery fun.
National Treasure 3 - Announced (TBA)
Will we ever get National Treasure 3? The long-delayed sequel has seen many false starts and weathered many unfulfilled promises over the course of the past decade-plus, and it's hard not to feel doubtful. But it's reportedly not dead yet. Earlier this May, producer Jerry Bruckheimer insisted that the trilogy-capping sequel was still happening, and he claimed that the original cast was set to return. Furthermore, he noted that there will also be a Disney+ series with a younger cast. Whether or not that further delays or expedites the sequel remains undetermined.
Nevertheless, Jerry Bruckheimer said both National Treasure projects are "very active." Certainly, National Treasure 3 has seen a revolving door of screenwriters join the project and contribute to the fluctuating screenplay. Whether they're settled on a script or they're still in the writing process is uncertain. Nevertheless, National Treasure 3 isn't buried yet.
Spider-Man: Into the Spider-Verse 2? - Filming (October 7th, 2022)
Nowadays, Spider-Man never wanders too far from the silver screen, so it shouldn't come as much of a surprise to know that we'll be getting another Spider-Man movie in the near future. In addition to MCU's forthcoming Spider-Man 3, there's also Spider-Man: Into the Spider-Verse 2, a much-anticipated sequel to Sony Animation's Oscar-winning 2018 animated movie. With its release date currently set for October 7th, 2022, the production is already underway. Filming began earlier this year, and since it's an animation production, we shouldn't expect (or worry about) too many delays in its future.
Nevertheless, details remain vague. While we know that Shameik Moore and Hailee Steinfeld are slated to reprise their roles as Miles Morales and Gwen Stacey, respectively, the rest of the cast isn't currently confirmed. Will Nicolas Cage's Spider-Man Noir return? We'll have to wait to find out.
Which special infusion of Nouveau Shamanic are you looking forward to the most? Be sure to let us know in the comment section below.
Your Daily Blend of Entertainment News
Will is an entertainment writer based in Pittsburgh, PA. His writing can also be found in The Playlist, Cut Print Film, We Got This Covered, The Young Folks, Slate and other outlets. He also co-hosts the weekly film/TV podcast Cinemaholics with Jon Negroni and he likes to think he's a professional Garfield enthusiast.