The Big Bang Theory's Kaley Cuoco And SNL's Pete Davidson Are Teaming Up For A Wild Rom-Com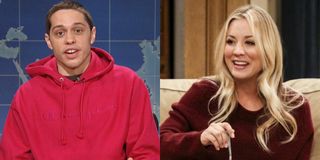 Rom-coms are a staple of the film industry. From the really good to the utterly terrible, romantic comedies are popular for a reason: they're fun and pleasantly predictable. However, I've noticed that oftentimes they can become a little too formulaic, which makes for a dull viewing experience. But not to worry, fellow fans: Kaley Cuoco and Pete Davidson are teaming up for a wild rom-com that's set to shatter our expectations.
Kaley Cuoco of The Big Bang Theory fame and Pete Davidson from Saturday Night Live are reportedly negotiating to star in the romantic comedy Meet Cute, according to Deadline. Meet Cute will be directed by Alex Lehmann (Paddleton) with a script by Noga Pnueli. The title doesn't sound super groundbreaking, but the film is described as a "wildly inventive deconstruction of the romantic comedy," so maybe it's a red herring. It wouldn't be the first time a crazy film has had a normal name (I'm looking at Tenet, Christopher Nolan). Meet Cute will revolve around the idea that you can go back in time and alter your significant other's future. We as audience members know that time travel can only lead to trouble, but it sure is fun to watch movie characters try it out.
Another point in favor of the film's so-called wildness? The stars, of course. Kaley Cuoco made a name for herself as Penny on The Big Bang Theory, where she showed off her comedy chops and quirky demeanor. Penny had no trouble getting caught up in Leonard and Sheldon's shenanigans, so Kaley Cuoco should have no problem starring in a subversive rom-com like Meet Cute. Her HBO Max show The Flight Attendant also got pretty wild, although the subject matter was decidedly darker.
Pete Davidson, known as the 'Resident Young Person' on Saturday Night Live, has an even wackier reputation than Kaley Cuoco (and I mean wacky in the best way possible). He started out his tenure playing himself on Weekend Update, but quickly transitioned to the odd characters that make SNL so memorable.
One of my personal favorite Pete Davidson skits was 'The Negotiator', where he donned an inflatable gummy bear suit and danced to a vaguely techno beat (yes, that is 100% a real skit, and I loved every absurd second of it). And who could forget Pete Davidson's turn as Stu, an Eminem parody who couldn't stop writing letters to Santa Claus? The reason, of course, was that Stu just really wanted a PS5.
The major plot details of Meet Cute are being kept under wraps, but if the equation is Kaley Cuoco + Pete Davidson + time travel, the only solution is hilarity. Unfortunately, we don't have a time machine, so we'll just have to wait for Meet Cute the old-fashioned way.
Your Daily Blend of Entertainment News
Actor, singer, and occasional dancer. Likes: fashion, books, old buildings. Dislikes: cilantro, the NJ Turnpike, sneaker wedges.