For Your Eyes Only Is Essential James Bond Viewing For Its 40th Anniversary, But Good Luck Streaming It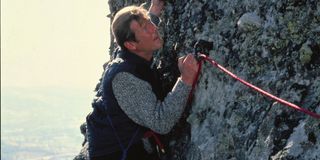 June 24th 1981 marked the UK premiere of Roger Moore's fifth James Bond film, For Your Eyes Only. In a stretch that saw Moore's 007 embrace modern fashion, as well as a light hearted sensibility to the character, this comparatively gritty entry sometimes finds itself lost in the shuffle. Now, with the film being one of two movies not available for streaming in the James Bond catalog, as well as in honor of the film's recent June 26th anniversary for US audiences, it's the perfect time to remind the world of why For Your Eyes Only is essential James Bond viewing.
Why It's Such A Big Deal That You Can't Stream For Your Eyes Only
Let's start this mission with some good news. If you head over to Tubi, you can see almost all of the classic James Bond movies, for free, without a subscription. Yes, there will be ads, but it's a small price to pay for having almost everything between Dr. No and Die Another Day at your disposal. That being said, two Roger Moore films are sadly absent from the lineup, and For Your Eyes Only is one of them.
As that and The Man with the Golden Gun are currently unavailable in the James Bond catalog on Tubi, fans old and new are going to be hard pressed to enjoy the complete classic 007 canon. That's especially distressing with For Your Eyes Only, as it holds a pretty essential place in that range of films, and not just for Roger Moore fans. As of now, you'll have to spend some rental money to catch this one, but here's several reasons why that money is well spent.
For Your Eyes Only Is Roger Moore's Best 007 Entry
It's easy for some to bag on Roger Moore's time as the cinematic James Bond, as purists will slam his works for being too heavy on double entendres and other forms of humor. Admittedly, the Moore films can get silly, but his charm and quick wit still represent crucial hallmarks of the character of Bond. Not to mention, For Your Eyes Only showed us just how close Sir Roger Moore could get to Ian Fleming's 007, and the results were stunning.
There's still room for jokes, as it wouldn't be a Moore Bond film without them. The key element that sets For Your Eyes Only apart from the rest of the pack is the fact that humor is presented in smaller doses that accent the film, rather than take it over. Yes, a parrot tells Margaret Thatcher to "give us a kiss," and Bond even gets to have some fun with a certain close and personal nemesis, but those jokes bookend a film that dives into some pretty personal waters. This leads to a pretty surprising connection that most people wouldn't pick up when watching this movie.
This Movie Heavily Ties Into On Her Majesty's Secret Service
There's another very important reason that For Your Eyes Only is one of the most crucial James Bond movies. Fans have long credited George Lazenby's On Her Majesty's Secret Service as a long unsung 007 adventure, as it allowed the series to get back to Ian Fleming's intent for the character. Also, it's one of the most dramatic Bond films ever, allowing him to fall in love and tragically have his heart broken for the first time on screen.
On the surface, the opening pre-credits sequence where Roger Moore's James Bond visits the grave of his late wife seems like a good continuity move. Upon further examination, it cannot be stressed enough that For Your Eyes Only could be the closest we've ever gotten to a sequel to On Her Majesty's Secret Service. With Bond's mission to retrieve a crucial messaging system overlapping with Melina Havelock (Carole Bouquet) and her attempts to avenge the death of her parents, the fallout of James' ill-fated love affair with his darling Teresa echoes throughout this entire movie.
If You Love The Daniel Craig Era, For Your Eyes Only Is Extremely Essential
Another James Bond movie ties into what For Your Eyes Only represents in the 007 canon: Quantum of Solace. Despite public opinion consistently lumping the 2008 Daniel Craig entry in as much of an unfavorable light as something like Moonraker, Quantum of Solace is important to the Craig era. And in its own right, that film is a loose remake of For Your Eyes Only.
There's definitely a strong opinion that George Lazenby and Timothy Dalton were the true standard holders of the James Bond legacy that helped make Daniel Craig happen. But the closer you look at For Your Eyes Only's dramatic tale of vengeance in the name of love, the more you start to see that there's a crucial gap a lot of people have overlooked in this history. Whether you're a fan of Quantum of Solace or not, that film is an important part of the Craig era; and that only makes For Your Eyes Only more essential to experience.
The world of streaming loves to split apart movie libraries, as digital rights can be confusing things to follow. Just why For Your Eyes Only isn't available to stream at the moment is something we don't have the answers to, which only makes it more frustrating to behold. But if you're looking to have a true education in James Bond's history, or if you're wondering if it's worth revisiting that movie after seeing it only once or twice, the answer is an absolute "yes."
It's not all bad news when it comes to James Bond's streaming contingent. As mentioned above, Tubi has almost every classic Bond movie in their lineup. And as an added bonus, both the 1953 and 1967 adaptations of Casino Royale are available; as well as Everything or Nothing, the documentary on how the film series came together. Though if you want the full experience, don't be afraid to rent For Your Eyes Only, or The Man with the Golden Gun, wherever you purchase your digital rentals.
Your Daily Blend of Entertainment News
Senior Movies Contributor
CinemaBlend's James Bond (expert). Also versed in Large Scale Aggressors, time travel, and Guillermo del Toro. He fights for The User.