Everest: The Cast And Other Things We Know About The Ewan McGregor Adventure Film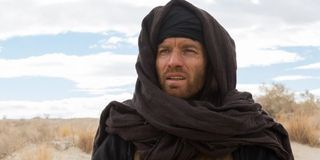 There are few expeditions adventurers can take that are more daunting, dangerous, and spiritual as climbing to the top of Mount Everest. The tallest mountain on Earth has long been the the subject of films and now the iconic peak will get the cinematic treatment once more with Everest, the upcoming Doug Liman movie featuring Ewan McGregor and Outlander's Sam Heughan as two rival climbers who set off in 1921 to become the first to stand where no man had stood before: the top of the Earth.
In the next couple of years, Doug Liman, who also plans to shoot a Tom Cruise movie in outer space, will take his star-studded cast, talented production team, and boundless ambition to tell one of the most exhilarating and fascinating stories about a group of thrill-seekers and history makers who wanted one thing and one thing only: to become the stuff of legend.
The Everest Cast Includes Ewan McGregor, Sam Heughan And Mark Strong
When Doug Liman sets off to tell one of the most remarkable adventure stories of all time, he will be joined by a remarkable cast of actors that will certainly help make Everest all the more exciting to watch. Ewan McGregor leads the pack as George Mallory, an early 20th Century English mountaineer who led the first three British expeditions to Mount Everest. Mark Strong will take on the role of Arthur Hinks, a member of the Royal Geographic Society who hand-picked Mallory to make the dangerous yet important trek to the top of the world. You can't have an adventure movie without a rival and that's where Sam Heughan steps in as the eccentric Australian climber George Finch, per Deadline.
Everest Will Tell The Story Of The First Attempt To Climb Mount Everest
Now, you might be asking yourself: Wasn't there a movie called Everest that came out not too long ago? The answer is yes, but Baltasar Kormákur's 2015 Everest told the story of the horrific 1996 disaster atop the Himalayan Mountains that claimed the lives of eight climbers when a deadly blizzard blew through. Doug Liman's story, however, will instead turn its focus to the first British expedition to Mount Everest in the 1921, just a few years removed from the end of World War I and a British Empire seeking a victory and glory on the world stage, per The Hollywood Reporter. But for George Mallory and George Finch, the pride of their respective nations comes second to their desire to push themselves to limit.
Production On Everest Is Set To Get Underway January 2022 In The U.K. And Italy
Although we don't yet have a release date for Everest, we at least know when the cameras will start rolling on what sounds to the latest epic adventure film. According to Variety, Doug Liman will start production on Everest at some point in January 2022 with shooting taking place in the U.K. and Italy. It has yet to be revealed how long production will last or if anything will be filmed on location at Mount Everest, but expect to hear more on this in the coming months.
Doug Liman, An Avid Climber, Intends To Make Everest A 'Dangerous, Dangerous Foe'
Ewan McGregor's George Mallory and Sam Heughan's George Finch will be competing against one another to climb to the top of Mount Everest, but the movie's actual villain and driving force will be the mountain itself. During a presentation at a Pre-Cannes Screenings event in June 2021 (via Variety), director Doug Liman, an avid climber himself, revealed his desire to make Mount Everest seem as formidable as possible, stating:
Doug Liman, who also described Everest as being the "ultimate adventure film," explained that the expedition that he will be dramatizing in the upcoming movie resulted in the first 11 recorded deaths on Mount Everest.
Everest Has Been A Passion Project Of Doug Liman's For The Past Decade
When the cameras start rolling on Everest in early 2022, it will be more than a decade after Doug Liman first started working on the project. In September 2011, Deadline reported that Liman, who was also in the early stages of Edge of Tomorrow at the time, had signed on to tell the story of George Mallory and his 1921 attempt to scale Mount Everest. At the time, it was reported that not only was Liman a serious climber but also a longtime fan of Mallory and the mysterious circumstances of his 1924 disappearance during his third attempt to scale the mountain, though it has yet to be revealed if this part of Mallory's story will be included in Everest.
Screenwriter Sheldon Turner Adapted Jeffrey Archer's Paths Of Glory Into Everest
The white-knuckles adventure that will be Everest was written by Sheldon Turner, whose work on writing the Up in the Air screenplay alongside Jason Reitman earned him a Golden Globe (as well as an Academy Award nomination) back in 2010, per Screen Daily. Like Doug Liman, Turner has been involved with adapting Jeffrey Archer's Paths of Glory from page to screen, turning out several versions of the story since then.
The Midnight Sky's Cinematographer Martin Ruhe Is Shooting Everest
When Everest lands in theaters at some point in the near future, it will feature the camera work of cinematographer Martin Ruhe, per The Hollywood Reporter. Ruhe's most recent feature film, The Midnight Sky, was full of breathtaking shots and and lighting that complimented the direction of George Clooney. Ruhe's previous efforts include Ewan McGregor's American Pastoral, and Anton Corbijn's The American. Ruhe made his feature film debut with Corbijn's 2007 Ian Curtis biopic Control, which showed the final days of the influential Joy Division singer.
There is still some time before we'll get to see Doug Liman's Everest, but in the meantime you should check out CinemaBlend's guide to all the 2021 new movie releases so you don't miss anything at your local theater or streaming.
Philip grew up in Louisiana (not New Orleans) before moving to St. Louis after graduating from Louisiana State University-Shreveport. When he's not writing about movies or television, Philip can be found being chased by his three kids, telling his dogs to stop yelling at the mailman, or yelling about professional wrestling to his wife. If the stars properly align, he will talk about For Love Of The Game being the best baseball movie of all time.
Your Daily Blend of Entertainment News
Thank you for signing up to CinemaBlend. You will receive a verification email shortly.
There was a problem. Please refresh the page and try again.