Will Clifford The Big Red Dog Talk In His Upcoming Movie? Here's What The Creative Team Says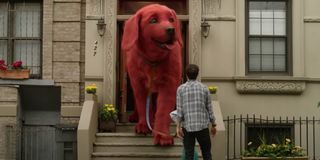 A new Clifford the Big Red Dog movie is on the way, which will mark the first time the storybook pet has been seen in a live-action production. While the character's official look was revealed a while back, the recent trailer shed some light on the humorous situations the dog is going to get into. From the look of things, the enormous canine is just as curious and playful as fans have known him to be. But there may be one question that some viewers have about his character: will he ever speak during the course of the movie?
There's a firm chance that, like myself, you grew up watching the animated Clifford the Big Red Dog series that aired on PBS during the early 2000s. On that show (and the more recent reboot), Clifford did talk, albeit to his fellow dogs. So when I recently spoke to director Walt Becker and producer Jordan Kerner about the live-action film, I couldn't help but ask if Clifford has a voice. Ultimately, Kerner confirmed that the titular character does not actually speak in the film and explained why he, Becker and their team decided to move in that direction:
So for Jordan Kerner, Walt Becker and their collaborators, it was about making sure that Clifford remained a real dog, in spite of his unusual appearance. It's easy to understand the reasoning behind the decision, especially when you consider just how many talking dog movies we've seen over the years (no offense Scooby-Doo). Nevertheless, Kerner went on to say that audiences will know what the character is thinking through "very subtle" gestures:
When giving his own thoughts on the creative choice, Walt Becker used his own dog as an example. The director spoke on how he can tell when his dog needs something or when he's done something wrong. He also explained his approach to Clifford's characterization, even noting the similarities between this iteration of the character and the equally lovable E.T.:
The creatives behind Clifford the Big Red Dog seem to have put a lot of thought into how they wanted to portray the character on screen. This also extended to his physical appearance, which took quite a bit of time to nail down due to Clifford's natural color. So while some may be some may have been expecting Clifford to talk this time around, they can still rest easy knowing they'll still be able to connect with the beloved canine.
Clifford the Big Red Dog opens in theaters on September 17th.
Covering superheroes, sci-fi, comedy, and almost anything else in film and TV. I eat more pizza than the Teenage Mutant Ninja Turtles.
Your Daily Blend of Entertainment News
Thank you for signing up to CinemaBlend. You will receive a verification email shortly.
There was a problem. Please refresh the page and try again.