Chris Hemsworth Is Pumped About Getting Back To Things He Loves After 5 Months Of Filming Thor Love And Thunder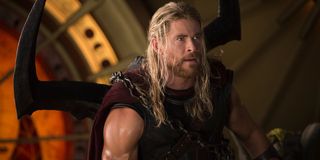 Thor: Love and Thunder recently wrapped filming, and now comes the waiting game for its May 2022 release. Chris Hemsworth has spent years dedicating himself to playing the God of Thunder, staying in crazy shape and generally embodying his character for over a decade. His fellow marvel star, Chris Pratt, has even praised Hemsworth's commitment in Love and Thunder, calling it "next level." Since his job is done on the new Thor, Hemsworth is now pumped about getting back to the things he loves.
It would see that Chris Hemsworth couldn't wait to get back to doing some of the activities he enjoys. Being from Australia, he's used to being on beaches and enjoying the outdoors, which perfectly fits his active lifestyle. So of course, it should be no surprise that he's already living it up with one of usual activities. So after working on Thor: Love and Thunder for half a year, Chris Hemsworth posted a celebratory post on Instagram, showing off what exactly he's doing with his downtime:
It's great to see Chris Hemsworth is back in his natural environment, where he's riding a wave on a beautiful beach, saying that he's back on the water and feeling good. More specifically, Hemsworth is riding through a tube and looking like a professional surfer while doing it. The entire scene looks incredible, and it's impressive that a big guy like Chris Hemsworth can pull off something that seems so difficult. Of course, he's been doing it most of his life, so it's probably second nature to him by this point.
After having watched Chris Hemsworth play Thor in the Marvel Cinematic Universe for a decade, It's crazy to think that he was a relative unknown when he was first cast. It's even crazier to think that he almost lost out on his role as the God of Thunder due to a past project. Known for being one of the Avengers' big three, he's now the last one standing, and it will be interesting to see how long he continues playing Thor in the MCU.
Thor: Ragnarok became one of the best Marvel movies to date and reinvigorated the Asgardian's film series in the process. The film was a marvel, especially when you consider that director Taika Waititi would just make up bits on the spot.
Thor: Love and Thunder's Taika Waititi previously explained how the film's humor compares to that of Thor: Ragnarok. He has also addressed the uncertainty of directing another Thor film after Love and Thunder, so this could be the last MCU collaboration between him and Hemsworth.
With Thor: Love and Thunder less than a year away, it is surely one of the most anticipated MCU films on the studio's stacked roster of upcoming movies. We'll just have to wait and see if this is the last Thor film or if it just marks the beginning of a new era for the character. Until then, we should all be enjoying our downtime between movies as much as Chris Hemsworth.
Movie and TV obsessive. A good Heist movie is the way to my heart. Enjoyer of everything from Marvel Movies to Rom-coms.
Your Daily Blend of Entertainment News
Thank you for signing up to CinemaBlend. You will receive a verification email shortly.
There was a problem. Please refresh the page and try again.