After Thor: Love And Thunder, Could Taika Waititi Direct Thor 5? Here's What He Said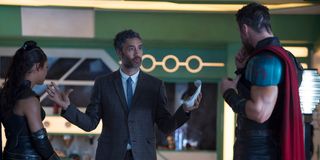 Thor: Love and Thunder has wrapped filming, and director Taika Waititi's response was completely on-brand. The 4th Thor film is among the most anticipated upcoming movies in the Marvel Cinematic Universe, as well as one of Taika Waititi's most significant projects he has in the works. Waititi's MCU debut, Thor: Ragnorok, was widely praised one of the best MCU films, and Waititi and Chris Hemsworth are poised to deliver once again with Love and Thunder. But looking further into the future, Waititi recently responded to if he will direct Thor 5.
We don't know where Thor: Love and Thunder will leave the franchise, but speculation about Thor 5 is inevitable. Chris Hemsworth has been seemingly rejuvenated by Taika Waititi taking over the franchise and the refreshing approach he has taken, adding humor and his visual identity into the mix. Here's what Taika Waititi had to say about if he will direct Thor 5, telling The Sydney Morning Herald:
Taika Waititi says that he and the team behind Thor: Love and Thunder have put everything they possibly could from a creative standpoint into the film, leaving everything on the set. Waititi doesn't know if there will be another Thor movie, but he is confident in Thor: Love and Thunder and happy with what they were able to do with the film, as well as has no regrets.
Thor is the last member of Marvel's "Big Three" after Captain America (Steve Rogers) and Iron Man (Tony Stark) both ended their runs in the Marvel Cinematic Universe in Avengers: Endgame. Chris Hemsworth has been at it a long time, but with Thor: Ragnorok, he and Taika Waititi finally seemed to put everything together for his character finally reaching its potential. It will be interesting to see what Love and Thunder does with Thor's future in the MCU.
Thor: Love and Thunder pick up where we left off with Thor's journey at the end of Avengers: Endgame. Set photos have revealed how the God of Thunder may get back into shape after putting on some pounds between Infinity War and Endgame. Thor is in an interesting place, and Thor: Love and Thunder is set up to be another fantastic entry into the franchise.
Chris Hemsworth recently celebrated Thor's ten-year anniversary with some throwback photos of himself and Tom Hiddleston. Hiddleston has finally commented on Matt Damon's Loki impression from Thor: Ragnorok, and it doesn't disappoint. Will Loki pop up in Love and Thunder, or will we get to see Thor in the Loki series, Tom Hiddleston has had discussions about his character in Taika Waititi's film, but we will have to wait and see how everything turns out.
Your Daily Blend of Entertainment News
Movie and TV obsessive. A good Heist movie is the way to my heart. Enjoyer of everything from Marvel Movies to Rom-coms.