Why Black Widow's Taskmaster Is Better Than The Comics Version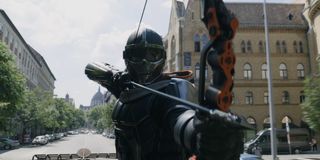 CinemaBlend participates in affiliate programs with various companies. We may earn a commission when you click on or make purchases via links.
Warning! The following contains SPOILERS for the Marvel movie Black Widow. Read at your own risk!
Black Widow's impressive opening weekend at the box office showed Marvel fans still care about Natasha Romanoff, and while that was maybe still true for many after the fact, there were some complaints regarding character representation in the film. A good number of people were somewhat miffed about the way that Taskmaster, a classic Marvel villain, was portrayed.
While I certainly respect the opinions of Marvel fans who prefer the traditional representations of Marvel characters, I have to disagree and think the MCU's new take on the character is arguably better. At least when we're speaking in terms of the MCU and the story it's telling, there's plenty of reasons to believe this is a stronger representation of Taskmaster than the classical take. As previously mentioned, we will be getting into spoilers going forward, so be sure you're ok with that before continuing!
Black Widow's Taskmaster Adds A More Connected Version Of The Character
In Black Widow, Taskmaster isn't the traditional character Tony Masters, but Antonia, the daughter of Red Room leader Dreykov played by Quantum of Solace alum Olga Kurylenko. Natasha Romanoff believed she killed Antonia years prior in an attempt to kill Dreykov years prior, but the character survived, and thanks to a chip implant, she could mimic the moves of anyone perfectly. Dreykov was also to maintain full control of his daughter with the chip and used her as a weapon in serious matters, like what occurred in the movie.
Marvel Studios could've gone with a more traditional representation of Taskmaster for Black Widow, and there was apparently a point where that was considered. Screenwriter Eric Pearson spoke to Slashfilm about the initial goal for Taskmaster, and why he opted for a different take:
Whether intentional or not, Black Widow's take on Taskmaster transformed the character from a cookie-cutter villain who could seemingly fit in anywhere due to the ambiguity of his origin, to a meaningful individual with ties to a legacy character in the MCU. In my mind, this is a more thoughtful approach to Taskmaster and one that shows more potential than simply throwing in some guy with a skull mask and a cape.
Black Widow's Changes Enhance Taskmaster Without Changing Too Much
There are always some outlier stories, but by and large, Taskmasters purpose in Marvel Comics has long been to be an expert trainer to the highest bidder. Whether it's HYDRA, the United States government or even The Avengers, Taskmaster is always willing to train whomever and wherever for the right price. Typically his motivations skew more villainous than noble, and he's unwilling to really do anything unless there's something in it for him.
There's not really anything in Black Widow that flies in the face of any of that, so it stands to reason that Taskmaster could become exactly that in any successive MCU appearances. If Marvel never does anything else with Taskmaster, I don't think the character is intrinsically ruined by the one appearance. Obviously I'm hoping to see this Taskmaster appear at some point in the future, and possibly have some sort of meaningful arc after her introduction in the MCU.
There's certainly an opportunity for Taskmaster to be a part of some future unannounced Thunderbolts lineup, which falls in line with things the character has done in Marvel Comics. We know Countess Valentina Allegra de Fontaine is employing Yelena, so it wouldn't be crazy to think she could've snagged Antonia as well. Sure, there would be some redundancies with both characters, but that mimic ability is handy as hell for training purposes.
The New Taskmaster's Look Is Much Better Than The Original Look
Marvel Studios has surprised me more than a few times with its ability to adapt the more outlandish costumes of Marvel characters for the MCU. Hell, the studio even managed to pull off Red Skull without him looking cheesy as hell, so it gets full credit for that. With that said, I don't think even the best attempt at recreating Taskmaster's iconic look for the MCU would've worked out. More importantly, it would've hurt the overall aesthetic of the movie.
A common complaint would be that the direction Marvel did go with Taskmaster resulted in a character that resembles a generic run-of-the-mill character you'd see on the front of a Call of Duty game, or even in the upcoming Snake Eyes movie. I can totally respect that critique and even agree with it to an extent, but not so much so that I think Marvel Studios was better off recreating the original costume of Taskmaster.
Imagine this movie being exactly the same, but someone is jogging around in a cloak and a skull mask. Add the fact that Taskmaster doesn't speak until the final parts of the movie, it just wouldn't have worked at all. Plus, Taskmaster's OG look is just too similar to more notable characters like Moon Knight and Doctor Doom. I think there has to be a quota on how many people can don the mask and hooded cape look, and obviously there'd be a much bigger sting if those guys didn't have it. Taskmaster may not be the most original-looking character in the MCU, but the character never really was.
Sure, we could've had a talkative Taskmaster who cracked wise and dominated the screen time of Black Widow, but I think the idea of that sounds much better than it would've played. Marvel fans got the version of the character who best fit the movie, and in my opinion, provided the better representation for the MCU.
Black Widow is out in theaters and available to purchase on Disney+'s Premier Access. For more on the movie, be sure to check out our piece on the ending, and what it all could mean for the future of the MCU.
Mick likes good television, but also reality television. He grew up on Star Wars, DC, Marvel, and pro wrestling and loves to discuss and dissect most of it. He's been writing online for over a decade and never dreamed he'd be in the position he is today.
Your Daily Blend of Entertainment News
Thank you for signing up to CinemaBlend. You will receive a verification email shortly.
There was a problem. Please refresh the page and try again.