Star Wars' Kelly Marie Tran Once Pulled An A+ Prank On The Last Jedi's Rian Johnson, And It Involved Pokémon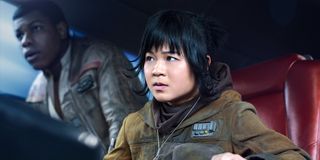 Star Wars: The Last Jedi's Kelly Marie Tran has been open about her experiences being a part of the Star Wars universe. In the past, Tran has explained her love for the Canto Bight sequence from The Last Jedi and why she might not want to play Rose Tico ever again, plus she even recently remarked about the lessons she learned playing Rose Tico and voicing a Disney Princess in Raya and the Last Dragon. In her latest House of Mouse-related interview, Kelly Marie Tran told a hilarious story about pulling an A+ prank on The Last Jedi director Rian Johnson, and it involved Pokémon.
Pokémon Go, the mobile Pokémon game in which you can walk around in real life and catch Pokémon, came out during the making of The Last Jedi. So, of course, the cast and crew had some fun with it. In fact, Kelly Marie Tran told Looper.com a story about a prank she pulled on Rian Johnson involving the massively popular game, saying:
It's no secret that Star Wars sets are basically trying to keep movie-related details under lockdown and phone use is at a minimum, so it's actually a little bit surprising that Kelly Marie Tran and co. were able to use their cell phones for Pokemon Go. Eventually, one day this also led to the perfect opportunity to prank Rian Johnson related to the game. She went on to explain the prank she pulled, saying:
Yes, Rian Johnson was and still is a Pokémon Go fan and Kelly Marie Tran thought it would be funny to bait him with a Pikachu. Yet, there were no hard feelings between Johnson and Tran and she says they even ended up helping each other with the game as friends. In fact, despite some trolling from the fanbase, in general it seems Kelly Marie Tran has fond feelings about her Star Wars experiences, also telling the outlet she had an "otherworldly, magical" experience while filming Star Wars: The Last Jedi.
Kelly Marie Tran isn't the only person who has shared some fun details from set. The Last Jedi director Rian Johnson has also shared some cool details and interesting facts about the film since its release. Johnson shared some of the practical effects the film used to create some of its sequences, and he has explained the 'open for interpretation' nature of Rey's mirror scene. Rian Johnson is also responsible for the great Star Wars milk debate, so his impact on the series isn't debatable.
Kelly Marie Tran has moved on from Star Wars, but it is cool to hear such fun stories from her, like her Pokémon Go prank on Rian Johnson. Hopefully, we see Kelly Marie Tran in another big franchise, maybe in the MCU. Nothing is ever off the table, and Star Wars fans may get to see the return of Rose in some form or fashion.
Your Daily Blend of Entertainment News
Movie and TV obsessive. A good Heist movie is the way to my heart. Enjoyer of everything from Marvel Movies to Rom-coms.