6 John Goodman Movies That Don't Get Talked About Enough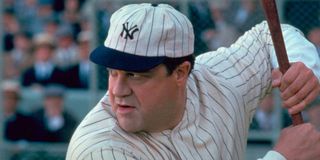 Back when I was growing up, my dad used to make fun of me because John Goodman was my favorite actor. Not Jim Carrey or Robin Williams—though, I did love them, too—but John Goodman. In fact, John Goodman movies like Arachnophobia and King Ralph were my The Mask. They were my Hook. Granted, I saw a ton of movies back in the '90s, but it was rare for me to get excited for one if John Goodman wasn't in it.
I honestly couldn't tell you why I was so fascinated by Goodman as a child. I used to watch Roseanne religiously (even though it had episodes that I probably shouldn't have been watching back then), and King Ralph was one of my all-time favorite movies, but I really don't know why I loved him so much as a kid. I can understand why I love him now, though.
He's an amazing actor who is capable of both dark, dramatic work, and also comedy, sometimes even in the same scene. Yes, I could talk about movies like The Big Lebowski and 10 Cloverfield Lane, but those are movies that I feel a lot of people already discuss. So, here are six John Goodman movies that I don't think nearly enough people talk about.
Sea of Love (1989)
Okay, so right off the bat, I'm going to talk about a movie that most people wouldn't even call a John Goodman movie, but rather, an Al Pacino film. And that's the problem, because Sea of Love is very much a John Goodman movie. The film wouldn't be nearly as good as it is without him. The story concerns a homicide detective (Pacino) who is tracking down a serial killer who seems to love the song, "Sea of Love." Pacino's character is trying to catch him through dating ads in the newspaper. It's really good!
But, it's made great by Goodman, who plays Pacino's partner, Detective Sherman Touhey. The film is often very dour, but Goodman's happily married character gives it that light-heartedness that elevates it from what could have potentially turned into a pitch black, pre-David Fincher-type flick. I especially love the scene where Goodman's character starts singing "Sea of Love," and he gets the cops to sing along. The film did very well when it first released, both critically and commercially, but you don't really hear people talk about it today, and they should.
Arachnophobia (1990)
Arachnophobia is another case where you could argue that it is actually a Jeff Daniels movie rather than a John Goodman flick. Come on, though, this is John Goodman's superhero movie. Move over, Iron Man, and make way for Delbert McClintock, exterminator extraordinaire! The story concerns (What else?) spiders, and lots of them, as a rare killer spider, known as "The General" has been cross breeding and creating an army of deadly arachnids.
Goodman is hilarious in this movie. He disbelieves that there's a threat in town at all, but when he finds out that there is, he's ready to rock and roll! A lot of it is played for laughs, but I genuinely found this movie terrifying as a kid (especially at the popcorn scene). John Goodman was like my safety blanket while watching this movie, as I thought everything would be alright with him on the screen. The film was well liked by critics and successful at the time, but it's kind of fallen into obscurity, and I'm not quite sure why.
King Ralph (1991)
King Ralph is quintessential John Goodman. It's the story of a Vegas lounge singer (Goodman), who becomes the King of England after the entire Royal Family gets electrocuted during a photo op. Classy Peter O'Toole, in the first movie I'd ever seen him in (when I first saw Best Picture winner, Lawrence of Arabia, I said, "Oh! That's Sir Cedric!"), plays his personal advisor.
King Ralph is crude, but loveable, just like how I always envisioned Goodman to be until I saw him give interviews and realized that he was super smart. The film wasn't really liked by critics at the time, as some wished that Goodman's character was more of a jerk than the loveable character he is. It was also a modest commercial success when it came out. But, I feel like King Ralph is such a great time capsule of the John Goodman of old. So, if you want to watch Goodman but don't know where to start, I think King Ralph is a good place to begin.
Barton Fink (1991)
Barton Fink is a Coen Bros. movie, so you'd think a lot of people would talk about it, but no. Barton Fink, which is about a writer (John Turturro) with severe writer's block, is one of their lesser-known works. It also happens to be my favorite of theirs. It doesn't hurt that it also has John Goodman, who is willing to show you THE LIFE OF THE MIND! AHHHH!
Goodman plays a serial killer in this one, believe it or not. But, a loveable one. One who protects Turturro's character. This is a very bizarre film that's part horror movie, part dark comedy, part buddy movie (I'm serious!) and John Goodman still somehow fits in it perfectly as a character named Karl "Madman" Mundt. The film did terribly financially, but it won the Palme d'Or! It's a strange little movie that isn't for everybody, but Goodman shines in it. I mean, what doesn't he shine in?
The Babe (1992)
The Babe, which is supposed to be about Babe Ruth, is really the John Goodman show all the way. The film is about Ruth's rise on the Boston Red Sox and the New York Yankees, and his eventual downfall, and Goodman does an admirable job. He wasn't fooling anybody with his performance, though. Nobody was confusing John Goodman for Babe Ruth. Not a soul.
So, why is it on this list, then? Because it's still a good movie. I think of it kind of like 42 with Chadwick Boseman. He didn't resemble or sound like Jackie Robinson in the slightest, but it was still a good film because it covered some of the events of Robinson's career, and the same could be said of The Babe. The movie wasn't well-received upon release, and for good reason. If you want to be absorbed in the performance like Jamie Foxx in Ray, or Forest Whitaker in The Last King of Scotland, then look elsewhere. But, if you just want a decent baseball movie starring John Goodman, then The Babe is a pretty good one.
Matinee (1993)
Lastly, there's Matinee, which is the story of a schlocky horror director who is using the Cuban Missile Crisis to his advantage to get more butts in the seats. It's a period piece, and Goodman plays said director. As always, he's as charming as ever. Even though he's using scary times to amplify the silly horror movie he's making, you still can't hate him. Honestly, I don't think it's possible to hate John Goodman in any role. I'm pretty sure it's impossible.
I love movies about movies, such as Ed Wood and The Disaster Artist, and Matinee fits the bill. It's a really fun flick, and Goodman is as lovable as ever. The film wasn't a flop, but it wasn't huge, either, so it's that sweet spot of maybe you've seen it, or maybe you haven't, which is why I've included it on this list.
So, that's what I have for you. Six John Goodman movies that you might not have seen (at least not for a long time) and should. Which is your favorite out of the ones I've listed? Make sure to vote in the poll below. For news on upcoming 2022 movies—none of them, sadly, featuring John Goodman—make sure to stop by here often.
This poll is no longer available.
Your Daily Blend of Entertainment News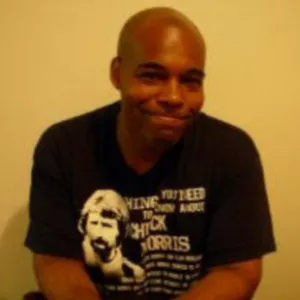 Rich is a Jersey boy, through and through. He graduated from Rutgers University (Go, R.U.!), and thinks the Garden State is the best state in the country. That said, he'll take Chicago Deep Dish pizza over a New York slice any day of the week. Don't hate. When he's not watching his two kids, he's usually working on a novel, watching vintage movies, or reading some obscure book.