The Cops Are Called To Richard Dreyfuss's Door In Exclusive Crime Story Clip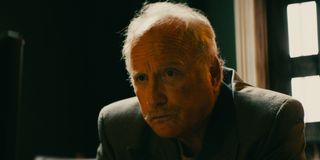 Sometimes your past follows you. That's what happens to ex-mob boss Ben Myers (played by Academy Award winner Richard Dreyfuss) when he's targeted in a home robbery in Crime Story from Saban Films and Paramount. Although retired from the life of crime, Myers jumps back into the action when he's forced to, as seen in a new clip from the film.
Ben Myers (Richard Dreyfuss) lives a relatively quiet life and does a decent job of appearing to be nothing more than an old man enjoying retirement. When a neighbor calls the cops after hearing gunfire, Myers acts as if he knows nothing about it and doesn't want to be bothered, but the audience is then shown this is far from the truth. Check out his encounter with law enforcement in the clip below.
At the opening of the clip, we know Myers is hiding something because he doesn't open his door. He communicates with the police officers through a barred window, reminiscent of a jail cell. The officer closest to the door explains receiving a report of shots fired at the address, and Myers innocently claims not to have heard anything or made any call to the police. He insists there was a mistake, hands his license through the window to identify himself as the homeowner, and does not seem the slightest bit anxious.
The cop doesn't buy the innocent act, and presses to know if Myers is alone in the house and asks to speak with his wife. Myers refuses to step outside, saying he doesn't have a reason to as they can communicate just fine through the small window, and suggests the police go talk to the neighbor who called them. This could be a misunderstanding, until Myers closes the door and the next frame shows a gunshot hole in his wall. Now I'm intrigued. Did Myers fire the shot, or was it fired at him? Where is his wife?
Richard Dreyfuss has a voice-over line in the next part of the clip, where his character Ben Myers explains to the audience that he's looked over his shoulder his whole life but missed what's right in front of his face. From this line, we can infer that he did not fire the shot but was in fact shot at, as the line is delivered while he opens his clock and disarms a bomb.
That's the end of the clip, and I for one can't wait to see where Crime Story goes next. Written and directed by Adam Lipsius, the crime action/thriller stars Mira Sorvino alongside Richard Dreyfuss. Ben Myers (Dreyfuss) goes on a deadly rampage of vengeance but his family is caught in the crosshairs, forcing him to finally face the consequences of his past. Check out the trailer below.
If the official trailer is any indication of what's to come, it looks like Crime Story promises to deliver a whole lot of action and an interesting story with complex characters. This is a crime thriller fans won't want to miss. Crime Story is available in select theaters, on Digital, and On Demand August 13.
Obsessed with Hamilton and most things Disney. Gets too attached to TV show characters. Loves a good thriller, but will only tolerate so much blood.
Your Daily Blend of Entertainment News
Thank you for signing up to CinemaBlend. You will receive a verification email shortly.
There was a problem. Please refresh the page and try again.