Disney And Pixar Unveil An Additional Luca Character In Deleted Scene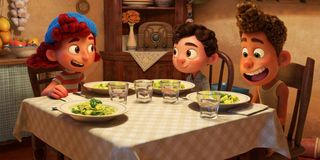 Disney and Pixar's Luca swam into the hearts of many when it splashed onto Disney+ this summer. The film is now available to own on Digital, 4K Ultra HD, Blu-ray, and DVD, and the home release includes lots of fun bonus features including a deleted scene featuring a new character.
Luca is a coming-of-age tale set in the Italian Riviera, where an unlikely friendship grows between a human and two sea monsters disguised as humans. Sheltered by his parents' fear of the surface, Luca befriends Alberto, who lives on his own, changes between his human and sea monster forms frequently, and explores the nearby human town of Portorosso. The two are quite the pair, but thanks to a deleted scene from Disney and Pixar, we've learned that the duo was originally envisioned as a trio! Check out the scene below.
In the deleted scene, titled Festa Del Mare, we learn that before Luca and Alberto were a duo, they were a trio! This clip features Ciccio, a sea monster boy who was originally envisioned as their third friend. The trio is introduced to Massimo by his daughter Giulia (the human girl that the boys meet and befriend) — earning themselves a scare after finding out the father and daughter dream of hunting a sea monster!
Luca, Alberto, and Giulia have a great group dynamic. I wonder how that would have changed if Ciccio had stayed in the film? One of the conflicts in Luca is Alberto's resistance to Luca's friendship with Giulia. Alberto is afraid of being alone since he no longer has parents around, and he fears that Luca will leave him to spend more time with Guilia. A fourth member of the group may have lessened that conflict in the long run.
Festa Del Mare is only one of many deleted scenes included in the home release of Luca. All of the scenes not included in the final version of the film have an introduction by director Enrico Casarosa. Additional deleted scenes include Here Comes Giulia, where Giulia explores Isola Del Mare and meets Luca and Alberto, Gelato Trouble where Alberto and Luca learn what gelato is, and Sea Monster Cannery where Luca dreams of a magical place filled with Vespas and gelato but things are not what they seem.
The home release of Luca has a variety of bonus features including never-before-seen featurettes and two alternate openings. As viewers dive into the bonus features, they'll travel to Italy with Pixar artists to explore the location Luca is based in, learn the artistry of the sea monster to human transformation and more.
Disney and Pixar's Luca, the fun-filled adventure of friendship on the Italian Riviera, is available today on Digital, 4K Ultra HD™, Blu-ray™ and DVD. Grab a copy and don't miss all of these easter eggs!
Your Daily Blend of Entertainment News
Obsessed with Hamilton and most things Disney. Gets too attached to TV show characters. Loves a good thriller, but will only tolerate so much blood.