Disney And Pixar Debut Luca Collectible Exclusively At Target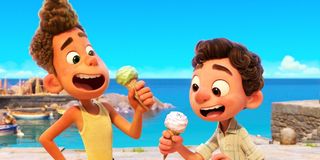 Pixar's latest film, Luca, has become much beloved by fans who have been able to stream it on Disney+. Many have already watched it multiple times to find all of the easter eggs. Those fans, as well as those without Disney+, are in for a treat with Luca's Digital, 4K Ultra HD, Blu-ray, and DVD release on August 3rd.
Luca is a delightful and inspiring coming-of-age tale set in the Italian Riviera. Sheltered by his cautious parents, Luca (Jacob Tremblay) is curious about life on land. He befriends fellow sea creature Alberto (Jack Dylan Grazer) who is always seeking adventure and frequently transitions into human form to enjoy life both in and out of the water. Disguised as humans to explore a nearby town of Portorosso, the boys have an unforgettable summer (including befriending human Giulia, played by Emma Berman), but their secret lies just below the surface, threatening to ruin things.
The Digital, 4K Ultra HD, Blu-ray, and DVD release of Luca contains a variety of bonus features including never-before-seen featurettes, deleted scenes and two alternate openings. In addition, Disney and Pixar will be releasing a Target Collectible featuring lithograph cards. Check out the collectible below:
Luca is all about friendship, so it's fitting that one of the bonus features is titled "Best Friends." In this feature, the film's cast and crew share their own stories about how besties influenced their lives, and how those experiences informed the creation of on-screen pals Luca, Alberto and Giulia.
Fans will also enjoy "Secretly A Sea Monster." This bonus feature explores the artistry and technical innovation of Luca's transformation from sea monster to human, along with how the theme of transformation is central to the main characters' emotional journeys.
"Our Italian Inspiration" is a behind-the-scenes treat for all who were made speechless by the breathtaking animation and how real it looks and feels. Fans will experience the joy of discovery as Pixar artists travel to Cinque Terre, Italy, to absorb the beauty and culture of the coastal region which inspired the characters and the quintessential Italian backdrop of Luca.
There are multiple deleted scenes included in the release as well. Director Enrico Casarosa introduces each of the scenes that did not make it into the final version of Luca. Among those deleted scenes are "Festa Del Mare" where Luca and Alberto go to a festival filled with fun...and danger. "Here Comes Giulia" follows Giulia as she explores Isola Del Mare, where she meets Luca and Albert and asks so many questions. That's sure to be hilarious!
I don't want to give away the alternate openings, but just know if you're on the fence about grabbing a copy of Luca, you need to say "Silenzio, Bruno!" and get one. The bonus features are well worth it and enhance the movie experience for any fan.
If you have Disney+ or are looking to sign up, you can stream Luca right now (opens in new tab). You may even encounter some familiar voices. But you don't have long to wait for all of the bonus features mentioned above and more. Experience the fun-filled adventure of friendship on the Italian Riviera when Disney and Pixar's Luca Splashes onto Digital, 4K Ultra HD, Blu-ray, and DVD August 3.
Obsessed with Hamilton and most things Disney. Gets too attached to TV show characters. Loves a good thriller, but will only tolerate so much blood.
Your Daily Blend of Entertainment News
Thank you for signing up to CinemaBlend. You will receive a verification email shortly.
There was a problem. Please refresh the page and try again.