Django Unchained: 10 Behind-The-Scenes Facts About The Quentin Tarantino Movie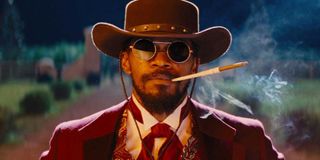 In December 2012, Quentin Tarantino released one of his most successful, and controversial, films to date: Django Unchained, and introduced millions of moviegoers around the world to his unique blend of Italian Spaghetti Westerns and the Antebellum American South. With a cast that included some of his longtime collaborators like Samuel L. Jackson and Christoph Waltz, as well as newcomers to the Tarantino-verse with Jamie Foxx and Leonardo DiCaprio, the acclaimed filmmaker told the story of a freed slave finding a new purpose in life: sweet, sweet revenge.
In partnership with Plex, where Django Unchained is streaming for free (opens in new tab) throughout the month of August, we have put together a collection of some of the most interesting behind-the-scenes facts we could find about Quentin Tarantino's seventh movie (or eighth depending on how you break up Kill Bill). There's a lot to unpack here, and unlike Tarantino, we don't have 165 minutes to tell this wild story…
Will Smith Was Approached To Play Django But The Actor Turned Down The Offer
Django Unchained will forever go down as one of Jamie Foxx's most iconic roles, but his turn as the freed-slave-turned-bounty-hunter would have never happened if one of the first picks for the movie had never turned down the offer. As early as 2011, Will Smith was the rumored frontrunner for the role of Django Freeman but after Foxx was cast in his place, the whole episode of Smith returning for another western went largely forgotten aside from late-night conversations between movie buffs.
Will Smith finally addressed the issue during a 2011 interview with The Hollywood Reporter where he revealed the simple reason for turning down the starring role: he wanted it to be a love story and not one centered on vengeance and violence. In the conversation, Smith, who famously turned down the role of Neo in The Matrix, said he had trouble connecting to the idea of violence being the answer to Django's problems and passed on the shot.
Quentin Tarantino Drew Inspiration From Surrealist Spaghetti Westerns When Crafting Django Unchained's Story
It isn't hard to watch Django Unchained and see how Quentin Tarantino was influenced by the great Italian westerns, aka Spaghetti Westerns, when crafting the film's story and visuals. When touching on the topic in a New York Times Magazine interview prior to the film's release in December 2012, Tarantino explained that he was specifically inspired by the work of Italian director Sergio Corbucci (who actually directed the original Django Unchained) and how the legendary filmmaker created a West that was a "violent, surreal, and pitiless landscape," adding:
And it appears Quentin Tarantino did a rather impressive job of drawing from one of his biggest influences to tell a rather unique story set in one of America's darkest periods.
Kevin Costner, Kurt Russell And Sacha Baron Cohen Were All Cast In Django Unchained At One Point Before Dropping Out
The Django Unchained cast, as is the case with most of Quentin Tarantino's films, is full of remarkable actors from top to bottom. With Jamie Foxx at the top as Django Freeman down to smaller roles brought to life by the likes of Jonah Hill, the group of actors is impressive to say the least. Well, at one point there was even more top Hollywood talent set to appear in the 2012 western, some of which have been featured in more than a few of the best westerns of all time.
Back in 2011, word began to spread that Kevin Costner would be taking on the role of Ace Woody, a sadistic character who trains slaves to fight, but it just wasn't meant to be. Not long after he joined the cast, Costner was forced to drop out due to a scheduling conflict. As the months went by Kurt Russell was attached to take over the role of the demented character, but he too dropped out in May 2012, according to The Film Stage (via IndieWire). The character was later dropped from the script and repurposed for Walton Goggins, but more on that later.
Sacha Baron Cohen was attached to portray a gambler named Scotty Harmony who buys Broomhilda "Hildi" von Shaft (Kerry Washington), but as the actor told Howard Stern (via The Film Stage) in May 2012, he had to drop out due to his busy schedule promoting The Dictator at the time of production.
Walton Goggins Enlisted The Help Of Robert Rodriguez To Get His Django Unchained Role
The Ace Woody character would end up being merged together with Walton Goggins' Billy Crash in Django Unchained. And while the character (like many played by Goggins) is far from the most pleasant person in the movie, the story behind the actor's casting makes for a good read. During a 2012 interview with The Washington Post, Goggins explained that he contacted Robert Rodriguez (Quentin Tarantino's longtime friend) to see if he could put in a good word for him. A couple text messages, a barbecue, and an audition (where he read nearly 40 pages of dialogue), Goggins was cast as the slave trainer seen in the movie.
Leonardo DiCaprio Actually Sliced His Hand Open On Set But Didn't Want To Stop Filming
Of all the villains Quentin Tarantino has written over the years, few, if any, compare to Leonardo DiCaprio's Calvin Candie, the sadistic plantation owner at the center of Django Unchained's conflict. And while Candie is an all-around terrible person who deserves every bit of misfortune that comes his way, DiCaprio was very much involved in the creation of the character as well as one of the most memorable moments on set.
In 2012, producer Stacey Sher told Variety about the time Leonardo DiCaprio sliced his hand open while slamming his hand down on a cordial glass, but instead of stopping and tending to his injury (which required stitches), the actor just kept going and never broke character.
Zoë Bell's Tracker Originally Had A Backstory And Fight Sequence
Zoë Bell has either performed stunts or acted in every one of Quentin Tarantino's movies since Kill Bill Vol. 1 in 2003. Over the years, Bell's credited roles have ranged from a version of herself in Death Proof to Janet Lloyd (the not-too-fond of Brad Pitt's Cliff Booth stunt coordinator) in Once Upon a Time in Hollywood, but one her more fascinating and mysterious appearances is that of Tracker in Django Unchained.
In the final product we only see the Tracker in a long close-up shot, but according to comments made by Zoë Bell during an interview with E!, there was originally supposed to be much more there. This included a backstory and a fight sequence, but both were never shot and left on the pages of the Django Unchained script. Who knows, maybe Quentin Tarantino will write another novelization and give the character a new life.
Jamie Foxx's Sunglasses In Django Unchained Were Inspired By A Pair Worn By Charles Bronson
With a Hollywood historian like Quentin Tarantino running the show with Django Unchained, it shouldn't come as a surprise that the movie is full of references to classic westerns. One reference, however, didn't originate with the director but instead with costume designer Sharen Davis, who told Vanity Fair that Jamie Foxx's character's iconic sunglasses were inspired by a pair worn by Charles Bronson in the 1977 film The White Buffalo.
Frank Nero, The Original Django, Makes A Cameo In Quentin Tarantino's Western Epic
Quentin Tarantino's Django Unchained is a nearly three-hour tribute to the Spaghetti Westerns of the 1960s, especially Sergio Corbucci's Django. That being said, it only made sense for Frank Nero, the man who first took on the role of Django in the 1966 western, to appear in some capacity in the movie that not only took inspiration from the classic film but had the same name as Tarantino's main protagonist.
In 2013, Frank Nero told The Hollywood Reporter that he originally pitched a larger role for himself where he would have appeared as a cowboy in all black who tells a young Jamie Foxx that he is his father before giving him advice. Even though Quentin Tarantino ended up not going with the idea, he brought Nero in for the cameo featured in the movie.
Kerry Washington Has Said Filming Django Unchained Was 'Really Tough' But Also Left Her With Gratitude
Kerry Washington's Broomhilda "Hildi" von Shaft is one of the characters in Django Unchained that goes through the most physical, mental, and emotional pain throughout the movie, so much so that it started to have an effect on the actress. During an interview with IndieWire, Washington revealed that it got so bad her parents and manager came to check on her, but that she doesn't regret the process:
In a separate interview with Vanity Fair, Jamie Foxx recalled the scene where Broomhilda is whipped and how Kerry Washington insisted on filming the scene herself and didn't want to use a stunt double. Foxx called it his most difficult moment on set and called Washington the most courageous person.
Quentin Tarantino Was Working On A Django Unchained Sequel Before Repurposing It As The Hateful Eight
In 2019, there was talk of a Django Unchained sequel that would see him team up with legendary hero Zorro, but this isn't the first time a follow-up has been considered. In fact, a few years earlier at a special screening of The Hateful Eight, Quentin Tarantino revealed that his 2015 slow-burn western originally started out as a sequel to his 2012 Spaghetti Western called Django in White Hell.
The basic premise would have been the same — strangers with mysterious pasts trapped in a cabin during a snowstorm — but with Jamie Foxx's character along with them. According to Entertainment Weekly, Tarantino felt Django was too trustworthy so he took him out of the script and instead turned the story into its own movie.
After reading about all of these behind the scenes facts from the making of Django Unchained no one would hold anything against you if you wanted to go back and watch it again, which can be done for free on Plex throughout the month of August.
Stream Django Unchained on Plex (opens in new tab).
Philip grew up in Louisiana (not New Orleans) before moving to St. Louis after graduating from Louisiana State University-Shreveport. When he's not writing about movies or television, Philip can be found being chased by his three kids, telling his dogs to stop yelling at the mailman, or yelling about professional wrestling to his wife. If the stars properly align, he will talk about For Love Of The Game being the best baseball movie of all time.
Your Daily Blend of Entertainment News
Thank you for signing up to CinemaBlend. You will receive a verification email shortly.
There was a problem. Please refresh the page and try again.