Jamie Foxx: Ali And 5 Other Performances That Deserved An Oscar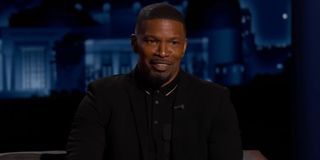 From Any Given Sunday to Horrible Bosses to Soul, Jamie Foxx has lived up to his renaissance man persona – acting, music and standup comedy. This persona has made him one of Hollywood's most sought-after stars. Whether he's leading a film or playing a supporting role, Foxx is always a scene-stealer.
Despite being a critical favorite and a mega-talent, Jamie Foxx has only received two Oscar nominations (both in 2005), ultimately winning Best Actor for portraying musician legend Ray Charles in 2004's Ray. But that isn't the only Oscar-worthy performance Foxx has given in his ever-expanding career. So, here are just some of the best Jamie Foxx movies that deserved recognition from the Academy Awards.
Ali (Drew Bundini Brown)
This role in Ali serves as a major shift in Jamie Foxx's film career. He plays boxing legend Muhammad Ali's trainer and right-hand man Drew Bundini Brown.
In a surprising turn, the multi-tainer was able to tap into Drew Bundini Brown's emotions and sensibilities as the biopic showed the difficulties in his life. This allowed him to capture Brown's presence, especially in documenting Muhammad Ali and his friendship. In intense moments, Jamie Foxx was able to go toe-to-toe with Will Smith, proving his worth as a dramatic actor. All this allowed Foxx to flesh out Ali's right-hand man while serving as a reverse mirror image of the boxing legend's powerful transformation in the critically acclaimed biopic.
While Will Smith scored himself a well-deserved Oscar nom, Jamie Foxx deserved just as much recognition with a Best Supporting Actor nomination. The multi-hyphenate brought a certain level of vulnerability and humor to this powerful biopic.
Dreamgirls (Curtis Taylor Jr.)
Taking part in the celebrated musical Dreamgirls allows Jamie Foxx to be dramatic and musical without sacrificing one for the other. After winning an Oscar for playing music legend Ray Charles in Ray, the multifaceted entertainer becomes ruthless car salesman-turned-record executive Curtis Taylor Jr.
Given the history attached to the Broadway musical, the actor leaned into the characterization of a typical record label executive. Jamie Foxx may have drawn some inspiration from legendary Motown honcho Berry Gordy (the alleged inspiration for Curtis Taylor Jr.). But Foxx melded the play's portrayal with stories of Gordy seamlessly. Through the manipulative Taylor, the actor personified the darker side of the music business, especially during the 1950s and 1960s.
This angle was best illustrated in Taylor's dynamics with Deena Jones and Effie White (played by Beyonce Knowles-Carter and Jennifer Hudson, respectively). That dynamic worked in Hudson's favor as Jamie Foxx brought out her best in every scene. He even held his own against veterans like Danny Glover and Eddie Murphy.
While Eddie Murphy and Jennifer Hudson were pushed the most that award season, Jamie Foxx deserved, at least, a Best Actor Oscar nomination. He needed to be acknowledged for being a great villain to bet against.
The Soloist (Nathaniel Ayers)
Tackling the real-life story of The Soloist allows Jamie Foxx to show his range once again. He shows off his true musical chops as real-life musical savant and mental health advocate Nathaniel Ayers in this musical drama.
As one of the Oscar winner's more substantive supporting roles, Jamie Foxx catalyzed co-star Robert Downey Jr.'s storyline. His characterization of Ayers allowed him to be a confidant and mirror for RDJ's Steve Lopez. While it was Downey Jr's film, it was Foxx who gave an award-worthy performance tackling the stigma surrounding schizophrenia. The actor's portrayal of the disorder felt more nuanced and authentic than a caricature. Foxx gave a voice to the racial issues attached to creativity and mental health.
As one of Foxx's most acclaimed performances, the actor deserved an Oscar nomination for Best Supporting Actor. This role challenged Jamie Foxx while tapping into his various talents.
Django Unchained (Django Freeman)
After so many musical performances, Jamie Foxx goes against type by taking on the old guard of the Antebellum South in Django Unchained. Playing freed slave and loving husband Django Freeman is credit as one of Foxx's best roles.
Regarded as one of Foxx's best performances, the actor became a stoic and strong male presence with a loving and moral core. His performance gave a modern twist to spaghetti westerns and 1970s Blaxploitation. Serving as an ally to Christopher Waltz's Dr. King Schulz, Jamie Foxx subverted the slave narrative and Black trauma by being a hero. He didn't need a white savior to carry out his revenge plot.
At the same time, Django and Brunhilda's Black love story served as a great B-story to the main story. Jaime Foxx and co-star Kerry Washington's chemistry and dynamics were palpable during their scenes. But his scenes with Samuel L. Jackson and Leonardo DiCaprio were the complete opposite. Each scene was a mix of intensity and wittiness as Foxx fought against the evil schemes of DiCaprio's Monsieur Candie and Jackson's Stephen.
While the actor appeared on many end-of-the-year critics' lists, Foxx's performance warranted at least some acknowledgment from the Academy. A Best Actor nom would've been nice. Jamie Foxx showed he doesn't always have to be big and loud to stand out.
Baby Driver (Leon "Bats" Jefferson III)
Again, Jamie Foxx chooses to play against type in the action film Baby Driver. Foxx taps into his inner badass by playing Baby's fellow psychotic henchman Leon "Bats" Jefferson III.
This departure allowed the Oscar winner to take on the sadistic and ruthless nature of being a hired thief. At some points, Jamie Foxx and "Bats" Jefferson became one. He came off as unhinged and trigger-happy with a sense of nuance. He transformed a one-dimensional character into a dynamic and complex one. This played into Jefferson's animosity and competitive relationship with Ansel Elgort's Baby. This dynamic elevated Elgort's performance.
While the thriller and Ansel Elgort received acclaim and some Oscar buzz, Foxx's name should've been called on nomination day for Best Supporting Actor. Tapping into his darker side allowed Jamie Foxx to show audiences his versatility.
Just Mercy (Walter McMillian)
After playing against type in the last two films, the Oscar winner tackles the real-life issues surrounding criminal justice and Black America. This time, Jamie Foxx portrays wrongfully convicted businessman Walter McMillian in Just Mercy.
The actor crafted a complex performance as Foxx tackled multiple sides of the entrepreneur-turned-convict. This put Jamie Foxx as the film's moral and ethical core. Just like Robert Downey Jr. in The Soloist, the actor served as a great supporting player to Michael B. Jordan's Bryan Stevenson. The co-stars played into the client-attorney relationship with their intense and vulnerable scenes. The multifaceted entertainer captured the emotions and history of this present-day issue, allowing him to push his performance to another level.
Being one of Foxx's best film performances, he was primed for a Best Supporting Actor Oscar nomination. Jamie Foxx brought levity and authenticity to a heavy role.
Honorable mention: Collateral (Max Durocher)
Jamie Foxx reinforced his status as Hollywood's next best thing with this role. The multihyphenate drove around hitman Tom Cruise as taxi driver Max Durocher in 2004's Collateral.
Acting alongside Tom Cruise allowed the Oscar winner to show a different side as an actor. Usually serving as the comic relief, Jamie Foxx was able to portray different emotions while being forced into nefarious events. Despite the terror, Foxx displayed amazing chemistry and dynamics with Cruise and fellow co-star Jada Pinkett-Smith.
For his performance as a terrified taxi driver, Jamie Foxx did receive a Best Supporting Actor Oscar nomination. While he didn't win, his nomination made Academy history. Foxx became the first actor to score nominations in Best Actor and Supporting Actor in the same year. Of course, he won Best Actor for Ray.
These performances showcased how versatile the multi-tainer is. After winning Best Actor, Jamie Foxx's career has reached new heights as evident by a multitude of projects, including Spawn and Spider-Man: No Way Home. With that said, Foxx must touch the Oscar stage again someday. In the meantime, check out our guide of 2021 movies for what's coming to the rest of the year.
A boy from Greenwood, South Carolina. CinemaBlend Contributor. An animation enthusiast (anime, US and international films, television). Freelance writer, designer and artist. Lover of music (US and international).
Your Daily Blend of Entertainment News
Thank you for signing up to CinemaBlend. You will receive a verification email shortly.
There was a problem. Please refresh the page and try again.