How A Quiet Place Part II Evolved The Universe, And The Aliens, In John Krasinski's Movie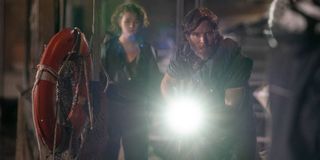 When co-writer/director John Krasinski delivered a sleeper box office hit in 2018's A Quiet Place, it was never part of the plan to turn the concept into a full blown franchise. But when you deliver the next big thing, there's always going to be the potential to dig a little deeper with a second spin of the wheel. After developing a kernel of an idea that would eventually become A Quiet Place: Part II, Krasinski would find the perfect window to not only evolve the universe of the Abbotts, but also the unnamed alien species that plagues their lives.
As A Quiet Place: Part II is now available on home video, through4K, Blu-Ray, DVD and digital formats, many of the collaborators who worked on the team to bring the 2021 blockbuster to life contributed to the lore of how this unexpected sequel came to fruition. Which, in turn, has led to an assortment of bonus features available on the physical and digital versions of this home release. It's there that we learned that John Krasinski himself based the script he'd provide for the film on one key concept: if A Quiet Place was about parents protecting their families, A Quiet Place: Part II would be about what happens when the children who were made those promises go out into the universe on their own.
With Millicent Simmons' Regan Abbott and Noah Jupe's Marcus picking up where the last film left off, the world of A Quiet Place: Part II needed to change to make for an interesting sequel. Which meant that the Abbott family needed to leave their farm and explore the larger world around them. That concept was laid down by several team members, with these specific concerns in mind, as shared in the special feature "Pulling Back The Curtain":
A Quiet Place: Part II's big thematic advantage was sending the Abbotts away from their farm and into the unpredictable world. That unpredictability naturally leads to more mistakes, and as John Krasinski himself pointed out in this special feature, more creatures present themselves to help teach the sequel's more valuable lessons. And those unnamed beings are not any easier to deal with in A Quiet Place: Part II.
Diving deeper into the hows and whys of these creatures are the way that they are, A Quiet Place: Part II sparked a continued development of these sound sensitive beasts. Further detailing the inspiration behind how the world was conquered in the invasion we see at the beginning of the film, John Krasinski cited these specific touchstones of his love of sci-fi as further fuel for this second round:
Smarter and more adaptive beasts make A Quiet Place: Part II a sequel that really ups the stakes; especially with the addition of those monsters running around in daylight and getting around their fear of water. Though A Quiet Place and its sequel give these beasts another totally new experience: a species that's found a weapon against their vicious attacks. How the developments of these twists will affect the future of this now wide open franchise is yet to be seen, but the potential is absolutely there.
So while John Krasinski and Emily Blunt may disagree about whether or not we need to know more about these creatures, Krasinski and his team certainly have a lot of details already fleshed out. Which is perfect, considering a spinoff is already in the works and the success of A Quiet Place: Part II is going to keep the fires of the series stoked for at least another round. If you're curious to see these the world of John Krasinski's first film expand into new depths of horror, A Quiet Place Part II are available for purchase on 4K, Blu-Ray, DVD and digital. Should you want to relive both films, you can also purchase both installments of A Quiet Place in a 2-pack Blu-ray set, as wella s enjoy both films through the Paramount+ streaming library. Though if you're lucky, you might still find A Quiet Place: Part II at a theater near you.
CinemaBlend's James Bond (expert). Also versed in Large Scale Aggressors, time travel, and Guillermo del Toro. He fights for The User.
Your Daily Blend of Entertainment News
Thank you for signing up to CinemaBlend. You will receive a verification email shortly.
There was a problem. Please refresh the page and try again.