A Quiet Place: Ranking The 10 Most Terrifying Sounds And Scares In The Franchise So Far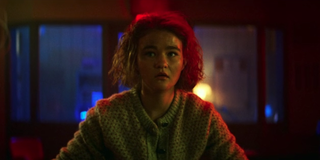 (Image credit: (Paramount))
John Krasinski's A Quiet Place movies may be more subtle than the other gruesome horror franchises we've come to know over the years. Yet, that's also the secret weapon that has allowed the series to successfully build its tension as the Abbotts' attempt to survive an eerie alien apocalypse. As the Eastern philosophy saying goes, "sometimes silence is the most powerful scream." Between 2018's A Quiet Place and this year's A Quiet Place Part II, there's been some incredible scares and sounds that we're ready to trace our steps back to.
Both A Quiet Place movies are now both available to watch back-to-back at home, whether that's through digital rental/purchase or streaming on Paramount+. In celebration of the critically-acclaimed films, we're ranking the most terrifying moments in the franchise we won't soon forget.
10. The Little Girl On The Docks
We'll start with a scene from A Quiet Place Part II that is objectively terrifying but one of the few moments in the franchise that we can confidently say is nearly a horror trope at this point. The seemingly-innocent little girl turned demonic presence is often used in this genre, so much so that we're not as phased by this scare. That being said, it did make this list and it was a very good scare introducing the mysterious dock people Emmett and Regan come across in search of a safe haven.
9. The Killer Cell Phone Ring
At the beginning of A Quiet Place Part II, we get to go back in time and see how the alien invasion went down, starting with the Abbott family being part of the chaos at first during a little league baseball game. Lee and Regan split off and end up hiding in a pub with a bunch of people as the monsters lurk around them. In a tense moment, a cell phone goes off leading the monsters to come inside and kill all in their wake. Thankfully the Abbotts get away, but we'll be silencing our phones from now on, you know just in case.
8. Going In Reverse During An Alien Invasion
As one half of the Abbotts had us on edge with the phone ring, Emily Blunt and Noah Jupe's characters of Evelyn and Marcus are placed in a terrifying situation in their car as the aliens creep into the frame as Evelyn nervously has to reverse during the invasion as a bus heads their way. It's one of most thrilling sequences in the franchise and when John Krasinski spoke to CinemaBlend's podcast ReelBlend, he shared that the stunt is "so real," with Blunt even really in the driver's seat.
7. Anytime That Baby Cries
Someone needs to explain to us why the heck Lee and Evelyn Abbott decided it was a good idea to bring a child into this world when they are barely hanging by a thread themselves to survive this silent world. Evelyn's pregnancy was a point of stress in the first movie, but their child being alive and a normal baby who needs to cry to communicate is horrifying.
6. Aliens On The Train
Another big moment of tension in A Quiet Place Part II is when Regan goes off on her own to solve the "Beyond the Sea" clue and finds herself stuck on a train with one of the big bad aliens. She has trouble cocking the gun as it glides closer her way, but thankfully Emmett had gone after her and shoots it from behind. It's seriously an edge-of-your-seat moment that had us worried for the franchise's MVP.
5. The Squeaky Drawer
The power of the Quiet Place movies is how a sound we hear all the time and don't think twice about could come down to life and death in this apocalypse. And in the third act of A Quiet Place Part II, Emmett and Regan are in the final stretch, determined to transmit the signal of her hearing aid to wipe out the aliens in their vicinity. Right as they are aiming to reach it, Regan's foot lands on a drawer that squeaks when it opens, tipping off the monsters. Imagine meeting your end because of the sound a dang drawer makes?
4. A Diversion At The Corn Mill
One of the key scenes in A Quiet Place, yet most heartbreaking comes at the end when the kids are in the cornmill and the aliens have found them. In order to save his children, John Krasinski's Lee knows what he needs to do. He lets out a chilling yell and Regan watches as her father is killed in front of her. A single yell brings the Abbott's father out of the picture, and it especially gets to us because we're seeing it happen through his daughter's eyes, who has been at odds with him.
3. The Nail On The Stairs
Coming into the top three, we have to talk about that nail scene. One sharp reason why A Quiet Place is so effective is how something so small in scale like being punctured with a nail can be such a devastating event in a movie. At this point, Evelyn's water just broke and she is trying to get to the basement of the house while in writhing pain as one of the alien's lurks in the house. It's an absolute perfect scare that we've yet to recover from.
2. The Birth Scene
The nail on the stairs leads to one of the most terrifying moments in A Quiet Place ever, the birth scene. At the moment, Evelyn is alone and being listened to by an alien as it comes time for her to have her baby. She resorts to a bathtub as she is seen bleeding and dealing with the absolute terror of that as she also has to try and be silent. In an involuntary moment, Blunt's character screams in pain and as audiences we were absolutely stressed out for her.
1. The Light Up Rocket Going Off
The most terrifying scene of the Quiet Place franchise so far is arguably the opening scene. At this point in the movie, audiences don't know what we're into as the family is hush hush in a general store as they pick up supplies. On the way, the youngest Abbott child finds a toy rocket ship and becomes enamored with it. Lee sees it in his hand and tells him it'll be too loud and leaves it on the front desk.
But, Regan lets him have it without the batteries. Sadly, the young boy grabs the batteries and lets the rocket go off in the middle of a forest. Lee and Evelyn are devastated as they understand what's about to happen. The boy is killed and with that A Quiet Place established its world that is not even sympathetic to a child and his toy. Looking forward, we'll be excited to see how A Quiet Place Part III's scares compare to these. Until then, check out what upcoming horror movies are coming up here on CinemaBlend.
Your Daily Blend of Entertainment News
YA genre tribute. Horror May Queen. Word webslinger. All her writing should be read in Sarah Connor's Terminator 2 voice over.