A Quiet Place Spinoff A Go As Paramount Sets Date For Third Film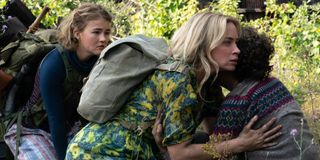 It's probably fair to say that many couldn't have foreseen the massive success of the A Quiet Place franchise. When the original film first hit theaters back in 2018, audiences weren't sure what to make of a John Krasinski-penned and directed horror film, but the actor and rising filmmaker ultimately offered a tense cinematic outing that was praised as a worthy addition to the horror genre by both critics and audiences. Now, the film has spawned a successful sequel, which has not only received positive reactions but is also helping to rejuvenate the box office. Well, it would now appear that the franchise is growing, as Paramount has set a date for a spinoff movie.
Paramount Pictures has slotted a third movie in the A Quiet Place franchise into a March 31, 2023 date, according to Deadline. Details, including the film's official title, are mostly being kept under wraps at this point, but it has been reported that Jeff Nichols has been tapped to write and direct the movie. Apparently, the story is based on an idea from John Krasinski, and it's reportedly set to expand on the post-apocalyptic world he established in the previous films.
This is certainly good news for fans of the A Quiet Place franchise, and it honestly shouldn't come as much of a surprise. The first installment in the franchise proved to be a financial success, raking in huge numbers during its theatrical run. And even though Part II is dealing with a vastly different box office climate, it's still managing to score impressive numbers, as the film finished out its opening weekend with $48 million, a record for the pandemic. Now, following its sophomore weekend, the movie sits at a worldwide total of $138 million. Needless to say, Paramount has found itself another viable franchise.
Jeff Nichols' involvement with the film is also exciting, as the writer and director has produced an interesting body of work over the past several years. This includes coming-of-age drama Mud, sci-fi flick Midnight Special and historical romance Loving. Midnight Special is a particularly firm example of how Nichols can skillfully balance character and story with otherworldly elements. Overall, he seems like the right person to tell a new story in this franchise.
Despite the spinoff film, one still can't help but wonder if or when we might get an official announcement regarding A Quiet Place Part III. Those who've seen the second film know that by the end, we're left with a number of questions, and John Krasinski could certainly provide answers with a third movie. While Krasinski hasn't shared specific details on a third installment, wife and collaborator Emily Blunt has confirmed that he does have "a couple of great ideas" that could work in a future film.
Just as they likely did while watching the films, fans will be waiting with bated breath to see how things pan out for Part III. Still, it's good to know that we can at least look forward to another story within the A Quiet Place universe.
A Quiet Place Part II is currently playing in theaters and is expected to hit Paramount+ on July 12.
Covering superheroes, sci-fi, comedy, and almost anything else in film and TV. I eat more pizza than the Teenage Mutant Ninja Turtles.
Your Daily Blend of Entertainment News
Thank you for signing up to CinemaBlend. You will receive a verification email shortly.
There was a problem. Please refresh the page and try again.