Go Behind The Scenes Of A Quiet Place: Part II In Exclusive Clip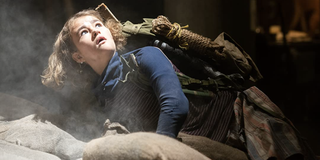 John Krasinski's A Quiet Place: Part II is one of the very best examples of quality storytelling and filmmaking. Not only is it an excellent sequel that builds upon the world viewers were introduced to in A Quiet Place, but A Quiet Place: Part II also excels in allowing the audience to see, hear, and feel the world right along with the main characters. A new clip from Paramount Movies goes behind the scenes and spotlights Krasinski's choice to shift the main character in the sequel.
In A Quiet Place, we follow Lee (John Krasinski) as he strives to keep his family alive in a world where they can't make a sound. This is not an easy feat with three young children, and not everyone makes it to the end of the film. This, of course, led to the need for a shift in A Quiet Place: Part II, and director John Krasinski made the focus of this second chapter Lee's daughter Regan (played by Millicent Simmonds). Check out the clip below:
The clip opens with one of the early scenes of A Quiet Place: Part II where Lee (John Krasinski) and Regan (Millicent Simmonds) are hiding in a bar with other townspeople. Someone's phone rings, alerting the monster to their location, and they run to safety. This is where we get our first behind-the-scenes glance at how this scene was filmed, and it's a clear testament to the talent of Krasinski and Simmonds.
Next, the clip features a segment with Emily Blunt (who plays wife to Krasinski's Lee and mother to Simmonds' Regan) explaining the direction of A Quiet Place: Part II. Blunt shares that in this sequel, Regan follows in her father's footsteps, from his determination and fearlessness to his tech skills. John Krasinski then expands on this, explaining that while the family is dealing with loss, Regan is able to step up and take a step into the unknown.
Millicent Simmonds is a phenomenal actress. She exhibits the strength necessary to carry this film and the determination of a girl who grew up too quickly, while also maintaining the innocence of her age. As mentioned by Emily Blunt in the clip above, Simmonds' character Regan doesn't know what's going on in the rest of the world. She only knows what she sees going on with her own family and that shapes her entire worldview.
Part of what makes A Quiet Place: Part II such a fantastic horror film is the authenticity it's rooted in. At its core, the story is about family, survival, and how far people would go for loved ones.
A Quiet Place: Part II will debut July 13, 2021 for purchase on Digital and streaming on Paramount+ (opens in new tab). The film arrives on 4K Ultra HD Combo Pack, Blu-ray and DVD July 27 from Paramount Home Entertainment. The featurette seen above, "Following in Lee's Footsteps" will also be available when you purchase the digital edition or 4K/Blu-ray.
Obsessed with Hamilton and most things Disney. Gets too attached to TV show characters. Loves a good thriller, but will only tolerate so much blood.
Your Daily Blend of Entertainment News
Thank you for signing up to CinemaBlend. You will receive a verification email shortly.
There was a problem. Please refresh the page and try again.