The Suicide Squad Ending Explained: James Gunn's Beautifully Twisted Finale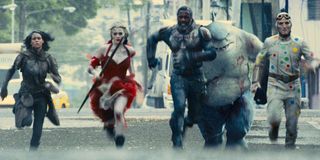 CinemaBlend participates in affiliate programs with various companies. We may earn a commission when you click on or make purchases via links.
Warning: we're about to totally spoil The Suicide Squad's ending. If you haven't seen James Gunn's big DC blockbuster quite yet, feel free to exit this story and find another wonderful piece of coverage we're running at CinemaBlend.
It's safe to say that The Suicide Squad is a comic movie that definitely earns labels like "a ride and a half". With James Gunn's DC debut taking all sorts of twists and turns throughout, the end result is something that's absolutely worth the time to sit down and watch. In particular, the third act brings up a lot of interesting wrinkles for Margot Robbie's Harley Quinn, as well as the rest of the team, Idris Elba and John Cena included.
It all culminates in a beautifully twisted finale, and it's something that just has to be talked about. If you don't want any of it spoiled for you, this is your last call to evacuate., and read something else from us fine folks here at CinemaBlend. Otherwise, we're about to turn the key, and activate spoiler mode for The Suicide Squad; which is a wonderful thing, as there's a lot to discuss in the aftermath of such a batshit insane movie.
What Happened At The End Of The Suicide Squad?
Amanda Waller (Viola Davis) has met her match yet again, as The Suicide Squad's surviving teammates are ready to put her in a bit of a jam. Once again sending a team of super powered/metahuman adjacent criminals out into the world to do her dirty work, this latest roster of antiheroes thought they were just taking down a former Nazi science lab. When in actuality, an entire team was sent to die as a distraction, so a second team could try and wipe out some very incriminating evidence. Oh, and that's in addition to taking on an intergalactic starfish known as Starro The Conqueror.
The Suicide Squad Vs. Starro The Conqueror
Given that nickname by Dr. Gaius "The Thinker" Grieves (Peter Capaldi), Starro the Conqueror is said intergalactic starfish, and it's ready to enslave all of humanity. Escaping the lab known as Jotunheim in the idyllic Corto Maltese, thanks to some rather haphazard demolition by The Suicide Squad, Starro begins to take over Corto Maltese with its parasitic duplicates. If it were up to Amanda Waller, the entire territory would be left to die; but not all of our antiheroes are pitch black villains. Task Force X takes on Starro, and wins with a decisive blow from Harley Quinn, using the weapon entrusted to her by the late Javelin (Flula Borg), and the rodent soldiers of Ratcatcher-2 (Daniela Melchior). Which was only possible, thanks to a mutiny in Waller's control room led a Task Force X support member to knock her out cold.
How Bloodsport Became A True Leader After All
Reluctant to even join The Suicide Squad's Task Force X, Bloodsport (Idris Elba) is promised by Amanda Waller that he'll wind up being a true leader before the mission is over. And he does just that through two huge decisions, the first of which is to destroy Starro the Conqueror against Waller's orders. The second decision, quite possibly the larger one at that, is to blackmail Amanda Waller and the US government with the possession of the incriminating evidence that proves Starro was a black book experiment gone wrong. Through defying his handlers, and inspiring his Task Force X friends to follow him into the fight, Bloodsport became a true leader after all, which always looks good for a potential sequel. You know, on top of the whole moral superiority thing.
Who Survives The Suicide Squad?
There is a huge roster of characters who died in The Suicide Squad. So we won't go into all of the gory details, and leave that for another feature entirely separate from this ending rundown. However, it's worth noting that by time Starro the Conqueror has been conquered itself, Bloodsport, Harley Quinn, Ratcatcher-2, and King Shark are shown to be still standing in the aftermath of the battle. However, two more members of Task Force X are surprisingly, or depending on which one you're talking about, unsurprisingly still alive. And one of the fortunate children just happens to be the supposedly drowned Weasel (Sean Gunn).
Wait, Weasel Survived?!
Oh yeah, despite the absence of higher cognitive function and/or survival instincts, Weasel totally survived his supposedly fatal lack of swimming in The Suicide Squad's carnage filled opening. A member of the other Task Force X team, sent as a diversion for the real mission, Weasel looked to be DOA right out of the gate as his team was dropped over water. It was a good thing that Savant (Michael Rooker) dragged his body to the shoreline, as we see Weasel cough up water and scamper off into the jungles of Corto Maltese in The Suicide Squad's post-credits sequence. As for the other "surprise" survivor of Operation: Jotunheim/Harley, their future is pretty clear.
F#ck! It's Peacemaker!
Surprise surprise, patriots! Just when you thought Bloodshot had killed Peacemaker (John Cena) in order to protect Ratcatcher-2, we see him unconscious in a hospital bed. A turncoat who killed Col. Rick Flag (Joel Kinnaman) in an attempt to destroy the hard drive containing incriminating evidence against the US government, Peacemaker proved that those seemingly comical statements about killing in the name of the mission were scarily accurate.
Naturally, with an HBO Max spinoff series focused on his character, Peacemaker wasn't going to die. But John Cena's breakout baddie does have a use for his loyal employers. We don't know how, or even why just yet, but Peacemaker is about to be given the most important purpose: "just to save the fucking world, that's all".
As you can see, The Suicide Squad is a ride and a half of comic book excitement, and mass character death. Should you want to see the film again, or finally watch it after knowing all the good stuff ahead of time (cheater) then you're in luck! You can catch James Gunn's funhouse of destruction in theaters, as well as streaming on HBO Max for the first 30 days of release. If you aren't a subscriber yet, check out the latest offer that'll fix that problem quickly; and don't forget to keep up with the upcoming DC movies that are on the way.
Your Daily Blend of Entertainment News
Senior Movies Contributor
CinemaBlend's James Bond (expert). Also versed in Large Scale Aggressors, time travel, and Guillermo del Toro. He fights for The User.