The Suicide Squad's New Members Explained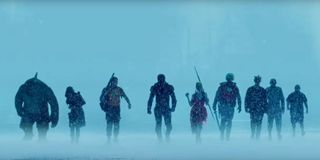 It looks like the titular crew of The Suicide Squad is undergoing some major changes. Fans need not worry about losing favorites like Margot Robbie's Harley Quinn, Academy Award-winner Viola Davis' Amanda Waller, Joel Kinnaman's Rick Flag and even Jai Courtney's Captain Boomerang. Yet, they should expect writer-director James Gunn's new take on DC's villainous crew of forced vigilantes to introduce a lot more characters into the mix (and I mean a lot more).
While there is still much being kept under wraps about the story of this new film we hesitate to call a sequel, which is set for a theatrical release of August 6, 2021, the DC FanDome event recently revealed nearly every previously unknown role that the star-studded cast (including Idris Elba and Nathan Fillion) are playing. While most of these characters are making their first official jump from comic books onto the screen, all of them are making their cinematic debuts in The Suicide Squad, and many of them may surprise you by their mere existence alone.
So who are the latest baddies to join Task Force X, what can we learn from their comic book origins and what should we expect from them in the upcoming film? Let's take a deeper look at all 13 of these fresh faces to find out.
Bloodsport (Idris Elba)
While Idris Elba was originally cast to replace Will Smith as Deadshot in The Suicide Squad, it was later decided to have him play a different kind of gun-toting baddie named Bloodsport. Born Robert DuBois, the expert marksman first appeared in a 1987 issue of Superman as a draft dodger who suffered a mental breakdown following his brother's grave injuries in Vietnam. His affiliation with Task Force X came after hewas jailed for shooting the Man of Steel with Kryptonite bullets provided by Lex Luthor, which the cast's DC FanDome panel hinted will be a plot point in the film.
Peacemaker (John Cena)
Another DC character with canonical ties to Vietnam is Peacemaker, the alter ego of Austrian-born Christopher Smith (née Schmidt), who is still designated as a superhero, but his willingness to kill in the name of peace makes him a good candidate for Task Force X. Not to mention the fact that this paroled war criminal is a schizophrenic who believes his helmet traps the souls of his victims (much like Katana's sword) with violent tendencies often derived from his bipolar disorder. Meanwhile, in the behind-the-scenes footage released during DC Fandome, John Cena simply refers to his The Suicide Squad role as "douchey Captain America."
The Thinker (Peter Capaldi)
Speaking of more despicable takes on Marvel characters from DC, imagine if Charles Xavier had used Cerebro for more sinister purposes. In the most basic ways, that description matches Clifford DeVoe, better known as The Thinker, whose "Thinking Cap" gives him superior intellect and telekinetic abilities. The New 52's more nightmarish character design, a man of unknown origin with mind-enhancing technology built directly into his skull in lieu of a helmet, seems to have inspired former Doctor Who actor Peter Calpadi's portrayal, as evident by his appearance in The Suicide Squad cast roll call video unveiled during the DC Fandome.
Polka-Dot Man (David Dastmalchian)
Having already made comic book history for being part of the MCU, the Dark Knight trilogy, Fox's Gotham series and the Arrowverse, actor David Dastmalchian will enter his fifth realm of franchise continuity with The Suicide Squad, where he plays the first live action iteration of Polka-Dot Man. The conceptually ridiculous, yet dangerous alter-ego of Abner Krill first appeared in Detective Comics #300 as Mister Polka-Dot, who took on Batman with a special suit comprised of multi-colored, removable polka-dots that can be used for a variety of purposes, from deadly weapons to getaway vehicles. How that has not been given the big screen treatment until now, I will never understand.
Ratcatcher 2 (Daniela Melchior)
The official reveal of 23-year-old Portuguese actress Daniela Melchior as Ratcatcher 2 in The Suicide Squad certainly piques our curiosity, as it suggests the role is more than your typical gender-swap. The original Ratcatcher was Otis Flannegan, a convicted murderer who turned against his responsibilities as a Gotham City exterminator to instead become a leader of the rodents he was tasked to kill, training them as his attack minions. How this second generation of rat royalty may relate to Flannegan is unclear, but a blink-and-you-miss-it shot from the behind-the-scenes sneak peak hints that Melchior's character may be his daughter.
Blackguard (Pete Davidson)
An explanation for Pete Davidson's blonde hair on Saturday Night Live finally came with the confirmation that he plays Blackguard in The Suicide Squad. Originally a small-time thug of lower intelligence named Richard Hertz, he became a top enemy of Booster Gold under his more famous and less embarrassingly suggestive moniker after crime syndicate The 1,000 fitted him with a powerful suit of armor. The reveal of the The King of Staten Island star's role in the comic book movie comes a few months after hinting he wore "a big, uncomfortable suit," and "got to hold Glocks," which was just enough to rightfully keep fans in the dark.
Savant (Michael Rooker)
Because it would not be a James Gunn movie without his good-luck charm Michael Rooker, the actor who played Yondu in the Guardians of the Galaxy films, appears in The Suicide Squad as Savant. That's the alter-ego of billionaire Brian Durlin, who originally aspired to be a Gotham vigilante, only to be apprehended and discouraged by his hero, Batman. That subsequently inspired him to turn to the dark side. It appears that Rooker's portrayal of the professional blackmailer, who has made enemies with criminals and heroes alike, is based on The New 52, which sees Savant as a Task Force X member in his darkest interpretation yet.
King Shark (Steve Agee)
The shark-like humanoid being Nanaue, better known as King Shark, has been a staple of the Suicide Squad since the dawn of The New 52, joining around the same time his arch-enemy Superboy tagged along for a mission. The son of the Shark God has a slew of superpowers ranging from your typical speed and stamina to regenerative health, and he will be making his cinematic debut in The Suicide Squad after The CW's The Flash marked his first live action appearance. Playing Shark King in mo-cap is comedian Steve Agee, but since no new information on Taika Waititi's role in the film has been revealed, people are speculating the New Zealand-born, Oscar-winning filmmaker may provide the voice.
Floyd "TDK" Belkin (Nathan Fillion)
Floyd Belkin has been known by a few aliases, including Splitter and (most memorably and hilariously) Arm-Fall-Off-Boy, but TDK seems to be a new one made just for The Suicide Squad, in which he will debut as played by another one of James Gunn's frequent players, Nathan Fillion. Inspired by a fan-created parody hero that artist Curt Swan and writer Gerard Jones decided to make canon, the character was rejected by the Legion of Superheroes in his first appearance from 1989's Secret Origins Vol. 2 #46. It appears he may have finally found a home with Task Force X, unless this is just another one of the actor's brief cameos that Gunn tends to cast him in.
Weasel (Sean Gunn)
Upholding tradition established by his mo-cap performance as Rocket Raccoon in Guardians of the Galaxy, James Gunn cast his brother, Sean Gunn, as the aptly named Weasel in The Suicide Squad. However, it was not until The New 52 reboot that the villain was an actual furry creature, as he was originally introduced in the mid-1980s as John Monroe, a professor driven to murder the students who gave him the loathsome nickname "Weasel" while dressed as that very animal. He has a particularly violent history in the Squad, too, most notably for killing The Thinker, so perhaps we should expect a little animosity between them in the film.
The Javelin (Flula Borg)
Like Flula Borg, the comedic actor who plays him, The Javelin is a man of German origin who decided to use his athletic talents with the track and field device for evildoing instead of winning competitions for no clear reason. The supervillain, whose protection of his true identity is by far his most successful achievement, would join the Suicide Squad after Green Lantern defeated him, with his violent tendencies making worthy addition. However, Circe killed him with his own javelin in the War of the Gods storyline, so we will have to wait and see if this character's namesake weapon ends up treating him better in the upcoming film.
Mongal (Mayling Ng)
Described as an "ally" of the Suicide Squad, we have Mongal, played by martial artist Mayling Ng, making her second DC appearance, after playing an Amazonian in Wonder Woman. The tyrannical alien from Debstam IV and daughter of Mongul the Elder is well known for luring Superman onto her father's prison satellite called Warworld. Mongal would eventually become the queen of Almerac, her twin brother Mongal the Younger ended her reign by decapitating her.
Sol Soria (Alice Braga)
There is not much we can report on who Alice Braga is playing in The Suicide Squad, other than it not being Poison Ivy as previous rumors suggested, as no character name Sol Soria exists in the DC Comics continuity. However, it could be speculated that she is either a gender-flipped iteration or relative of Juan Soria, a Justice League reject with an [electronic skeleton key for a hand](https://dc.fandom.com/wiki/JuanSoria(PrimeEarth), whose brief stint in a couple of _Suicide Squad comics in 2018 ended when Killer Croc ate him. Hopefully, Sol Soria is blessed with a different fate.
What do you think? Does this new ensemble show promise that Task Force X will return bigger and better than ever in The Suicide Squad, or does it look a bloated recipe for disaster? Let us know in the comments, and be sure to check back for additional information and updates on this comic book movie extravaganza, as well as even more in-depth looks at the most anticipated upcoming movies and TV shows, here on CinemaBlend.
Jason has been writing since he was able to pick up a washable marker, with which he wrote his debut illustrated children's story, later transitioning to a short-lived comic book series and (very) amateur filmmaking before finally settling on pursuing a career in writing about movies in lieu of making them. Look for his name in just about any article related to Batman.
Your Daily Blend of Entertainment News
Thank you for signing up to CinemaBlend. You will receive a verification email shortly.
There was a problem. Please refresh the page and try again.