F9's Nathalie Emmanuel Recalls Her First Day Being On The Set Of A Fast And Furious Movie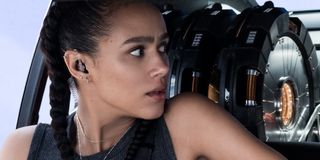 F9 has made its mark at the box office this summer, and the stars of the film are delighted with the support given by the fans, which means so much more this time around. The franchise has been around for two decades now, meaning stars like Vin Diesel have played the same character for 20 years. But Nathalie Emmanuel, who plays Ramsey, is a relative newcomer to the franchise, making her debut in 2015's Furious 7, and the actress recently recalled her first day being on set of a Fast and Furious movie.
Nathalie Emmanuel was already a star on Game of Thrones, but walking onto a Fast and Furious movie set for the first time must have been quite the experience. With Fast and Furious having already been around for a while by the time she joined, she pretty much reacted to the situation in a way that's incredibly understandable. In regard to her first day working on set, Emmanuel told Collider:
Nathalie Emmanuel is right when she says it's common to be nervous coming into a new project, especially when it's a massive one that features actors you've personally been watching for years. Emmanuel's first scene as Ramsey has her describing the veteran characters' roles and calling out the Fast family, so it must have been an interesting first day.
Ramsey is introduced in Furious 7 as the tech genius who created the "God's Eye" device that the film's villains are trying to get their hands on. Ultimately, it doesn't take long for Ramsey to become a full member of the Fast family, and she's been a significant part of the franchise ever since. Nathalie Emmanuel talks about Ramsey's attitude in her introduction, saying:
It's funny to hear the contrast between Ramsey's on-screen feelings and Nathalie Emmanuel's true thoughts. but now that she's been a part of some of the craziest stunts and set pieces in the entire Fast franchise, it's fair to say she's comfortable. And it seems like the cast was a bit more welcoming to Nathalie Emmanuel than John Cena, who says they were a bit apprehensive about him joining the franchise until he earned everyone's approval.
The future of The Fast Saga is positioning characters like Ramsey and her female counterparts to be at the forefront of the franchise in the future, and we cant wait to see how everything will change when the main saga ends with Fast 11. But while you wait for the next installments, you can now rent F9 through VOD and experience the newest entry into the saga in your home.
Movie and TV obsessive. A good Heist movie is the way to my heart. Enjoyer of everything from Marvel Movies to Rom-coms.
Your Daily Blend of Entertainment News
Thank you for signing up to CinemaBlend. You will receive a verification email shortly.
There was a problem. Please refresh the page and try again.