Upcoming Nathalie Emmanuel Movies: What's Next For The Game Of Thrones And F9 Star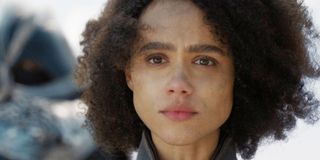 It is no secret Game of Thrones helped kick off or take the careers of its stars to the next level during the HBO fantasy series' epic eight-season run. And while the likes of Emilia Clarke, Sophie Turner, and Kit Harington have gone on to have remarkable careers in film and television since joining the Game of Thrones cast way back when, one of the stars that doesn't get talked about nearly enough (despite being in a few of the biggest movies of all time) is Nathalie Emmanuel, who first started playing the fan-favorite character Missandei back in Season 3.
Since being introduced as tech-whiz Megan Ramsey in 2015's Furious 7, Nathalie Emmanuel has become one of the anchors of the Fast and Furious franchise, and she doesn't look to be pressing the brakes on that series anytime soon considering the upcoming F9 and its sequel. But it isn't all street-racing and globe-trotting adventures alongside Vin Diesel for the Game of Thrones star as Emmanuel has a rather diverse series of titles coming out in the next couple of years with everything from military audio dramas to multiple horror movies.
F9 - June 25, 2021 (Completed)
The Fast and Furious franchise has always been one that never settles for taking things slow, safe, or serious, as the more recent entries in the series show with all those bonkers stunts and logic-defying car chases. But even though these movies have gone from small-scale yet successful crime flicks to globe-trotting adventures that bring north of $1 billion at the global box office, Fast and Furious is always about one thing: what it means to be family. That theme has never been truer than in the upcoming F9, also known as Fast and Furious 9, which will see the less friendly side of the familial bond when Jakob Toretto (John Cena), the long-lost brother of Dom (Vin Diesel) and Mia Toretto (Jordana Brewster), who has shown up to get back at his older sibling.
And as is expected with the Fast and Furious franchise at this point, the F9 cast is absolutely stacked, bringing back much of the crew audiences have come to know and love over the years. With the likes of Megan Ramsey (Nathalie Emmanuel), Roman Pearce (Tyrese Gibson), Tej Parker (Chris "Ludacris" Bridges), and seemingly back-from-the-dead Han Lue (Sung Kang) all coming back for more action in what looks to be an epic summer blockbuster, there's a lot to look forward to here. And that doesn't even cover the more recent characters like Cipher (Charlize Theron), Magdalene Shaw (Helen Mirren), and Mr. Nobody (Kurt Russell), who are all back in the fray once more.
One of the first major movies to have its release kicked down the road like a can in the early days of the COVID-19 pandemic, F9 will finally see a June 25, 2021 wide release a little more than two years after cameras first started rolling on the movie back in June 2019. That being said, there's not much time before we get to see what these rumors about Fast and Furious in space are all about.
Army Of Thieves - TBD (Post-Production)
Fans of Zack Snyder's Army of the Dead who were left wanting more from the world in which his zombie heist is set are in for some good news as there are two spinoffs connected to the Netflix movie that are slated to be released in the very near future. One of the two projects (which we won't get into all too much) is an anime-style series called Army of the Dead: Lost Vegas and will center on several of the characters from the movie during the early stages of the zombie outbreak. The other title, a full-fledged live-action feature-length prequel called Army of Thieves, sounds like something fans of a certain character from the Netflix movie will love.
When speaking with CInemaBlend during a press event following the release of the Army of the Dead trailer in May 2021, Zack Snyder (who wrote the story for Army of Thieves and is producing the spinoff) explained that the movie will center on Ludwig Dieter, Matthias Schweighöfer's over-the-top safe cracker from the zombie-heist-thriller. According to Snyder, the movie will show audiences how Dieter falls in love with safe-cracking while also detailing why the safe in Army of the Dead means so much to him.
In that same interview, Zack Snyder also revealed principal photography has already been completed on Army of Thieves, which has a cast featuring Nathalie Emmanuel, Guz Khan, Stuart Martin, Peter Simonischek, and more. A release date has yet to be revealed for Army of Thieves.
Fast And Furious 10 - TBD (Pre-Production)
All good things come to an end and such is the case for the Fast and Furious franchise, which will see the first chapter of the series' two-part finale kick off with Fast and Furious 10. With the film's original release date (April 2, 2021) having already come and gone, it remains to be seen exactly when Justin Lin will sit in the director's chair for sixth time since first helming 2006's The Fast and the Furious: Tokyo Drift. And while don't yet know any of the plot details at this point and probably won't for some time until after the June 2021 release of F9, the majority of the central cast, including Nathalie Emmanuel, have already signed to return for the beginning of the end for the series.
Production on Fast and Furious 10 won't get underway until at least 2022, according to comments made by director Justin Lin after he was asked when 10th installment in the "Fast Saga" would start shooting, during an April 2021 interview with Variety. It seems unlikely that we'll see Fast and Furious 10 open in theaters before 2023 at the earliest. This, however, should be expected considering there has been a two-year break between releases going back to 2009's Fast and Furious.
The Bride - TBD (Pre-Production)
Screen Gems has long been one of the more prolific horror studios in today's Hollywood, releasing the various Resident Evil movies, the 2013 adaptation of Stephen King's Carrie, and 2021's The Unholy, with even more on the way. One of the most exciting upcoming movies from the Sony Pictures' speciality division is The Bride, a modern spin on Bram Stoker's classic gothic horror novel, Dracula. Written by Blair Butler and directed by Jessica M. Thompson, who made her directorial debut with the 2017 drama The Light of the Moon, The Bride has been described by Deadline as being a contemporary horror thriller. In the movie, Nathalie Emmanuel will play a young woman who is courted and by a charismatic man played by Garrett Hedlund who turns out to be anything by the prince charming she suspects.
And while a lot of the finer details about The Bride, its cast, and eventual release date have yet to be revealed at this time, Screen Gems isn't wasting any time on the project and plans on kickstarting production at some point near the tail end of summer 2021. So it wouldn't be out of the realm of possibility to see The Bride land in theaters at some point in fall 2022.
Unsinkable (Audio Series) - TBD (Pre-Production)
On November 5, 1940, the British cargo ship San Demetrio was attacked by the German navy and later abandoned by its crew after it was believed to sink to the bottom for the sea. When that did not happen, however, the ship became a legend and one of the most remarkable stories of World War II. The story of the iconic ship, its crew, and those who were sent to retrieve it, will soon become immortalized in the upcoming 11-episode audio drama series Unsinkable. Created by Datura Studios and North Atlantic Ridge in association with B7 Media and AudioMarvels, this epic military story will feature an outstanding voice cast led by Brian Cox, John Malkovich, Thomas Brodie-Sangster, Harry Hamlin, and Nathalie Emmanuel, per Deadline.
When the audio drama series was first announced, Deadline described it as being one that will embrace the production style and values of cinematic feature films, creating an immersive auditory experience. The sound design and mixing of Unsinkable is being led by Ben Wilkins who took home an Academy Award for his work on Whiplash. There is no word on when Unsinkable will enter production or when or even how it will be distributed once it is finished, but expect to hear more about this epic adventure series in the coming months.
This is everything that has been announced for Nathalie Emmanuel at this point, but with movies and TV shows being announced more so now than ever before, it won't be long until the Game of Thrones and Fast and Furious star has more credits attached to her name. And when those movies are announced, you will be able to find them here and on CinemaBlend's list of 2021 movie premiere dates.
Your Daily Blend of Entertainment News
Philip grew up in Louisiana (not New Orleans) before moving to St. Louis after graduating from Louisiana State University-Shreveport. When he's not writing about movies or television, Philip can be found being chased by his three kids, telling his dogs to stop barking at the mailman, or yelling about professional wrestling to his wife. If the stars properly align, he will talk about For Love Of The Game being the best baseball movie of all time.