F9's John Cena Recalls Vin Diesel And The Fast And Furious Cast Being 'Apprehensive' About Him Joining The Franchise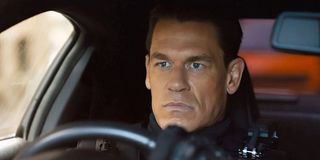 Joining one of the most famous film franchises of all time is a daunting endeavor, even if you're already very famous in your own right. Just ask John Cena, who made his debut as Jakob Toretto in F9 back in June. Though he's proven he can hold his own both in the WWE ring and on film, he admits that he had to work against a unique challenge: Vin Diesel and other cast members were "apprehensive" about joining the Fast and the Furious series.
With nine films in the can so far, the Fast and Furious series has played host to hundreds of actors. Some have played a bigger role in the franchise's legacy than others, and it's no secret that some are pretty protective of what they've built. John Cena experienced that protectiveness first-hand when he was cast in F9. He told People that when he was first coming on board, he wasn't exactly welcomed with open arms:
It seems like John Cena took being the new kid on the Fast and Furious block in stride, though. He approached his new role as Dominic and Mia's brother with a healthy perspective because he understood why the cast feels the way they do about the series:
Since it seems like he made a good enough impression with the cast, hopefully he'll get a chance to experience that sense of family again in the future. Those who've seen F9 know that given where Jakob's storyline ended, it would make sense for him to come back for future installments.
In the meantime, you can see how John Cena fits into the Fast and Furious legacy with F9, which is playing in theaters and on-demand. And you can see him continue to solidify his own film legacy even more with an appearance in another high-profile property: The Suicide Squad, which opens in theaters and streams on HBO Max on August 6th.
Your Daily Blend of Entertainment News