How Charlize Theron's Loved Ones Fulfilled One of Her Biggest Dreams On Her 46th Birthday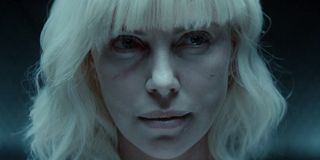 (Image credit: Denver and Delilah Productions)
Charlize Theron has graced our screens with her undeniable range for more than two decades now. From my personal favorite Sweet November to her Oscar Award-winning performance in Monster to her deeper foray in the action genre of late, Theron knows her way around a performance. But there is one thing she doesn't have a personal point of reference to that has apparently been one of her biggest dreams since she was a teenager. Fortunately for her, Theron's loved ones just made her dreams come true for her 46th birthday.
Well, what is the iconic actress' biggest teenage dream made manifest? It may surprise some, but Charlize Theron always wanted to go to prom. Since she never got the chance, her friends hosted an epic "'80s prom murder mystery party" to celebrate her 46th birthday. See the pics from Theron's Instagram, which show off the festivities:
Though she didn't miss much, I'm still curious as to why Charlize Theron never went to prom. Even more curious is that Theron now has something in common with the likes of a High School Musical: The Musical: The Series actress-turned pop star. 18-year-old Olivia Rodrigo also never went to prom and decided to recreate a prom night for herself in a recent concert film, the cover art for which was criticized for being a rip-off of a Hole album cover. Theron's 46th birthday party was a bit more camp than either of those, however, complete with tutus, perms and neons.
To me, though, Charlize Theron's dream prom birthday party on a yacht reminds one of the antics that rich people get up to on Bravo's reality series Below Deck. On the show, the crew are often required to put on elaborate "disco" parties or "all-white" parties or "rave" parties at the guests' whim. (Surprisingly, they apparently can also elevate their rank to become part of a celebrity's own entourage.)
But beyond playfully making her teenage dreams come true, the Mad Max actress has also been busy making our movie dreams come true. (That Die Hard reboot still hasn't come to fruition, although Charlize Theron is still down for the idea.) She finished filming this year – as a redhead, no less – for Netflix's adaptation of the YA novel The School for Good and Evil, alongside Michelle Yeoh and Laurence Fishburne. Theron has also confirmed that the sequel for The Old Guard is greenlit, with production likely picking up at the beginning of 2022.
Charlize Theron is constantly working on some project or another, so we can't begrudge her for unwinding in crazy 1980s fashion. If you're feeling inspired by Theron's recent birthday shenanigans, check out our list for the best teen movies streaming now on Netflix.
I am a vegan feminist. I'm fascinated by all things space/stars. I love film history, reality television, and my cat Bubbe.