Olivia Rodrigo Doesn't Mind Being Called Out By Hole's Courtney Love Over New Album Cover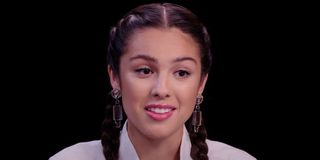 From Disney Channel star to overnight international singer sensation, Olivia Rodrigo is certainly making some waves. The 18-year-old recently revealed a new promo pic for her debut studio album SOUR's concert film coming out soon. It's prom-themed so you know the drill: flowers, tiara, dress, running mascara…But the concept sounds a little too familiar to none other than Courtney Love, the lead singer of the 90s alternative band Hole.
Courtney Love has never hesitated to share her thoughts on something, and this applied when it came to Olivia Rodrigo's album cover. See Love calling out Rodrigo below (but have no fear, I don't think Rodrigo minded too much):
As you can see, Olivia Rodrigo's SOUR Prom does closely resemble Hole's 1994 "Live Through This" album, right down to the flowers, tiara and running mascara. The only real difference is that Courtney Love's expression is much more chaos incarnate, whereas Rodrigo's giving more graceful Miss Universe (or maybe Kate Winslet about to jump off the back of the Titanic) vibes.
Courtney Love's comment on the Hole album aesthetical similarities wasn't too harsh, though. In fact, it sounded like she took Olivia Rodrigo's new concept as an ode or tribute. Likewise, Rodrigo didn't seem to take offense to the icon calling her out. She responded in the comments on Instagram, via TMZ, saying:
The legendary Hole lead singer even quipped back at Olivia Rodrigo to DM her for "her favorite florist." I want to be in Courtney Love's DMs! It's just surreal that the universe now has an exchange between one of the most influential grunge singers of all time and a High School Musical: The Musical: The Series star.
But it appears this is just life for Olivia Rodrigo now – mega celebrities namedropping her. Most of everyone on earth has been loving her new album. Even Kim Kardashian talked about how much she loved Rodrigo's hit song "driver's license," but her daughter North called her out on the contrary (so she must have some of Courtney Love's energy in her).
The hype surrounding Olivia Rodrigo isn't unwarranted. Similar to other Disney Channel vets like Miley Cyrus and Demi Lovato, Rodrigo used her platform to her advantage and catapulted herself into musical stardom. But the singer still made time to write a few songs with co-star Joshua Basset for High School Musical: The Musical: The Series' second season, which premiered last month.
Along with fame attracting the likes of Courtney Love and Kim Kardashian, it also brought intense scrutiny to Olivia Rodrigo's love life. Apparently, though, she loves that, too. Many have speculated that her heartbreak at the center of her SOUR album was based on a relationship with her High School Musical co-star Joshua Basset. He isn't spilling any deets, only the kind about how he ended up in the hospital after "driver's license" released.
Alas, we will leave it to the trials and tribulations of the next generation of Disney stars-turned-pop sensations. Olivia Rodrigo's full SOUR Prom premieres on Tuesday, June 29, on YouTube at 8:30 p.m. PT.
Your Daily Blend of Entertainment News
Movies and TV News Writer
Freelance writer. Favs: film history, reality TV, astronomy, French fries.