The Best Teen Movies To Watch Streaming On Netflix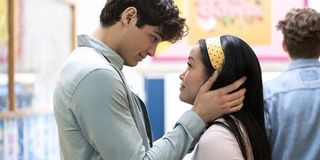 CinemaBlend participates in affiliate programs with various companies. We may earn a commission when you click on or make purchases via links.
Okay, let's be honest with ourselves – sometimes we like the cringe of teen movies.
Don't get me wrong, some teen movies are classics and deserve the love they get, but others are just your typical teen movie – someone learning to grow up and accept themselves, or it's them trying to find a relationship or even facing a bully in school.
Thankfully, these teen movies are some of the best that Netflix has to offer currently to their subscribers and trust me, there are plenty. From classics like Scott Pilgrim vs. The World to more recent hits like To All The Boys I've Loved Before, these are some of the best teen movies on Netflix.
To All The Boys I've Loved Before Trilogy
From 2018 through 2021, there was a trilogy which took over the internet – mainly, Noah Centineo did as the internet's official boyfriend, and that was from To All The Boys I've Loved Before. Lara Jean once wrote five letters to the five loves of her life, but stored them away, never mailing them. However, her life changes when he sister mails them out accidentally, and all of her former crushes are revealed.
As someone who adores romantic comedies, this is hands down one of my favorite teen movies that Netflix has to offer, especially since there are three of them. Not only was the story fun to watch, the chemistry that Lana Condor and Noah Centineo had in all three movies really made their relationship believable, and when you have that, any movie can soar. Trust me, by the end, you'll want your own Peter Kavinsky or John Ambrose.
Stream To All The Boys I've Loved Before trilogy on Netflix.
Moxie (2021)
For one of the latest films, we take a look at Moxie. In this film, a teenage girl ends up starting a hardcore feminist movement at her high school when she stumbles upon riot grrrl memorabilia in her mother's trunk.
Just from the premise, you can really tell this is a movie of the times, but it's incredibly funny and tackles the politics of the film in a fun way. Moxie is actually directed by the legendary Amy Poehler (who also has a role in this film), so you just know that it's going to be iconic in every way. Even so, the message behind this teen film really goes above and beyond and will make anyone watching want to stand up for what they believe in.
Scott Pilgrim Vs. The World (2010)
I feel like when most people think of a teen film, this is one of the first ones which pops up. Scott Pilgrim vs. The World, based on the graphic novel of the same name, follows the titular character, Scott Pilgrim, who is a musician and must win a competition in order to get a record deal and battle the seven evil exes of his newest girlfriend, Ramona Flowers.
This film has developed a strong cult following since its release, for many reasons. The comedy is top-notch, the story is a lot of fun, and the cast list is absolutely amazing, from actors like Michael Cera and Chris Evans to actresses like Anna Kendrick and Aubrey Plaza, they are everywhere in Scott Pilgrim. It's a real underdog teen movie that knocks the socks off of any normal high school film. Definitely one of the best.
Stream Scott Pilgrim vs. The World on Netflix.
The Prom (2020)
Musicals have sort of been my comfort genre for a long time, so when I heard that The Prom was going to become a new movie on Netflix, I was so excited. The Prom, adapted from the Broadway musical of the same name, tells the story of the struggles of the LGBTQ+ community when a young girl just wants to take her girlfriend to prom, but the school board won't allow it.
If you want to talk about musical numbers, The Prom has everything you could dream of, from amazing colors to awesome dance numbers to beautiful voices. Ryan Murphy, who knows his way around a musical, considering he created Glee, does everything he can to truly make this a musical to remember. The Prom cast is amazing as well, with big-time actors like Meryl Streep, James Corden, Nicole Kidman, and so many others signing on. If you love musicals, check this one out.
All The Bright Places (2020)
Oof. That's all I'll say about this film at first. All The Bright Places, based on the book of the same name and starring Elle Fanning and Justice Smith, tells the story of two young teenagers who are both dealing with their own issues, one with survivors' guilt and the other being obsessed with death. They dream of leaving their dreary Indiana town behind and want to explore the world.
The reason I say 'oof' is not because the film is bad, by any means. If anything, this is one of the most emotional teen films you will watch. While most of these are great comedies, sometimes we all need a good cry, and that's what All The Bright Places provides for us – a good cry so we can move on with our day. The acting is amazing from these two young actors, and the story itself will touch anyone's heart.
Stream All The Bright Places on Netflix.
What A Girl Wants (2003)
Now, let us move back into something a bit older, and take a look at a movie that starred the one-time queen of teen comedies, Amanda Bynes. In What a Girl Wants, Bynes plays Daphne, whose mother once fell in love with an aristocratic Englishman in her youth, but couldn't be with him due to family issues as well as social pressures, and because of this, it causes a whirlwind of lies and truths to be revealed.
Is the story life-changing? Of course not, as it's definitely something that you've seen before in so many other comedies. But, if you're looking for that classic teen comedy that you remember from your childhood, there's nowhere further to look than this. We have the 2000s-era outfits and plenty of teenage humor, along with a great cast. It's certainly one of my nostalgic favorites.
Stream What a Girl Wants on Netflix.
Let It Snow (2019)
Who says you can't watch a Christmas movie right now? Let It Snow, based on the popular young adult novel of the same name, goes over three separate storylines that all take place around the holidays, creating hijinks, romance, friendships, and drama all along the way.
While this does take place during the holidays, I believe that this is a movie you can really watch at any point during the year. The stories themselves are cute and full of life, while the acting is actually surprisingly good for a teen movie, with big stars like The Chilling Adventures of Sabrina's Kiernan Shipka and the famous Joan Cusack, along with so many others. Plus, one of the writers of the original book was John Green, who was known for amazing novels like The Fault in Our Stars and Looking for Alaska – you know it's going to be a good story.
Stream Let It Snow on Netflix.
The Last Summer (2019)
For anyone who just recently graduated high school, this is definitely for you. The Last Summer talks about a group of friends from high school, trying to navigate their personal and social lives with all their issues and drama while also trying to enjoy their last summer before they all head off to college.
There's just something about these movies that have multiple different storylines which always get me interested. I love that they somehow find a way to connect everything near the end, and it serves as a bittersweet moment when they all end up heading off to college, knowing that the world will forever be changed but they will always have their memories, even if they grow apart. Plus, the cast list is great, with Riverdale's K.J. Apa taking the lead, Teen Beach Movie's Maia Mitchell, Detroit's Jacob Latimore, and so many others.
Stream The Last Summer on Netflix.
Work It (2020)
I can't have a teen list and not put a dance movie on there. Work It, a Netflix original film, tells the story of Quinn Ackerman, who lies about being on a dance team to get into the college of her dreams when her accolades aren't enough, and must win a competition with said dance team to somehow get into her school.
First off, let me just say that Sabrina Carpenter and Jordan Fisher are fantastic in Work It. Their chemistry is amazing and what makes it even better is that they are actually seriously talented, with some awesome dance moves and singing voices. Liza Koshy is even great, as well, in one of her first big film roles since becoming a big YouTube star. The story itself is about as generic as you can expect from a teen movie, but that makes it all that more fun. Plus, who doesn't adore some good dance sequences? They take it to another level in Work It.
Good Burger (1997)
"Welcome to Good Burger, home of the Good Burger, can I take your order?"
When I tell you this was the anthem of '90s kids everywhere, I mean it. I can't even recall how many times my brother and I have said this to each other. Good Burger is an iconic teen movie, starring a young Kenan Thompson and Kel Mitchell, who are employees at said Good Burger restaurant, trying to somehow keep it alive when other burger joints start to open up nearby.
If you want to talk about awesome chemistry, this is it. Kenan and Kel were known for a good reason, and that's because their comedic timing is perfect, and can make this teen movie enjoyable for both older kids, younger kids, and their parents so they can watch it at the same time. If you're not craving some type of burger by the end of watching this film, you're doing it wrong.
Stream Good Burger on Netflix.
I think we can all collectively agree that teen movies, while sometimes cringy, can sometimes be awesome and ones that we all need to watch. I wonder if there will be any new teen films in the 2021 movies. And, if there are, let's all hope they are as iconic as these.
Your Daily Blend of Entertainment News
Big nerd and lover of Game of Thrones/A Song of Ice and Fire. Will forever hate season eight. Superhero and horror geek. And please don't debate me on The Last of Us 2, it was amazing!