One Hilarious Free Guy Scene Ryan Reynolds Improvised After The Movie Had Already Filmed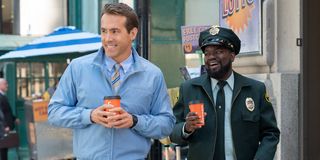 Free Guy is a hilarious and action-packed video game homage/satire that follows Ryan Reynolds as an NPC that becomes sentient and has to find a way to survive his game's impending deletion. The film plays around with video game tropes and, of course, shows off Ryan Reynolds's comedic skills. Free Guy director Shawn Levy has nothing but praise for Reynolds, and he has explained how the actor improvised one of the funniest scenes after the movie had already finished filming.
The scene in question is when Ryan Reynold's Guy has a brief encounter with two children, and it features one of the best lines in Free Guy. The scene is a genuine laugh-out-loud moment, as you are not expecting a tiny child to drop such a strong-but-hilarious expletive to Guy. It turns out it was added after Free Guy finished filming, and it was all Ryan Reynolds' idea. Shawn Levy explains the process behind how the scene was improvised, telling Collider:
It turns out the two girls were Shawn Levy's children, and they shot the whole thing in his daughter's bedroom. Before explaining the scene in question, Levy says he's never been around an actor like Ryan Reynolds. The star was involved in the overall edit of the movie, and Levy attributes some of the funniest moments in the film to Reynolds sitting on the couch in the editing bay giving input. The idea about the two girls cursing ended up spurring the director to get his daughters and film in his own house, resulting in a great joke. Levy explains Ryan Reynolds improv skills in detail, going on to say:
Shawn Levy attributes Ryan Reynolds's ability to improvise and come up with more jokes and funny bits after the fact is because of Deadpool. Reynolds took his same approach from the comic book movie to Free Guy. Shawn Levy also reveals that the idea for having Alex Trebek appear and the character whose avatar is Channing Tatum in the game also came from ideas Reynolds had in the editing room. Levy shot the scene of the player character controlling Tatum in an abandoned office, and they kept it in the film as it was. The real world and video game world being separate seems to have made adding to the film a fun experience.
Free Guy has so many jokes, references, and top-secret cameos packed into it, and they only add to the story and the world it's set in. From Ryan Reynolds and director Shawn Levy's experience, it seems like making Free Guy was very "free," allowing them to get as many jokes and small details in the film as they wanted. Reynold's co-star Jodie Comer is great as Milly/Molotov Girl, and so is Thor: Love and Thunder director Taika Waititi in his role as Antione, which is absolutely perfect for him.
Ryan Reynolds has revealed that Disney already wants a Free Guy 2, and its success as an original IP movie is cemented. After years of pitching the movie, Ryan Reynolds has another franchise on his resume. It will be interesting to see what comes next after Free Guy's exciting conclusion. The possibilities are endless, and we can't wait to see what Reynolds does with a sequel.
Movie and TV obsessive. A good Heist movie is the way to my heart. Enjoyer of everything from Marvel Movies to Rom-coms.
Your Daily Blend of Entertainment News
Thank you for signing up to CinemaBlend. You will receive a verification email shortly.
There was a problem. Please refresh the page and try again.