Jeepers Creepers: Reborn: 7 Quick Things We Know About The Horror Movie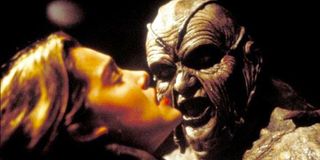 CinemaBlend participates in affiliate programs with various companies. We may earn a commission when you click on or make purchases via links.
The Jeepers Creepers franchise has been one of the few successful horror franchises to start in the last 20. Jeepers Creepers hasn't had the same huge success as films like Saw and The Conjuring, but it introduced a new monster, The Creeper, into the world of horror movies. Freddy Krueger, Michael Myers, and Jason Voorhees aren't born every day. The Jeepers Creepers films have built a dedicated fan base willing and ready to watch The Creeper stalk his prey every 23 years for 23 days in spring. Now, the franchise is about to enter a new phase with Jeepers Creepers: Reborn.
This will be the fourth film in the series, but may act as a soft reboot of the franchise. This movie promises fans of horror movies the same Creeper, but with some possible, much-needed, changes to add some new life to the world fans already love. There is still a lot we don't know about Jeepers Creepers: Reborn, but let's look at the details we do have.
Jeepers Creepers: Reborn Premieres In Fall 2021
In February 2021, Screen Media, the company in charge of releasing Jeepers Creepers: Reborn, announced that the film would premiere in fall 2021. No official release date was given, but that limits the release window to the latter half of this year. Because Jeepers Creepers: Reborn is a horror movie, it will likely follow in the footsteps of many other upcoming horror movies and be released sometime in September or October 2021.
The new movie could be released in October 2021 to benefit from the Halloween season. The first two franchise films were released in August, and Jeepers Creepers 3 came out in late September. If the plan is still to release Jeepers Creepers: Reborn in fall 2021, a release date will likely be announced before too much longer, possibly by the end of August.
Jeepers Creepers: Reborn Takes Place During a Horror Festival in Louisiana
The premise of Jeepers Creepers: Reborn involves attendees of a fake festival called Horror Hound Festival. The event will have its first ever meeting in Louisiana. Unluckily for the attendees, the Creeper will be stalking and killing those attending the festival and nearby.
Jeepers Creepers: Reborn will mainly focus on Chase and his girlfriend Laine. Chase will be a horror fanboy and Laine will be dragged along for the ride, but Laine will be the one that starts to connect with Creeper. She will start to have premonitions and visions of Creeper and the town's past.
Laine will likely be the Final Girl of the movie and probably the only one who may stop Creeper, at least until the next movie.
Jeepers Creeper: Reborn Features A Different Director And Screenwriter From The Previous Films
Victor Salva directed the first three films in the Jeepers Creepers series. This kept the series shrouded in controversy because, in 1988, Salva was convicted and sent to prison for sexually abusing a minor. It appears that Salva has finally decided to step away from Jeepers Creepers, or he has been asked to, because he will not be directing Jeepers Creepers: Reborn. He is also not attached as a producer.
Timo Vuorensola directed Jeepers Creepers: Reborn. His previous work includes the Star Wreck films and the Iron Sky movies. Victor Salva also wrote the previous three films. Sean Michael Argo wrote the script for Jeepers Creepers: Reborn. He's best known for writing fantasy book series, especially the Necrospace novels.
Jeepers Creepers: Reborn Kicks Off A New Trilogy
With a new director and screenwriter, apparently comes a new trilogy. The Variety article mentions that Jeepers Creepers: Reborn is the first in a planned trilogy. Variety didn't go into further details, but I would suspect that, if the contracts and schedules work out, the plan is to continue the other two films with the team that made Jeepers Creepers: Reborn,
And whether or not these future films happen depends on the reception and/or box office numbers for Jeepers Creepers: Reborn.
Jeepers Creepers: Reborn Wrapped Filming In 2021
According to the same Variety article, Jeepers Creepers: Reborn began filming in December 2020, and finished in January 2021. This means the film was filmed, edited, and is planned to be released rather quickly. However, it's not uncommon for a movie to film quickly and be released within a year of production wrapping.
Director Timo Vuorensola shared on the official Jeeper Creepers: Reborn YouTube page some of the struggles and obstacles of shooting the film during the COVID pandemic. Vuorensola is from Finland, and mentioned that being restricted from traveling and seeing his family made things hard for him while working on Jeepers Creepers: Reborn abroad.
He said one of the major priorities while shooting was to make sure that everyone was happy and healthy on set, and he believes that he achieved this because there were no infections while during filming.
No Official Jeepers Creepers: Reborn Cast Has Been Released
Despite coming out in a few months and already filmed, Jeepers Creepers: Reborn has not made an official cast announcement. As of this writing, the official Jeepers Creepers: Reborn IMDB page only lists one actor: Gabriel Freilich, who will play a character named Sam.
I don't think there is some big secret surrounding the cast. I think it's just something that the production team hasn't gotten around to yet. However, there may be some secret cameos in Jeepers Creepers: Reborn.
Back in 2017, before the release of Jeepers Creepers 3, Gina Philips spoke to Diabolique Magazine about a potential fourth movie. Philips played Trish Jenner in the first Jeepers Creepers and then reprised that role in the third film. She told the outlet that another film was in development and she had plans to appear.
At that time, Victor Salva was still supposed to be writing and directing the film. Since Jeepers Creepers: Reborn is not Salva's project, we aren't sure if Philips will be involved. It's possible she could reprise her role again for die-hard fans, but it is also likely that the film will stray from the original three films in several ways.
However, we'll have to wait for the official cast release to see if any of the characters from the previous three Jeepers Creepers films will appear.
Jeepers Creepers: Reborn Will Be "Scarier" Than The Previous Films
When speaking to Variety about Jeepers Creepers: Reborn, Screen Media's Creative Executive Conor McAdams had this to say about the upcoming horror film:
The first Jeepers Creepers was definitely terrifying at the time, so we're excited to see how Vuorensola makes The Creeper even more frightening.
Where To Watch The Other Jeepers Creepers Films
The Jeepers Creepers films are definitely some interesting horror movies, so if you've never watched any of the films, now is the perfect time to check them out before Jeepers Creepers: Reborn premieres. Unfortunately, the first Jeepers Creepers movie isn't available to rent online or stream as of August 2021.
Jeepers Creepers 2 is available to stream through a Showtime subscription. However, the film will be leaving Showtime by the end of August 2021. This movie is also available to rent or purchase through Amazon (opens in new tab). Jeepers Creepers 3 is available to stream through a Syfy subscription. It's also available to rent or purchase on Amazon. (opens in new tab)
We may not know exactly when Jeepers Creepers: Reborn will be released, but we're excited to see how the film reinvents this franchise.
Spent most of my life in various parts of Illinois, including attending college in Evanston. I have been a life long lover of pop culture, especially television, turned that passion into writing about all things entertainment related. When I'm not writing about pop culture, I can be found channeling Gordon Ramsay by kicking people out the kitchen.
Your Daily Blend of Entertainment News
Thank you for signing up to CinemaBlend. You will receive a verification email shortly.
There was a problem. Please refresh the page and try again.