James Bond Producers Still Acting Like They Have No Idea Who's Going To Take Over As 007 After Daniel Craig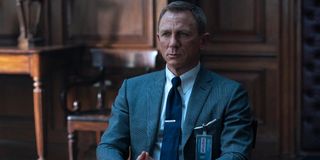 After multiple delays due to the pandemic, No Time to Die, Daniel Craig's final Bond film, is finally set to release this October and will hopefully stick to its guns and keep its promised date. As fans anticipate the film providing a fitting send-off for Craig's Bond, the question still remains regrading who will take on the mantle of Bond next, and everyone involved seems to have an opinion. But presently, the producers of James Bond are still acting like they have no idea who's going to take over as 007 after Craig's departure.
The producers behind James Bond recently sat down with our sister site, Total Film, to chat about No Time to Die, the chances of an Amazon series, and potential 007 actors that could take over for Daniel Craig. Longtime Bond producer Barbara Broccoli explained why a decision hasn't been made regarding the next Bond actor, saying:
The producers for Bond appear to be in no rush to select the heir apparent to Daniel Craig, opting to take their time and celebrate the actor's swan song. Producer Michael G. Wilson even says they are "in denial" over the end of Craig's tenure. Despite all of this though, it's still very likely that there have already been serious discussions on the matter. And after the release of No Time to Die, those talks will only ramp up, causing the team to really hone in on what direction to go in as far for the next Bond. The selection process will definitely be a long one, and every possibility will be probably be meticulously explored.
The 007 Franchise has historically been particular with James Bond and who plays him, opting for actors with specific qualities that align with what we know about the iconic character. There are plenty of directions the franchise could go, whether they want to keep things the way they've always been, introduce the first female Bond, or present the first person of color to play 007. It'll be fascinating to see how things play out.
But before we look ahead to the future, we can look forward to No Time to Die featuring a highly trained Ana De Armas in an exciting role, and the film will even change Daniel Craig's Bond in a major way. We'll see the actor's final ride as 007 when No Time to Die hits theaters on October 8, 2021.
Movie and TV obsessive. A good Heist movie is the way to my heart. Enjoyer of everything from Marvel Movies to Rom-coms.
Your Daily Blend of Entertainment News
Thank you for signing up to CinemaBlend. You will receive a verification email shortly.
There was a problem. Please refresh the page and try again.