As Daniel Craig's 007 Stint Prepares To End, Henry Golding Shares Thoughts On Whether He'd Play James Bond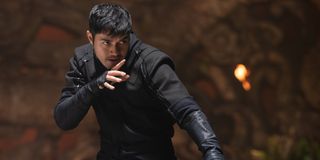 Snake Eyes: GI Joe Origins is out in theaters, which means fans can now see Henry Golding in his armor-clad glory. The actor plays a super convincing Ninja, pulling off some thrilling stunts and showing off how capable of an action star he can be even when the Snake Eyes mask covers his face. So now that Golding has shown off his action chops, he has fans wondering what's next for him. Well, as Daniel Craig's tenure as 007 is set to end, Golding has now provided some thoughts on whether he'd play James Bond down the road.
Henry Golding is a young British actor, so it's almost a given that he'll be asked whether he can be the next James Bond. While on Watch What Happens Live with Andy Cohen, the star discussed that very thing along with a number of other topics. Golding addressed the possibility of taking on the role of 007 by saying:
There are rumors of Henry Golding being one of the candidates to play James Bond after Daniel Craig's final 007 film, No Time To Die, so it's no surprise that he'd be asked. And while he didn't confirm or deny anything, it does appear that, at the very least, he wouldn't turn down the role if offered. Golding has a growing profile and has now proven himself as a star, so he is an ideal candidate. But he has a lot of competition.
Though he almost left the franchise before No Time To Die, it's still hard to believe that Daniel Craig is actually hanging up his tuxedo, but his last Bond film is shaping up to be quite the send-off. James Bond turns 60 next year, which is an incredible milestone and, ultimately, it will be great to see a new 007 will join the storied ranks of the actors that came before. Henry Golding would be an exciting choice and is extremely handsome and clearly very capable, but it's honestly hard to predict the direction the franchise wants to go in.
The Bond franchise would make history with its first POC or woman James Bond, and Henry Golding has even previously spoken about how great it is that an Asian James Bond is even a consideration these days. It would be a big step for the Bond Franchise, considering that Daniel Craig was once criticized for being the first Blonde James Bond, though that admittedly ended up working out just fine.
With Snake Eyes being a fun action movie and a nice showcase for Henry Golding, it'll be great to see how he continues to add to his already great body of work. And of course, the origin story features a ton of Easter eggs that will make G.I. Joe fans happy, as Golding has even teased everything fans can look forward to seeing in between all the action set pieces. Still, let's not lose sight of the fact that the film is also Golding's biggest audition for 007 yet.
Your Daily Blend of Entertainment News
Movie and TV obsessive. A good Heist movie is the way to my heart. Enjoyer of everything from Marvel Movies to Rom-coms.