Why You Shouldn't Really Compare Dune To Star Wars, According To Oscar Isaac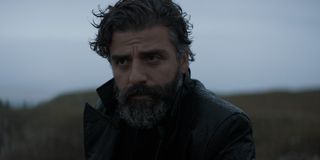 After multiple delays and a generally rocky release plan due to the pandemic, Dune is finally set to arrive later this year. Dune star Josh Brolin has called the film a cinematic masterpiece, praising Denis Villeneuve's accomplishments with the characters and story. Likewise, Oscar-winner and Marvel's Eternals director Chloe Zhao says she was blown away by the film. The hype for the sci-fi epic seems to be growing by the week, and it even seems to be drawing comparisons to a certain franchise that takes place a long time ago, in a galaxy far, far away. However, Oscar Issac believes audiences shouldn't really compare Dune to Star Wars.
Oscar Isaac is probably the perfect person to explain the differences between Star Wars and Dune. The actor played Poe Dameron in the latest Star Wars trilogy and now stars as Leto Atreides, so he now has a foot firmly planted in both franchises. Speaking to Total Film, Isaac outlined why you shouldn't compare the two sci-fi films, saying:
In making his argument, Oscar Isaac points out how Dune is a bit more unique in its nature, despite featuring giant space ships like George Lucas' franchise. Isaac makes a good point in mentioning that the author of Dune, Frank Herbert, was ahead of his time and, in like the late author, Denis Villeneuve has proven to be one of the most unique voices in the creative sphere. All in all, it sounds like the actor is saying there is much more going on in Dune, thematically, than Star Wars' typical "good guys fight bad guys" in space approach.
Star Wars and Dune may have thematic differences, and Dune may be geared toward a more mature audience, but both series are indeed cut from the same cloth. What makes Star Wars and Dune special is the way they both blend fantasy with the sci-fi elements, creating worlds that can stand on their own as imaginative spaces. Star Wars has Jedi Knights setting out to defeat evil, and Dune has royal families in conflict. They are different but similar in many ways and, ultimately, both are great in their own right and continue to stand the test of time.
Dune is shaping up to be a true event movie and in a typical year, would probably be appointment viewing in theaters. The film is releasing on HBO Max and theaters simultaneously and, despite that fact that it's going to streaming, Denis Villeneuve is optimistic about a sequel.
Denis Villeneuve has even outlined when exactly Dune 2 could start filming. The director seems excited by the possibilities for the next film in a new franchise, including a more prominent role for Zendaya's character moving forward. It's too early to tell if a follow-up will definitely happen, but it's good to know the director has things mapped out should that become a sure thing.
We'll see how Denis Villeneuve kicks things off when Dune hits theaters and HBO Max on October 22.
Your Daily Blend of Entertainment News
Movie and TV obsessive. A good Heist movie is the way to my heart. Enjoyer of everything from Marvel Movies to Rom-coms.