Candyman: 5 Reasons To Check Out The Original Movie If You're Excited About The New One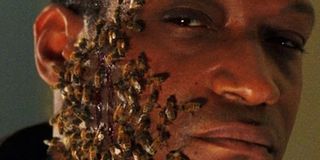 (Image credit: (TriStar))
Move away from all close mirrors, because it's time to speak my praises for the original Candyman as the new version and "spiritual sequel" from Nia DaCosta and Jordan Peele hits theaters. After a round of delays, the reintroduction to one of the best horror movies of the '90s is here. Whether or not you've checked out 2021's Candyman yet, let me talk about the best reasons why you should absolutely go out of your way to check out the original 1992 version.
For my spoiler-free thoughts on 2021's Candyman, you can head over to my review. And quickly I'll share that both Candyman movies are tied together in a really intriguing way without either of them necessarily needing the other for an audience to understand and enjoy it. In a lot of ways, the new Candyman reestablishes the legend in a way that rights some wrongs that are glaring at a look back at the original. That being said, let's dive deeper into why I still highly recommend 1992's Candyman:
Tony Todd's Performance As The Candyman Is Incredibly Iconic
The absolute best part about Candyman is its titular monster, played by Tony Todd. You may have heard the rumors that the actor, who was 38 at the time, allowed actual bees to sit on his face during the filming of the movie and was stung 27 times over his time playing the character over three years, per THR. But it's not just his commitment to the role that makes Candyman great. He's a particularly frightening character because of the iconic performance Todd brought to him.
Candyman is not into theatrics, he's a quiet and decisive character that can be called upon from anywhere, thus making him a rather inescapable character. There's a mysticism about him as the film's protagonist, Virginia Madsen's Helen Lyle, learns about him and becomes haunted by his mystery as she digs into his origins around Chicago's infamous Cabrini-Green housing projects. It'd be tough to truly appreciate this franchise and the new film without seeing firsthand what Tony Todd brings to Candyman.
Candyman Was Partially Filmed In The Historic Cabrini-Green Housing Projects
The original Candyman is also a must-watch because there's a bit of American history in play here. The story revolves around one of the U.S's most infamous housing projects, Cabrini-Green. If you're not familiar with public housing projects, they were built by the government to provide housing to people who could not afford it, but in execution, it was not well-kept and greatly segregated Black U.S. residents from other communities. It's a segment of history not necessarily told in public education, but Candyman does expose audiences to the pitfalls of the Cabrini-Green community.
It should be noted that the original Candyman was made from the POV of white filmmakers and a white protagonist, dating itself a bit whereas nowadays with the 2021 version, perhaps coming from a more constructive perspective. But in 1992, Candyman was actually partially filmed in Cabrini-Green which adds some context to the new movie, which was also filmed on that side of Chicago, but a decade after the housing project was torn down.
Candyman's Horror Elements Hold Up Over 20 Years Later
Another element of Candyman that makes it worth the watch all this time later is how great the horror elements hold up. In my opinion, the movie is one of the most thrilling modern horror films, especially because it was doing some of the slow-burn, social commentary elements that are more popular today in the genre back in the early '90s. Candyman does not fall into a slasher or lean too heavily on the supernatural elements of the legend. It really leans on its performances and the great concept to frighten its viewers.
Even though the effects of today have clearly improved, Candyman employs mostly practical effects that we just don't see a lot these days in this genre. The impressive makeup, scares, bloody moments and tension built through Philip Glass' score is not a movie of the genre to miss.
The Ending Of Candyman Does Not Disappoint
I won't get into it here, because I want you to watch it but man, the Candyman ending is brilliant. Again, it dates itself in some of the perspectives being put to the forefront, but writer/director Bernard Rose knew how to reach the finish line with the 1992 version. The movie tells the story from the POV of Virginia Madsen's Helen Lyle and really gives her an incredible arc with Candyman.
It was rare at the time to see a female protagonist in horror hold her own and be more than a screaming head and Helen Lyle really has some incredible depth to her. I'd compare her to Jodie Foster's Clarice Starling (and Silence of the Lambs came just one year before it) in a sense that she is a strong woman who comes face to face with terrors and truly faces them.
Candyman Can Spark Worthwhile Discussions That Bleeds Into The Upcoming Sequel
A great reason to watch the original Candyman if you're also checking out the new one is to engage in the conversation regarding how the legend has shifted in its storytelling over the years. I've touched upon the difference in perspectives from the filmmaking point of view, but there's more to it. Both Candyman movies display how the cultural perspective on this story has shifted from the early '90s to today and it's really interesting to dissect.
The original Candyman seems to illustrate this fear surrounding the white community toward housing projects and places of poverty like the Cabrini-Green housing projects as Helen Lyle becomes part of the legend. It has a bit of his white savior narrative that makes one appreciate what Nia DaCosta and Jordan Peele do to it by bringing their own voices to the story. Overall, the Candyman franchise is really interesting and an underrated horror franchise that more of us should take time to look back and examine.
YA genre tribute. Horror May Queen. Word webslinger. All her writing should be read in Sarah Connor's Terminator 2 voice over.
Your Daily Blend of Entertainment News
Thank you for signing up to CinemaBlend. You will receive a verification email shortly.
There was a problem. Please refresh the page and try again.