After Tom Cruise Jumped Off A Cliff For Mission: Impossible 7, The Director's Tease For Movie 8 Has Me Nervous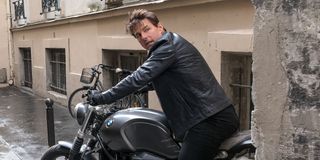 The Mission: Impossible franchise ups the ante after every movie with even more daring stunts and bigger set pieces, and Tom Cruise is at the center of it all. Recently at CinemaCon, Paramount provided the audience with a behind-the-scenes look at Mission: Impossible 7, which is described as one of the biggest stunts in the film, which involves Tom Cruises jumping off a cliff with a motorcycle. Not only did Tom Cruise jump off a cliff with a motorcycle, but he also did it multiple times to presumably get the perfect shot. After Cruises motorcycle cliff dive for Mission: Impossible 7, the director's tease for movie 8 has me nervous.
Director Christopher McQuarrie gave a cryptic teaser about Mission: Impossible 8's stunts, and it should have us all concerned for Tom Cruises' physical well-being. After all, he's an actor known for doing insane stunts, including other projects like Top Gun: Maverick. During the Mission: Impossible 7 CinemaCon Panel, Christopher McQuarrie commented about the motorcycle cliff jump and what to expect in Mission impossible 8, saying:
Christopher McQuarrie basically implies that, per tradition, the stunts will be even wilder in Mission: Impossible 8. TOm Cruise has performed many dangerous stunts, and the motorcycle stunt joins a long lineage of escalating dangerous situations Tom Cruise puts himself in. Cruise is relentless and seemingly up for anything if it will benefit the movie. In Mission: Impossible - Fallout, Cruise broke his foot mid-action sequence and kept going, and they ended up using his injury to make the film better.
Let's hope that Christopher McQuarrie is careful with his star because they are truly pushing the limits of action filmmaking. Tom Cruise has discussed how exactly things could have gone wrong with his motorcycle stunt, and it sounds absolutely terrifying. The behind-the-scenes footage shown at CinemaCon of the motorcycle stunt has revealed some insane facts and has us excited for what's to come.
Hayley Atwell is set to join Tom Cruise and the crew in Mission: Impossible 7, adding another great performer in the mix who will shake things up for Ethan Hunt and his squad. Rebecca Ferguson has shared a sweet post confirming she has wrapped filming, indicating MI7 is on schedule despite all the delays. It's starting to feel like the movie is actually coming out, and the wait will surely be worth it.
2022 is shaping up to be a fantastic movie year with multiple big releases, and Mission: Impossible 7 is arguably the most anticipated movie of the upcoming year. There's plenty of time to rewatch the Mission: Impossible franchise and marvel about Tom Cruise doing increasingly dangerous stunts.
Movie and TV obsessive. A good Heist movie is the way to my heart. Enjoyer of everything from Marvel Movies to Rom-coms.
Your Daily Blend of Entertainment News
Thank you for signing up to CinemaBlend. You will receive a verification email shortly.
There was a problem. Please refresh the page and try again.