Mission: Impossible 7's Hayley Atwell Shares Sweet BTS Photo Featuring Tom Cruise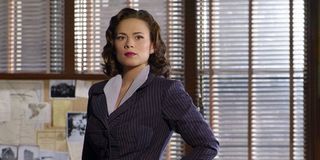 Mission: Impossible 7 is still in production, and after numerous shutdowns due to health and safety protocols, the film seems like it's finally headed towards the end of its shoot. Tom Cruise and the M:I crew are putting in long hours of filming, and director Christopher McQuarrie is thankful for their efforts. Of course, in between takes, stars like Rebecca Ferguson have shared sweet photos from the set. Now, Hayley Atwell has shared another sweet BTS photo, which shows her hanging out with Cruise.
Fans have likely been enjoying the numerous behind-the-scenes photos and videos from the Mission: Impossible 7 set, and Hayley Atwell's latest is sure to delight them as well. Atwell posted a photo of herself and Tom Cruise in a vehicle, presumably in between filming a car sequence, and she included a quirky caption to top things off. Check out the photo of the two stars by scrolling down to her Instagram post below:
Hayley Atwell credits Christopher McQuarrie with the photo, and you have to give the director his due for capturing such a nice moment. While the image doesn't give anything away about the story or the specific scene, it should be enough to get fans hyped for what awaits in Mission: Impossible 7. In regard to the caption, it can described as a slice of British humor, as Atwell describes a fast-food order that is almost indecipherable. Tom Cruise looks to be having a blast behind the wheel as well. Atwell is set to add a new dynamic to M:I 7, and one can imagine that she's a joy to work with, quirky captions and all.
Hayley Atwell will be playing a new character named Grace, who is vital to the film's conflict and might have a frenemy-like relationship with Tom Cruise's Ethan Hunt. Grace has been described as a "destructive force" and will impact the core team in new ways. Rebecca Ferguson's Ilsa has been one of the most impactful characters of the series, as she initially went toe to toe with Ethan Hunt before she eventually became a part of his squad. Atwell's Grace could take a similar route, but her road to getting there will likely be much different.
Interestingly, Hayley Atwell previously teased some wild car stunts featuring herself and Tom Cruise, and she seems to be relishing the insane sequences that take place in a typical Mission: Impossible film. But it should be mentioned that Atwell stays in tip-top shape through rock climbing, meaning that she easily fits into the daredevil nature of the storied franchise.
Hayley Atwell and the Mission: Impossible 7 crew have been diligently following health and safety protocols so that filming doesn't get interrupted again. With this, hopefully, things stay on track so that we can see the next installment in Ethan Hunt's series of exploits sooner rather than later.
Mission: Impossible 7 is scheduled to hit theaters on May 27, 2022.
Movie and TV obsessive. A good Heist movie is the way to my heart. Enjoyer of everything from Marvel Movies to Rom-coms.
Your Daily Blend of Entertainment News
Thank you for signing up to CinemaBlend. You will receive a verification email shortly.
There was a problem. Please refresh the page and try again.