Donnie Yen Takes A Break From Filming John Wick 4 To Taste Test Ip Man And John Wick Burgers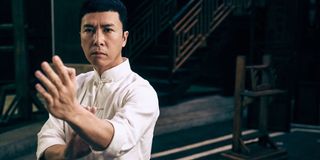 John Wick: Chapter 4 has added a slew of new actors to its roster, and the most exciting of which has been Ip Man himself, Donnie Yen. Donnie Yen has joined Keanu Reeves high caliber action franchise and looks sharp and ready. Despite the long night shoots taking their toll, Donnie Yen is set to be a burst of martial arts charisma for the next John Wick. Donnie Yen has taken a break from filming John Wick 4 to taste test Ip Man and John Wick burgers.
Donnie Yen has used his free time from filming for John Wick: Chapter 4 to be productive. In a charming Instagram video, Yen has found and taste-tested both an Ip Man burger and a John Wick Burger. The action star stumbled across a burger place where Ip Man and John Wick are both immortalized with their own unique burgers, so of course, Donnie yen had to try them out. Here is the post:
Donnie Yen went on a small adventure after hearing about a place with an Ip Man burger and ended getting both the Ip man and the John Wick burger. Getting a burger or a food item named after you is serious icon status stuff. The Ip Man films are some of the most beloved kung fu movies out, and Donnie Yen is incredible in them. Ip man having a burger isn't a surprise, but Keanu Reeves John Wick having one means that the franchise is already certified as one of the best.
It will be exciting to see Donnie Yen in John Wick: Chapter 4. The franchise keeps bringing in great martial artists and action stars, and it keeps elevating the hardcore action of the movies and seeing what Donnie Yen will do in the John Wick universe will be something to behold. Donnie Yen is clearly up to the task. Nothing could phase him action-wise, but he has discussed the most challenging part about filming John Wick, and it's honestly lovely.
John Wick: Chapter 4 is bringing back beloved characters as well as adding new blood to the mix. Ian McShane is confirmed to be returning, reprising his role as Winston, and Lance Reddick is back as the hotel concierge Charon. One of the most exciting additions outside of Donnie Yen is Bill Skarsgård, who is joining the franchise, and he has explained why he decided to jump on board.
Laurence Fishburne is back as The Bowery King and, as one of the best parts of the franchise, is poised to give an even more exciting performance. Chapter 3 left us at an interesting point, and it will be interesting to see how things have changed. We cant wait to see Donnie Yen in the shadowy world of Assasins and Hotels, alongside Keanu Reeves and the growing and fantastic cast.
Your Daily Blend of Entertainment News
Movie and TV obsessive. A good Heist movie is the way to my heart. Enjoyer of everything from Marvel Movies to Rom-coms.