AwardsBlend Podcast #10: Avengers News, Steven Spielberg's Best Film, And Final Oscar Picks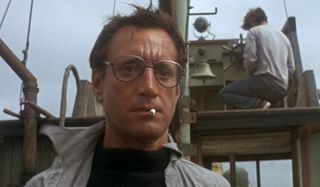 It has all been building up to this. The Oscars will be handed out on Sunday, which means it's time for the AwardsBlend co-hosts -- Sean O'Connell, Jake Hamilton and Kevin McCarthy -- to go on record and make their picks. Who REALLY will win Best Picture on Sunday? Does Get Out have a shot? Could Christopher Nolan land a Best Director Oscar? Will Roger Deakins finally win an Oscar?!
It's all discussed in this week's AwardsBlend. CinemaBlend launched AwardsBlend as a weekly recap of the ongoing Oscar race. But since then, it has evolved into a comprehensive conversation of all things cinematic. Co-hosts Sean O'Connell, Jake Hamilton and Kevin McCarthy regularly cover a wide range of topics, and this week is no different.
The guys kick off with a catch up on Kevin Smith's health. Kevin and Sean talk about the time they were invited to Smith's house to watch Red State. Jake is sad he never got an invitation. From there, they get into Avengers: Infinity War shifting its release date. And then they transition into Oscar talk. Give it a listen:
The bulk of AwardsBlend this week is dedicated to the debate surrounding Steven Spielberg's best film. This is a much harder exercise than you'd think. Try it. Name Spielberg's BEST movie in the comments section below. Then listen to the podcast to see which movies we chose. I'll tell you this much. Two of us agreed on one movie, while one of us went rogue.
AwardsBlend is about to rebrand. We will have one more big show on Monday, March 5, where we recap the Oscars. Then, it's on to bigger and better things.
For now, if you missed any of our previous AwardsBlend episodes, you are in luck. We have an iTunes page! Visit. Subscribe. Like and comment. Review! Apple loves when you have star ratings and reviews, so if you listened, and you liked it (or even if you didn't), let us know.
Meanwhile, follow the guys on Social Media at @Sean_OConnell, @JakesTakesand @KevinMcCarthyTV. We'll be back with our post-Oscar breakdown on Monday, March 5. See you then!
Movie junkie. Infatuated with comic-book films. ReelBlend cohost. Resident dad. Extroverted introvert. Wants to see the Snyder Cut. Managing Director at CinemaBlend.
Your Daily Blend of Entertainment News
Thank you for signing up to CinemaBlend. You will receive a verification email shortly.
There was a problem. Please refresh the page and try again.