HeroBlend #27: What Will DC Do With Batman And Superman?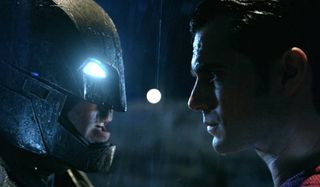 Welcome to HeroBlend #27! The DCEU is, reportedly, switching things up and possibly looking to move on from Ben Affleck's Batman and Henry Cavill's Superman. So, it's time for Adrienne and special guest co-host, ReelBlend's Sean O'Connell, to talk all about what that move could mean for the cinematic universe going forward! First, though, we'll go through some intriguing news items, including when Doctor Strange 2 might begin filming, the cancellation of a Marvel Netflix show, word on the Flash solo movie being delayed yet again, and a behind the scenes photo from Spider-Man: Far From Home which has led to some big MCU questions.
Then, we'll get into the depths of why the DCEU might be leaving Affleck and Cavill behind, what it might mean for the universe as it continues, what the immediate, general, plans for the DCEU seem to be and why this whole thing is just a big ol' mess. Next, Sean and Adrienne will talk about Marvel's Phase 4 plans and what they could tell us about the outcome of Avengers 4. Six films seem to be definite for Phase 4 (if that's even what Marvel decides to call it), but there are a few properties that are up in the air right now and could end up making appearances, so we'll break down everything we know right now.
Last, but (regrettably) not least, we have to talk about Venom. The man-eating symbiote and his human have done quite well for themselves in live action, and now people want to know what the deal is with Venom 2. We'll go over the somewhat surprising box office numbers and let you know what Sony should be doing to get the sequel off the ground, as well as what's going on with the larger Spider-Man Cinematic Universe. Sit back and relax, folks, because this is one chat you're not going to want to miss! Ready to dive in? Great! Listen for yourself above!
3:14 - Doctor Strange 2 Could Start Filming Soon
7:47 - Iron Fist Cancelled at Netflix
11:52 - Flash Movie Delayed Again
14:00 - New Set Photos From Spider-Man: Far From Home
19:53 - Ben Affleck and Henry Cavill Likely Done Playing Batman and Superman
34:41 - What Does Marvel's Phase 4 Tell Us About Avengers 4?
46:35 - Venom Repeats at the Box Office. When Are We Getting Venom 2?
Now, get in on the superhero-filled fun and have a listen to the HeroBlend Podcast #27! And, be sure to subscribe to the HeroBlend Podcast on iTunes, right here and follow us on Twitter, @HeroBlend.
Bachelor Nation, Gilmore Girl; will Vulcan nerve pinch pretty much anyone if prompted with cheese...Yes, even Jamie Fraser.