Why Venom Didn't Use Carnage As Its Main Villain, According To The Producer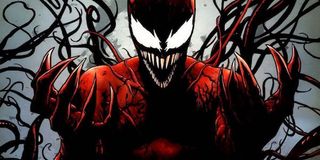 Like Venom, Carnage is traditionally seen first as one of Spider-Man's enemies, but these two symbiote-powered characters have also had an adversarial relationship over the decades. So when it was announced that the Venom movie was moving forward, naturally some fans wondered if Carnage would be the main villain, and initially it seemed that would be the case. However, the lead antagonist position ultimately went to Riot, because as Venom producer Matt Tolmach noted, cramming in two iconic origin stories would have been too much. In Tolmach's words:
Matt Tolmach has a point. In the comics, the Venom symbiote gave birth to the Carnage symbiote right before breaking Eddie Brock out of prison, and the latter gooey alien soon latched itself onto Eddie's cellmate, Cletus Kasady. Even if Carnage's origin wasn't depicted that faithfully in Venom, it would have been incredibly difficult setting the stage for him at the same time we're watching how Eddie Brock becomes Venom. Riot may not be as compelling of a villain, but at least it doesn't take nearly as long to establish him. It's more important to give Carnage his proper due, even if it means putting him in the spotlight later.
Warning: SPOILERS for Venom are ahead!
Of course, as those who stuck around for Venom's mid-credits scene know, Cletus Kasady did show up at the end of the movie. Well, his human host did, that is. After that mess with the Life Foundation was finished, Eddie Brock traveled to the San Quentin prison to interview Cletus, played by Woody Harrelson, who was locked up Hannibal Lecter-style. After some quick small talk with Eddie, Cletus proclaimed that when he escaped, there would be carnage. Real subtle, guy.
As Matt Tolmach also mentioned while speaking with Collider with fellow producer Avi Arad, the plan was always to feature Cletus Kasady in the Venom mid-credits scene. Now that we've been introduced to him, the path is paved for him to become Carnage and clash with Eddie Brock in Venom 2. A sequel hasn't gotten the green light yet, but despite receiving numerous negative reviews, Venom has been doing well for itself commercially, so surely there's discussion happening at Sony about making Venom 2 happen as we speak.
Be sure to read CinemaBlend's Venom review and stay tuned for any news regarding a sequel. As for what this year's other remaining movies are, you can look through our 2018 release schedule for that information.
Connoisseur of Marvel, DC, Star Wars, John Wick, MonsterVerse and Doctor Who lore. He's aware he looks like Harry Potter and Clark Kent.
Your Daily Blend of Entertainment News
Thank you for signing up to CinemaBlend. You will receive a verification email shortly.
There was a problem. Please refresh the page and try again.