HeroBlend #32: Aquaman And Spider-Man: Into The Spider-Verse Early Reactions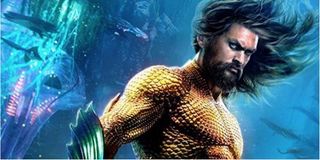 Welcome to HeroBlend #32! This week, Eric and Adrienne have some exciting things to share with you, as they can finally talk more in-depth about both Aquaman and Spider-Man: Into the Spider-Verse! Eric has now seen the full, completed version of each of these December releases, so he'll be talking about both for you today. But, first, we have some intriguing superhero news to share. Today's items will include the Latino superhero who's getting their first big screen movie, the Young Justice: Outsiders release date, details on two additional MCU characters who might have survived Infinity War and whether or not Chris Evans is really, truly done playing Captain America or not.
Next, it's time for the meat of this week's podcast! Eric has seen Aquaman and Spider-Man: Into the Spider-Verse ahead of their releases, and he can give you some early (spoiler free) reactions to both. So, we'll get his general thoughts on both and also talk about how Aquaman might be a turning point for the DCEU, how that film balances serious, world and hero building scenes with more fun, cartoony scenes and how Jason Momoa works carrying a full film as the character. Then, we'll dive into the Spider-Verse and go over the performances, animation style, what we can expect from this version of Peter Parker and how Miles Morales works as the lead, along with much more!
This episode will also see us chat about Avengers 4 again. The film is due out in just a few months, yet there's been no trailer, no stills released from the film or even an official plot synopsis, plus we still don't have the real title of the movie. When can we expect these things and is Marvel running the risk of actually pissing off fans with by withholding so much info and providing teases and misdirects? We'll talk it all over. Lastly, we'll fill you in on some important Birds of Prey updates as the DCEU film has given us a mouthful of a title and Margot Robbie has let us in on who she'd like her Harley to meet on the big screen some day. Sit back and relax, folks, because this is one chat you're not going to want to miss. Ready to dive in? Great! Listen for yourself above!
2:00 - News
17:45 - Chris Evans May Not Be Finished With Captain America?
22:40 - Aquaman Reactions
29:00 - Spider-Man: Into The Spider-Verse Review (Spoiler-Free)
41:45 - Avengers 4 Trailer?
49:00 - Margot Robbie Wants Poison Ivy and Harley Quinn Together
Now, get in on the superhero-filled fun and have a listen to the HeroBlend Podcast #32! And, be sure to subscribe to the HeroBlend Podcast on iTunes, right here and follow us on Twitter, @HeroBlend.
Bachelor Nation, Gilmore Girl; will Vulcan nerve pinch pretty much anyone if prompted with cheese...Yes, even Jamie Fraser.