We Saw The First 35 Minutes Of Spider-Man: Into The Spider-Verse, And It's Amazing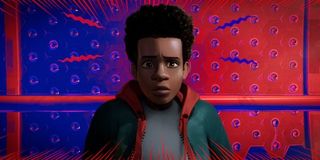 New York Comic Con, much like any other convention of its kind, is in love with surprising its audience. Nowhere was that readily apparent than at Saturday's panel for Spider-Man: Into The Spider-Verse, as an unsuspecting audience was treated to the slightly unfinished first 35 minutes of the animated film. Even in a slightly rough state, it looks like Sony has an impressive, web-slinging hit on its hands.
CinemaBlend was on hand to see this footage at yesterday's panel in the Hulu Theater at Madison Square Garden. While the audience was sworn to secrecy, there are some surface details that can be talked out a little bit. The first 35 minutes of Spider-Man: Into The Spider-Verse set up the world of Miles Morales, the young afro-latino man who inherits similar powers to that of one Peter Parker.
However, there are two exciting developments that we saw in those initial moments of Spider-Man: Into The Spider-Verse. First, the element of the parallel universes that the film deals with is set up through some clever story mechanics. Right from the beginning, the Columbia Pictures logo phases in and out of various incarnations of itself, promising things are going to get a bit crazy.
Familiar territory starts to surface as Peter Parker's Spider-Man wryly introduces himself as the "one and only" Spidey that we know and love. Through Deadpool-esque humor, we're given the full classic rundown, before we shift gears to Miles Morales and his family, father Jefferson and mother Rio. That is where Spider-Man: Into The Spider-Verse's primary universe truly begins to unfold.
This is the more important, and wildly exciting, part of the footage for Spider-Man: Into The Spider-Verse's first act, as we see Shameik Moore's Miles interacting with his family, as well as adjusting to his new life at private school. With a new Spider-Man comes a new backstory that allows the audience to get to know their new hero, and all of his quirks.
While Peter Parker's origins are so well worn that we can basically read them out by memory, Miles Morales's story is a pretty fresh incarnation. Getting to know him and his home life is part of the refreshing change of pace for audiences old and new to the Spider-Verse. It also helps that the film has an old school hip-hop soundtrack that helps anchor this film in the reality it wants to show us, giving Guardians of the Galaxy a run for its money.
Watching Miles interact with his mother and father, played by Luna Lauren Velez and Brian Tyree Henry, respectively, shows the stable, straight and narrow attitudes in his life. On the other hand, Mahershala Ali's Aaron Davis represents the more freewheeling influence of Miles' uncle in his life.
As this series is built on the concept of great power entailing great responsibility, seeing young Miles torn between these influences is going to be crucial to Spider-Man: Into The Spider-Verse. With Jefferson wanting Miles to stay in the good graces of society, and Aaron nurturing the artistic rebellion within him, that push and pull replaces Peter Parker's struggle to live up to Uncle Ben's values.
It's a brand new way to cover similar ground, but with different and more exciting results. Though, fans of the Spider-Man canon know how this relationship will complicate things even further in Spider-Man: Into The Spider-Verse's plot. Considering that co-writer Phil Lord fully admitted that he and co-producer Chris Miller wanted to make the most different Spidey movie they could with this project, it makes total sense.
Of course, there's a huge action set-piece, the introduction of Liev Schreiber's Kingpin, and a hell of a cliffhanger that rounded out the footage shown in Spider-Man: Into The Spider-Verse's first act. That said, giving away any of the details from that portion would spoil the fun. Here's a hint though: there may be more than one spider enhanced hero in Spider-Man: Into The Spider-Verse.
What can be said about Spider-Man: Into The Spider-Verse is that it's a unique film, bringing us some new versions of our favorite webslinger that haven't been seen before. In just 35 minutes of footage, this new incarnation feels warmly familiar while promising an exciting unknown. It's also an absolutely gorgeous film, infusing a visual style that takes full advantage of colorful imagery that kind of reflects Miles's fondness for graffiti and comic books.
Not only is this seen in Miles' artistic abilities shown on screen, but we also see this in the way the visual language of Spider-Man: Into The Spider-Verse plays out. A scene with a particle accelerator experiment eschews the typical bright white light for a multi-color explosion. Also, various scenes will break out into comic book panel format, with text blocks illustrating Miles' thoughts in any particular scene.
Color drenches this Spider-Man: Into The Spider-Verse, making it a delight to behold even if you were just viewing its stills. In motion though, the flow of the visuals, and flourishes that are triggered when interdimensional shenanigans occur, are absolutely stunning. All of this adds up to a Spider-Man movie that mixes live-action plotting with visually animated comic book influences. There's even a good chance that the 3D presentation of the film might hold up to the highest standards of the medium,
This is obviously only a small taste of Spider-Man: Into The Spider-Verse, but it's a tantalizing one for anyone who saw it. Here's the part that's a bit of a bummer: we're going to have to wait until December 14th to see the end result. Judging by this first look though, it's going to be more than worth the wait, so it's only a matter of time and patience.
If you're looking for some more Miles Morales action in your life, let's just say you'll want to sit through the entire run of the credits to Venom. In fact, that scene picks up right where this footage from Spider-Man: Into The Spider-Verse left off. So if you were at the New York Comic Con panel for the film, and saw this scene, you're already ahead of the game.
Your Daily Blend of Entertainment News
Senior Movies Contributor
CinemaBlend's James Bond (expert). Also versed in Large Scale Aggressors, time travel, and Guillermo del Toro. He fights for The User.